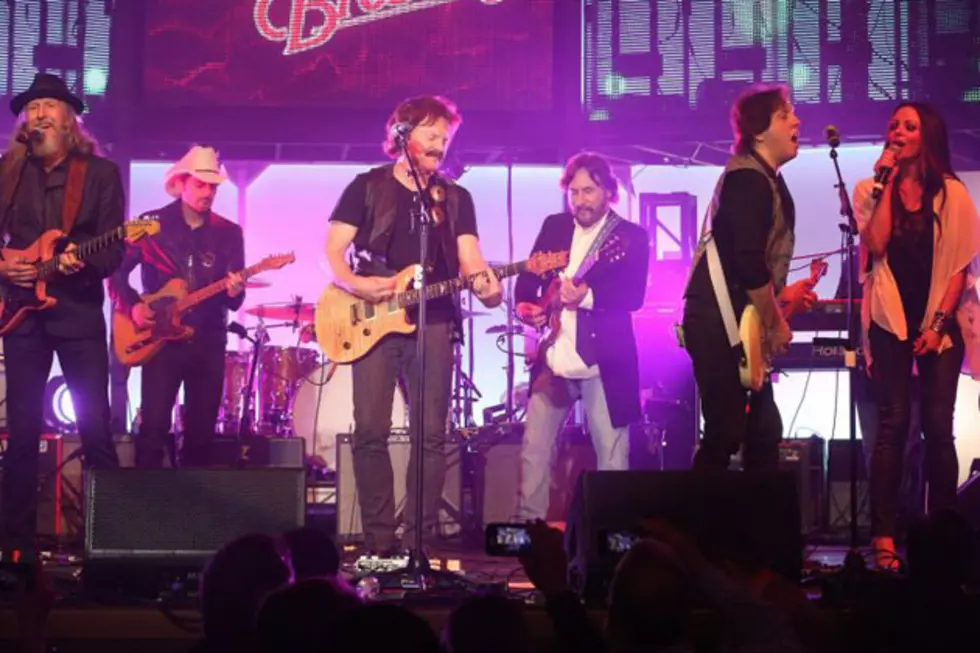 Michael McDonald Rejoins Doobie Brothers for All-Star Country Album
Alan Poizner, Sony Nashville
The Doobie Brothers, with five-time Grammy winner Michael McDonald returning to the fold, will team up with some of country music's biggest stars to re-record some of their biggest hits. The album will be released on an as-yet undetermined date in 2014.
Brad Paisley, the Zac Brown Band and Sara Evans are among those who will be contributing their talents to the disc. Paisley, Evans and Chris Young performed with the band last week (see the picture above) at Sony Nashville's annual exclusive party for industry people aboard the General Jackson Showboat.
The project was spearheaded by Sony Nashville head Gary Overton, whose first-ever concert was a 1972 Doobies show in Phoenix. "Seeing the Doobie Brothers perform all those years ago was such a thrill for me," he said via press release. "I loved their sound, and the enduring appeal and influence of the Doobies runs deep. Artists have been telling me how excited they are to be a part of this project, and that alone speaks volumes about the amazing heritage of music that the Doobie Brothers have created."
Toby Keith, Jerrod Niemann and Love and Theft are some of the other names who have chosen their favorite Doobie Brothers songs for the album.
More From Ultimate Classic Rock