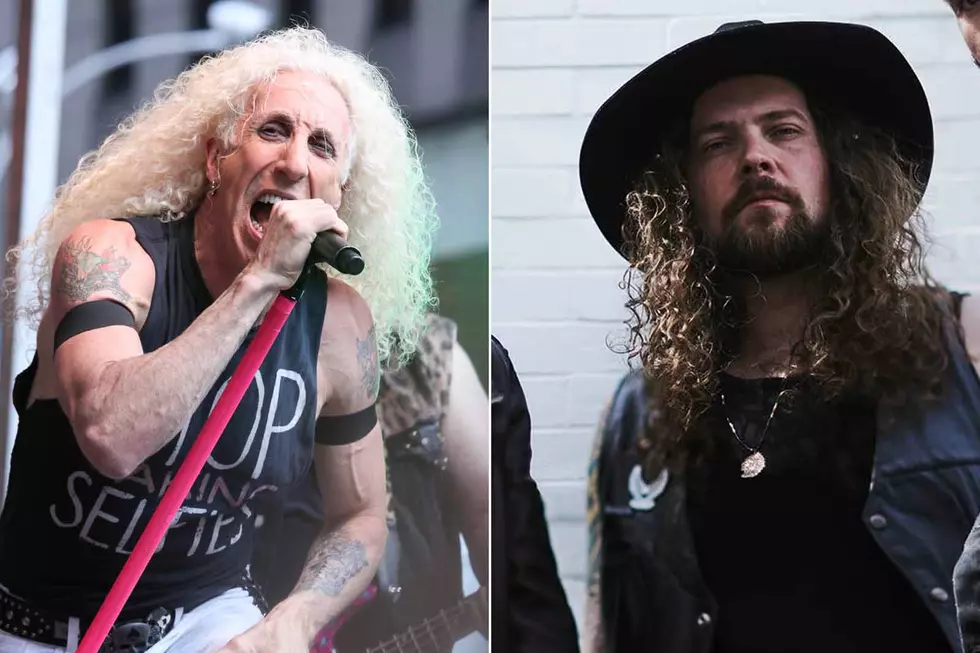 Dee Snider and Monster Truck's Jon Harvey Discuss a Band's Growing Pains
Rob Kim, Getty Images / Matthew Guido
Over the past few years, Dee Snider has become a fan of Monster Truck, a band from Hamilton, Ontario. The group releases its third album, True Rockers, tomorrow and it features Snider on the title track.
The Twisted Sister frontman and Monster Truck's singer and bassist Jon Harvey talked about the growing pains that up-and-coming bands go through exclusively for UCR.
Harvey, who counts the Allman Brothers Band and Grand Funk Railroad among his main influences, admits that two of the songs on True Rockers were recorded with commercial radio in mind. "We thought we kind of have to do it," he said. "We have to put this thing out there. ... And our fans are like, 'What the fuck are you guys doing?' But in my opinion, it's like, 'I don't know. We're just trying something else' and we felt like it was time to actually do it. But the rest of the record sounds like a normal Monster Truck record, but we've got these two songs and they're always gonna be there. You know what I mean?"
"Oh, I know what you mean in a big fucking way," Snider laughed. He pointed out that, although the more commercially minded tracks are a small percentage of the album, they can also come to define the record. He recalled how Twisted Sister's cover of the Shangri-La's "Leader of the Pack," the first single from Come Out and Play, failed to follow up on the success of the Stay Hungry hits. "It was reviewed as this sell out," he continued, "and the record label pulled the plug on the record."
Snider was first turned onto the band when he was in Toronto working on his Rock & Roll Christmas Tale musical. He would often hear tracks from the band's 2013 debut, Furiosity, in a cafe where he would get juice every morning. He then reached out to them.
Since then they've grown in popularity, with their second album, Sittin' Heavy, reaching No. 6 on the Canadian album chart. Harvey acknowledged that, because of their higher profile, they haven't done a headlining tour of Canada in two years. Tours of Europe, as well as opening slots for the likes of Nickelback and Deep Purple, he said, were impossible to turn down because of the greater exposure. "We're more popular in Paris, France, than we are in Montreal, Quebec," he said.
Monster Truck's added experience has translated to the studio, where they've gotten better at self-editing on the new record. "You get attached to these parts," Harvey noted. "It doesn't make any sense, really, that it's even there. It sounds cool, yeah, whatever. ... But eventually, you start with this thing, this opus, and then we whittle it down to a three-minute banger. It's an interesting process."
Snider compared it to his experience as a screenwriter, knowing how important it is to remove well-written scenes if they don't move the story along. "Once you make that edit, once you let it go, do you remember it later and go, 'Ah, fuck. I wish we had kept that part in there?" he asked.
"Never," Harvey replied. "I actually start hating those parts. Listen to the song now. It sounds like a song. If your song flows anything within one-tenth of a Beatles song, it flows pretty good. ... Say I'm doing the dishes and I'm play a demo I'm working on, if I don't notice the song is over, that's great."
On Saturday, Monster Truck will be headlining the New Music Fest in Sudbury, Ontario; they'll follow it up with a tour of Europe in November and December. You can check out the new song "True Rockers" below and learn more about Monster Truck at their website.
More From Ultimate Classic Rock