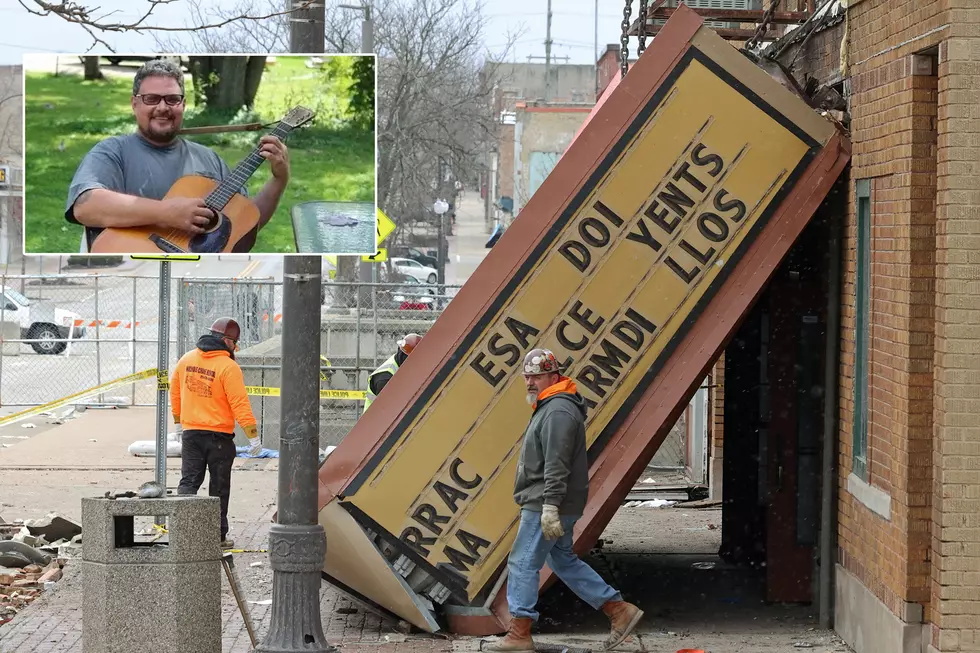 How to Help Victims of the Apollo Theatre Roof Collapse
Tribute News Service, Getty Images / GoFundMe
A fundraising campaign for the family of the man who died at Morbid Angel's show in Illinois Friday night has reached the $22,000 mark two days after the tragedy took place.
Fred Livingston Jr, 50, was named as the only onsite fatality when a storm tore the roof off the Apollo Theatre in Belvidere, injuring many others. According to multiple reports, Boone County's emergency management director said Livingston's body was discovered "under the debris" and "he was already gone" by that time.
"Fred was an amazing man that leaves behind his three sons, Alex, Fred III, and Shane, along with the rest of his family that cared about him deeply," a statement on the GoFundMe page read. "Our family still cannot comprehend this unexpected tragedy and we are asking for donations to help with the costs that come along with losing a family member. … We hope to update you soon on more details for services to honor the life of a son, brother, father and grandpa who will be truly missed."
Morbid Angel shared the page link, saying: "We want to personally send our heartfelt condolences to the family and friends of our deceased brother in Metal, Fred Livingston Jr." In a previous statement they'd said: "We lost a brother in Metal last night and many were hurt and injured in this tragedy. We would like to express how truly thankful we are for those in attendance (fans, venue staff, bands and crew) that assisted with getting people out and to safety. We want to thank the first responders (fire, EMT, police) that were on the scene quickly and were able to help in getting people out of the venue and to hospitals for treatment as quickly as possible. You are true heroes!"
According to reports at least 28 people were taken to hospital, with four having sustained serious injury and two of those in a life-threatening condition. A second GoFundMe page, for victim Michelle, had reached $12,000 in the hours after its launch. She suffered a severe laceration to her head, a broken spine, wrist and 10 broken ribs. Michelle's sister reported that her sibling's fiance was also injured at the show, saying: "The last thing they need to be worried about is paying their everyday bills. They have months of recovery time ahead of them both."
Music's Worst Concert Accidents and Tragedies
The possibility for danger always lurks whenever large groups of people get together, and that's especially true at concerts and festivals.
More From Ultimate Classic Rock