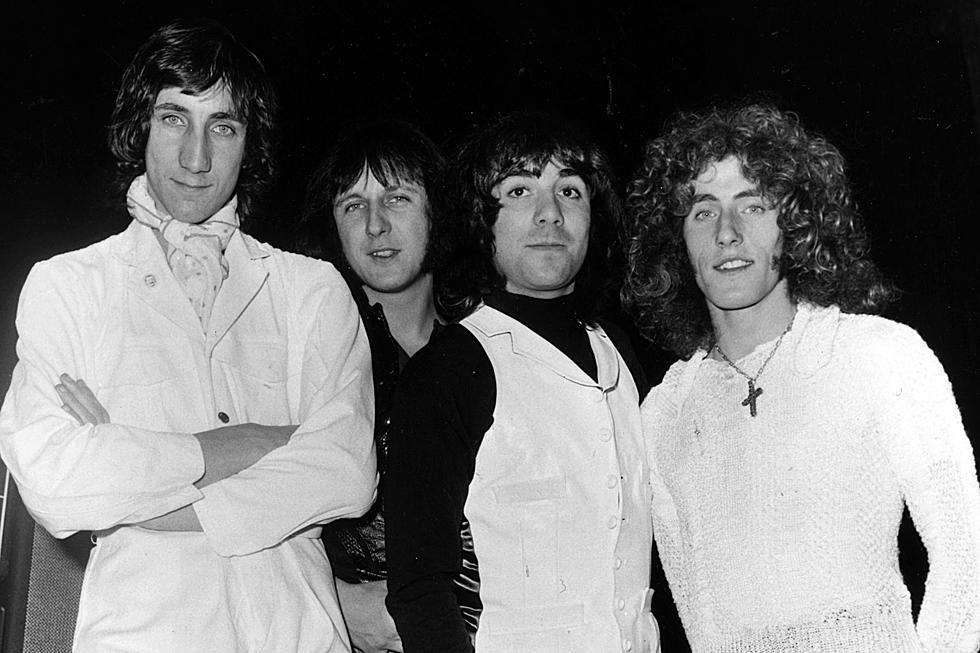 Pete Townshend Says the Who Invented Backing Tapes
Getty Images
Pete Townshend says the Who invented backing tapes while they were working on their 1971 album Who's Next.
The guitarist said that while he worked on his shelved Lifehouse concept project – parts of which wound up on Who's Next – he'd become more interested in the technology of making music, and that interest has extended to modern AI developments.
"[T}he idea that I might be able to do anything technological with the band had drifted into space," Townshend told the Daily Beast in a recent interview, referring to the collapse of Lifehouse. "But remember, what we had invented was the use of backing tapes. And they fucking worked!
"That gave us this extra harmonic and musical implementation, because we were just a three-piece band. We didn't even have a keyboard player. So it enriched our sound. And they worked so well partly because of [drummer] Keith Moon. He didn't need a click. He was the click!"
READ MORE: Roger Daltrey Says The Who Probably Won't Tour the US Again
Townshend also recalled his experience of the Isle of Wight Festival in 1970 and how it affected his thinking. "After the show, after the crowd was gone, what was left behind was this incredible expanse of garbage. I mean, it was just spectacular. The festival was only one fucking day. Just unbelievable. And I got our road crew to clean it up. Because I was so ashamed of what had actually happened.
"And I suddenly thought, because I was [still] working towards Lifehouse, and about the importance of the audience, about trying to raise the audience up, to inspire them, to give them uplift, to make them connect to the realities of how art and politics, and art and society, could be improved… And here was this example of how little they fucking cared about it. What then happened was I modified my position, and I became more interested in the technology that underlay what electronic music was promising."
The Who's Roger Daltrey to Undergo Knee Surgery
Asked about his future plans, Townshend said: "The new piece that I've been working on for a long time, Age of Anxiety, has an installation conversation aspect to it. So I probably will finish that, and if there are any AI software-based wonderments that come out of the new wave of technology and data manipulation, I'll probably use them for that project. So, it's still bubbling."
As for the Who, he appeared to hint that he wanted to record new music, but suggested that singer Roger Daltrey didn't feel the same way. "Roger's got a bad knee which will probably need surgery, and so any decisions now about what we'll do next, I don't know," he explained.
"But he's singing great… [W]e're thinking we might try and pick up some of the territories that we'd missed with the orchestral show, but, you know, I'm 78. So I think we shall see what happens."
He added: "I have to be careful what I say, because I don't want to make this all about Roger's fear of what is new, but I think he is afraid of what is new! The way he expresses it is, 'Pete, you've written so many fucking great songs… If we were to use your solo catalogue as part of the Who catalogue, we'd have the best fucking choice of stuff.'"
He concluded: "So, something might happen. But I don't know."
Top 10 'Leftovers' Albums
Odds-and-ends projects are often overlooked but in time some of them have come to be valued – and in some cases, essential – parts of these artists' catalogs.
Gallery Credit: Bryan Wawzenek
Why the Who's Drummer Invited Fans to Moon Him
More From Ultimate Classic Rock