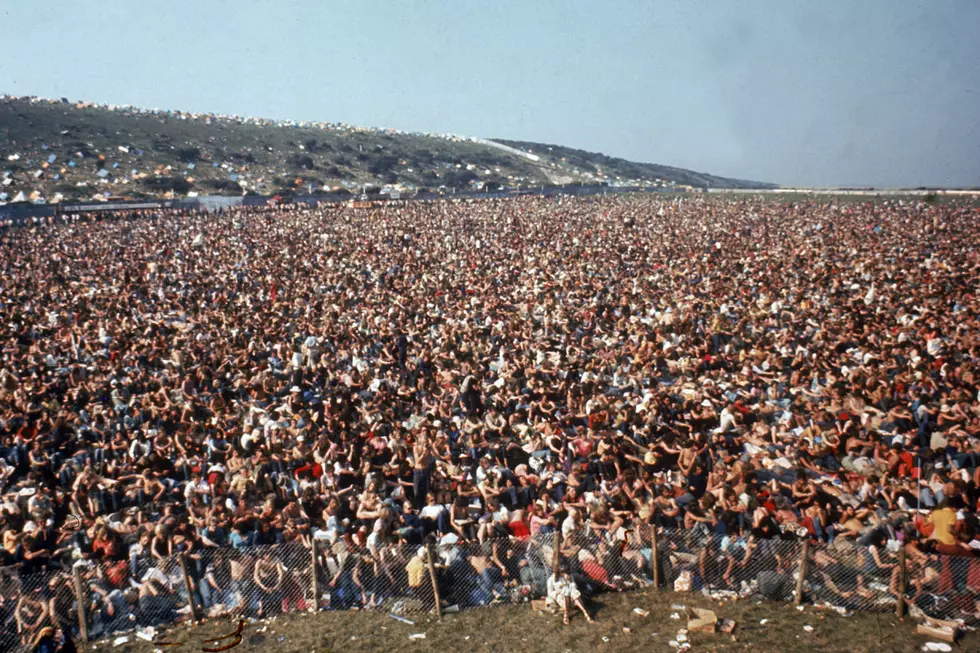 How 1970's Isle of Wight Festival Became 'Britain's Woodstock'
Hulton Archive, Getty Images
Monterey Pop and Woodstock may have set the bar for rock festivals in the U.S., but in the U.K. there's one particular music fest that's become legendary. The Isle of Wight Festival 1970 took place from Aug. 26-31 off Britain's South Coast and featured a lineup that included Jimi Hendrix, the Who, the Doors, Supertramp, Chicago, the Moody Blues and many more.
This was the third consecutive year for the festival, and the last for a very long time. As with Woodstock, the promoters had sold tickets in advance, but they underestimated the number of people who showed up without tickets. Those fans tore down the fences, forcing it to become a free festival at that point. The crowd was later estimated at 600,000, breaking Woodstock's record of 400,000 attendees.
Isle of Wight also boasted a more diverse lineup, bringing in jazz (Miles Davis), country (Kris Kristofferson) and Brazilian Tropicalia (Gilberto Gil and Caetano Veloso). It was also a testing ground for two soon-to-be huge bands: Supertramp, whose debut album had been released the previous month, and Emerson, Lake and Palmer, a supergroup that had played its first gig only the week before.
But not everything went well. The decision to make it a free festival caused Rikki Farr, the master of ceremonies, to shout, "We put this festival on, you bastards, with a lot of love! We worked for one year for you pigs! And you wanna break our walls down and you wanna destroy it? Well, you go to hell!"
That set the stage for a few confrontations between the audience and musicians. Joni Mitchell's set was interrupted by someone named Yogi Joe, who began to speak about the fans watching from high up on a hill called Desolation Row before being dragged off the stage. The crowd took Yogi Joe's side, especially after Mitchell commented, "I think that you're acting like … tourists, man."
Freddie Stone of Sly and the Family Stone was hit by a beer can, and Kristofferson was booed offstage.
Still, the biggest names performed sets that earned their reputation, with the Who's considered to be one of their best ever. Hendrix's would be bittersweet: His set on the last night turned out to be his final U.K. concert before his death three weeks later.
The festival was filmed by director Murray Lerner, with highlights released in 1996 as the movie Message to Love. Over the years, Hendrix, the Who, Jethro Tull, Davis, Leonard Cohen, ELP, the Moody Blues and Free have released CDs and videos of their performances.
But the difficulties with logistics in accommodating so many people in such a small place caused British Parliament to pass a law prohibiting gatherings of more than 5,000 people on the island without a special license. But the festival was eventually revived in 2002, with Robert Plant as the headliner and has been held every year since then.
Masterpieces: The Very Best Albums From More Than 100 Classic Rock Acts
More From Ultimate Classic Rock