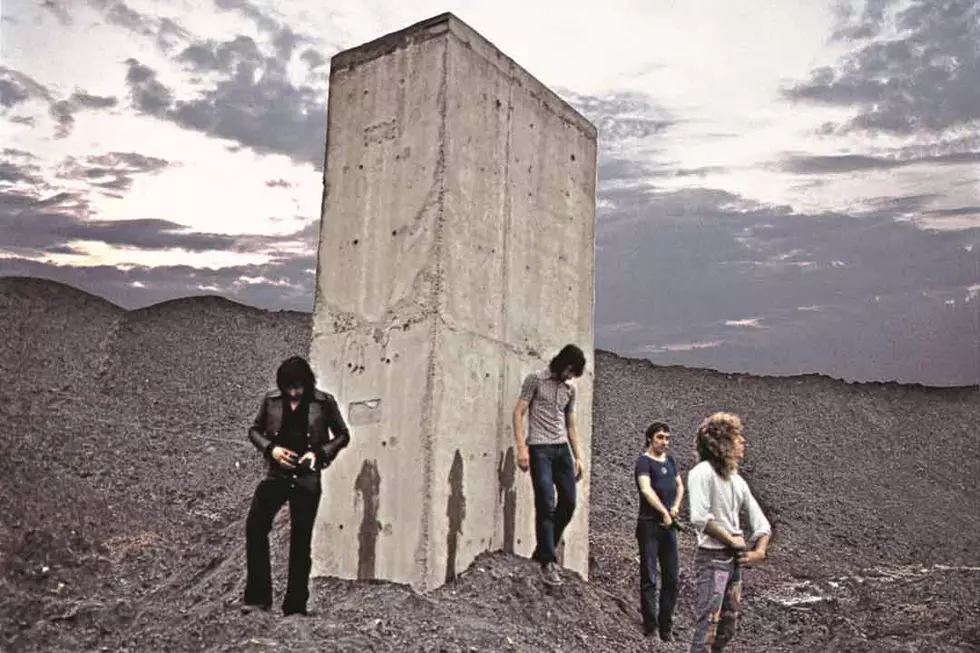 When the Who Scaled Back and Released the Classic 'Who's Next'
MCA
Pete Townshend was brimming with ideas as the '60s turned into the '70s. The Who were coming off their most monumental album, Tommy, and the massive tour that followed. An entire generation was sparked by the work, which eventually spawned a movie, a Broadway musical and countless imitators. Tommy was a cultural milestone, which left Townshend reeling: What's next?
For the band's guitarist and chief songwriter, the answer was another rock opera.
In 1970, Townshend started to piece together a new project for the band's fifth LP, Lifehouse – which was, like Tommy, a story-driven album. The initial concept stemmed from the Who's enormous growth over the past several months, as the band moved further and further away from its fan base – figuratively and literally, as concerts became huger and the divide between the stage and audience widened. But at the same time, Townshend never felt more connected to his fans.
The sci-fi concept of Lifehouse took this all in: In the future, rock music is banned. But the kids found a way to experience it through a form of virtual reality in a place where they gathered to listen and commune – a house where the music takes on an almost religious quality. Songs were written and recorded, and a rough sketch of how it all comes together was laid out.
But Lifehouse hit some bumps along the way, not least of which was nobody could make sense of the damn thing. Plus, Townshend has said he suffered a nervous breakdown when he couldn't assemble the piece in a cohesive way. Still, he liked several of the new songs enough that he continued to work on and refine them, even after he abandoned his original concept (or rather, he put it on a back burner and revisited the project many times over the course of the Who's career as well as his solo career). And he wasn't too thrilled about undertaking another heady rock opera after Tommy, despite his initial feelings on the matter.
So he scrapped Lifehouse (for now), carried over some of his favorite songs and started to assemble a straightforward rock 'n' roll record. The result, Who's Next, was released on Aug. 14 1971, and stands as the Who's best album, a filler-free explosion of guitar-powered riffs, generation-sparking lyrics and larynx-shredding anthems.
Listen to the Who's 'Won't Get Fooled Again'
Who's Next was comprised of many of the Lifehouse project's songs, including "Baba O'Riley," "Bargain," "Going Mobile," "Behind Blue Eyes" and "Won't Get Fooled Again." Bassist John Entwistle contributed one song, "My Wife," which was supposed to be on a solo album. And the Who, producing themselves with some help from Glyn Johns, recorded most of the album in a relatively short two months in a London studio.
Townshend began to experiment with synthesizers around this time, a musical addition that added to the forward-looking nature of the record. The celebrated looped intro to "Baba O'Riley" (named after spiritual guru Meher Baba and minimalist composer Terry Riley) particularly propelled the Who's music into the new decade, which was still coming down from the '60s. Who's Next didn't put an end to the Woodstock era, but it was one of the albums that audaciously carried rock 'n' roll into the next age.
Throughout the album, the synths add texture to the tracks, but just as often they serve as the center to many of the key songs. Album opener "Baba O'Riley" and the eight-and-a-half-minute closing tune "Won't Get Fooled Again" are so powered by them, both cuts sound neutered without their presence. It was a bold move on the part of Townshend, who wanted the Who to break from their past, and an exciting move.
In a way, the iconic cover photo of the four band members urinating on a giant stone monolith can be perceived as the Who pissing on their past. They were ready to break from parts of it. Tommy wiped them out, but the long, grueling tour in support of the album made them better. Townshend, merging electric and acoustic instruments again, opened up his music on Who's Next, Keith Moon pretty much set up air-drum heaven here and Roger Daltrey's famous scream at the end of "Won't Get Fooled Again" is still one of rock's all-time greatest.
After the release of Who's Next, which climbed to No. 4, Townshend tinkered with a couple more concepts before he settled on Quadrophenia, another rock opera that nearly equals Tommy in the Who's catalog. But Who's Next is the band at its best. Stripped of the ambitions, expectations and pretensions they were becoming saddled with, they made an album of pure rock 'n' roll power. There was a time when the Who were one of music's greatest and most important bands. Who's Next proves why.
Pete Townshend Albums Ranked
Nothing by the Who. No tribute records to Meher Baba. But we do have concept albums, collaborations and some pretty cool solo records made between band LPs.
Why the Who's Drummer Invited Fans to Moon Him
More From Ultimate Classic Rock