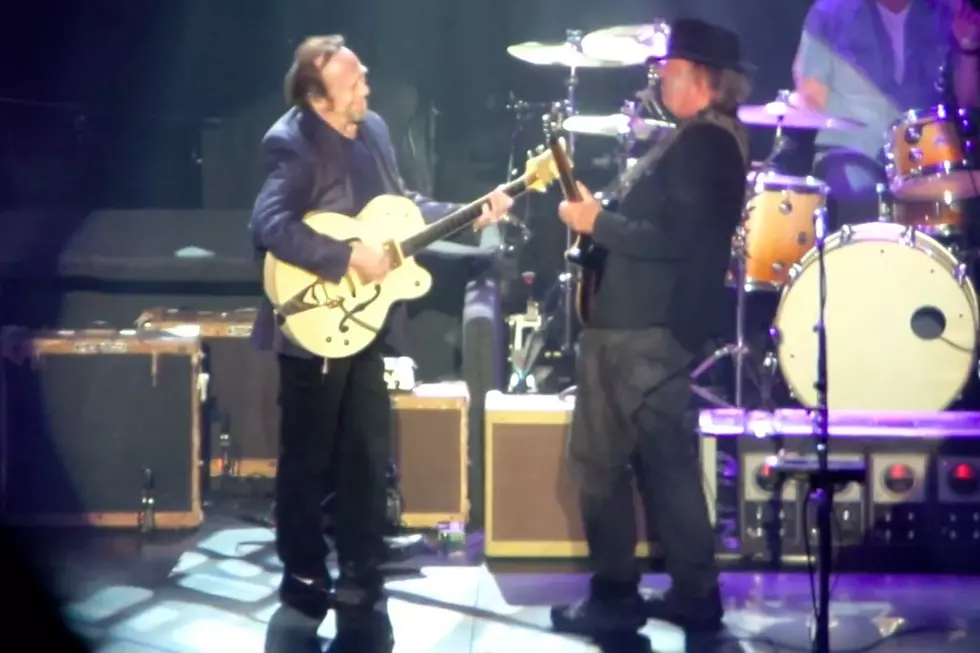 Watch Stephen Stills and Neil Young Reunite Onstage for Charity
YouTube
Stephen Stills' annual Light Up the Blues benefit concert is never short on big-name guests, and this year's lineup boasted something truly special: the chance to watch Stills and his on-again, off-again partner Neil Young reunite onstage for a good cause.
The Los Angeles Times reported from the event, which took place at the Pantages Theatre in Hollywood on April 25, observing that some of the night's highlights included a guitar auction that ended with Brad Pitt handing over $23,000 for a Fender Strat signed by all of the performers on the bill.
Saying Stills "played ambitious solos with a deft precision," the Times still declared Young the set's victor in terms of guitar duels, saying, "Young's guitar vocabulary may not be extensive, but he's hard to beat when it comes to playing with power and emotion." You can check out fan-shot footage from the set here, including the new Stills composition "Virtual Here & Now" above, and "Long May You Run" and "Rockin' in the Free World" below.
Given Young's long-running stewardship of the highly regarded Bridge School benefit concerts, it makes even more sense that Stills would reach out to his old friend. As he told the Times in a separate interview, "The Bridge School event is probably the best one. They took everything they learned from other people's benefits and perfected it. This stuff gets complicated when you're dealing with road managers and production managers. But once we decided to do it, people just kept showing up saying they wanted to be involved. That's when you know you've got a winner."
The still-potent chemistry between Stills and Young is obvious in this footage, which captures the loose body language and beaming smiles that often peeked out between the solos, and it was equally apparent that the show would prove a night to remember for the set's audience — including members of the duo's peer group.
"As guitar players and songwriters, these guys mean the world to me," said singer-songwriter Shawn Colvin, who also appeared on the bill. "This is the kind of songwriting that inspired me to do what they do. It's kind of how I discovered who I was. I love that they're still doing it."
Watch Stephen Stills and Neil Young Perform "Long May You Run"
Watch Stephen Stills and Neil Young Perform "Rockin' in the Free World"
See Crosby, Stills, Nash & Young and Other Rockers in the Top 100 Albums of the '70s
More From Ultimate Classic Rock