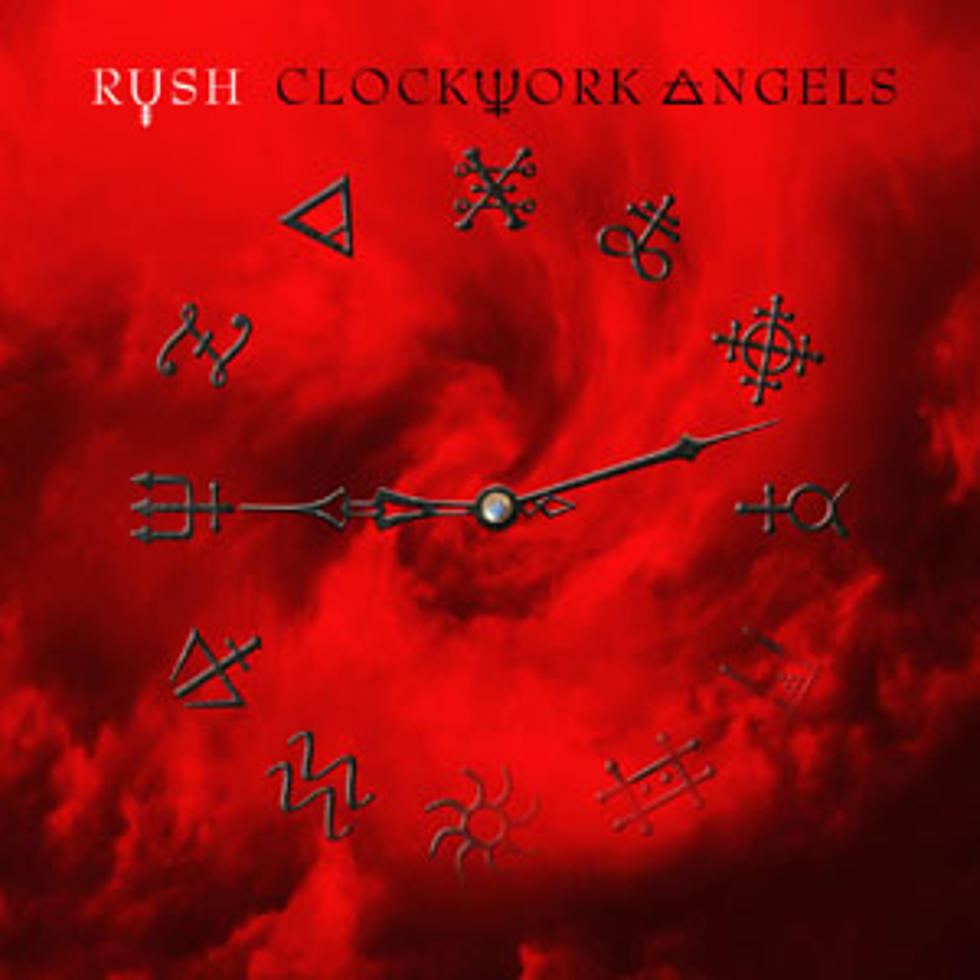 Rush Reveal 'Clockwork Angels' Release Date, Tracklist and Cover Art
Rush have revealed the track list, cover art and a release date for 'Clockwork Angels,' their long awaited new studio album, which is finally slated to arrive in virtual and actual record stores on June 12.
'Clockwork Angels' is the band's 20th studio album and their first album of original material in over five years.
Producer Nick Raskulinecz, who also collaborated with the band on their previous studio album, 2007's 'Snakes and Arrows,' worked on the new album once again alongside the co-producing band.
Recording sessions for the 12 track release were split between two studios. The band completed initial tracking for 'Clockwork Angels' rby ecording 'Caravan' and 'BU2B' at Blackbird Studios in Nashville.
Performing those two tracks live nightly on the 'Time Machine' tour primed the Rush fanatics with just a hint of what they might expect to hear on the new album.
Once their touring obligations had wrapped up, Rush returned to the studio to finish work on the album, this time working at Revolution Recording in Toronto. Additional strings (recorded by David Campbell, known for his work with Paul McCartney, Beck, the Rolling Stones and many others) were added at Ocean Way Studios in Hollywood earlier this year.
The mind-expanding lyrics of 'Clockwork Angels' chronicle a young man's quest across a lavish and colorful world of steampunk and alchemy as he attempts to follow his dreams.  The story features lost cities, pirates, anarchists, an exotic carnival, and a rigid Watchmaker who imposes precision on every aspect of daily life.
In other words, it's typical Rush! As previously revealed, author Kevin J. Anderson is working with drummer/lyricist Neil Peart on a novelization of the album. Rush will preview the album with a new single entitled 'Headlong Flight,' which will be released on April 19. Details regarding a full tour to support the new release will be announced shortly.
RushisaBand reports that a special fan pack edition of the album will be released by Classic Rock Magazine, featuring 132 pages of content covering the new album -- including extensive new interviews with all three members of the band. Additional content includes Kiss bassist Gene Simmons offering his view of Rush in the '70s, which is something we really can't wait to read!
'Clockwork Angels' Track List:
1. 'Caravan'
2. 'BU2B'
3. 'Clockwork Angels'
4. 'The Anarchist'
5. 'Carnies'
6. 'Halo Effect'
7. 'Seven Cities Of Gold'
8. 'The Wreckers'
9. 'Headlong Flight'
10. 'BU2B2'
11. 'Wish Them Well'
12. 'The Garden'
'Clockwork Angels' Album Trailer With 'Headlong Flight' Snippet
More From Ultimate Classic Rock