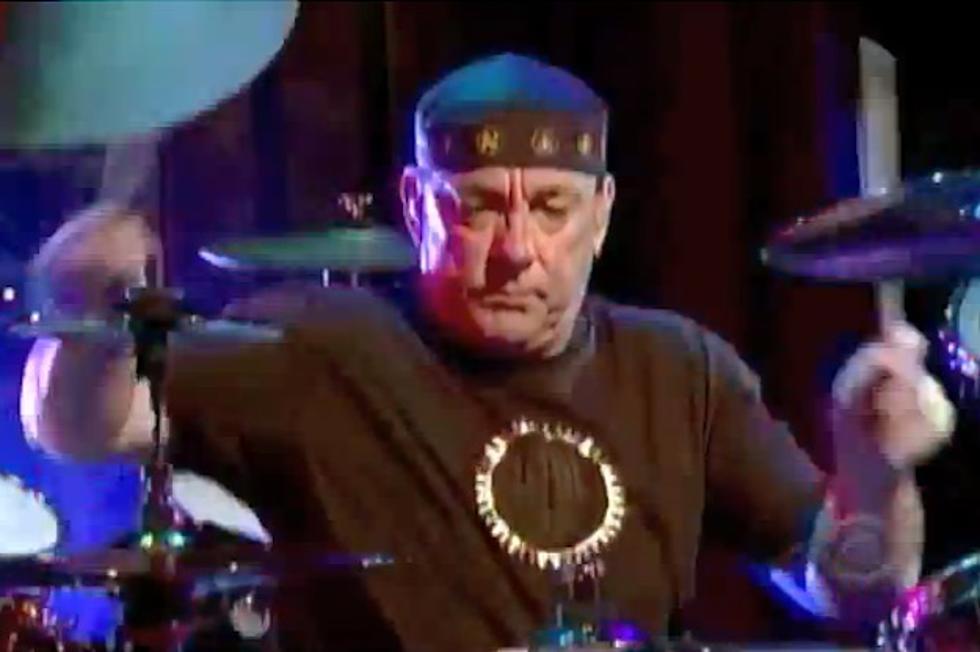 Rush's Neil Peart Wows Audience With Drum Solo on 'Letterman'
Rush stickman Neil Peart said he had to scale back his drum solo for his appearance Thursday night on CBS' 'Late Show With David Letterman,' but that didn't stop the performance from being a tour de force.
To cap off the program's 'Drum Solo Week,' Peart pounded his complex Time Machine kit for nearly five minutes -- still plenty of time to showcase his tremendous skills. (Video of the TV performance can be seen below.)
"My regular live drum solo is about eight and a half minutes, so I decided I'd have to do a mental edit, accelerate the changes and minimize the improvisational parts and so on," Peart told musicradar.com before the late-night TV gig. "At the rehearsal, during my first attempt, I had it down to about four minutes and 50 seconds, and the producers were giving me these worrisome looks."
For the performance, Peart seemed to use every one of the dozens of drums and symbols that his kit has to offer. The solo started with Peart playing unaccompanied and ended with him playing along to the music of the Buddy Rich Band on the song 'Love for Sale.'
The Rush drummer received a series of applause throughout the gig from the audience at the Ed Sullivan Theater in New York. Prior to the performance, Letterman introduced Peart and quipped, "Afterwards, everyone gets a ride in Neil's time machine."
Watch Neil Peart's Drum Solo on 'Late Show With David Letterman'
More From Ultimate Classic Rock