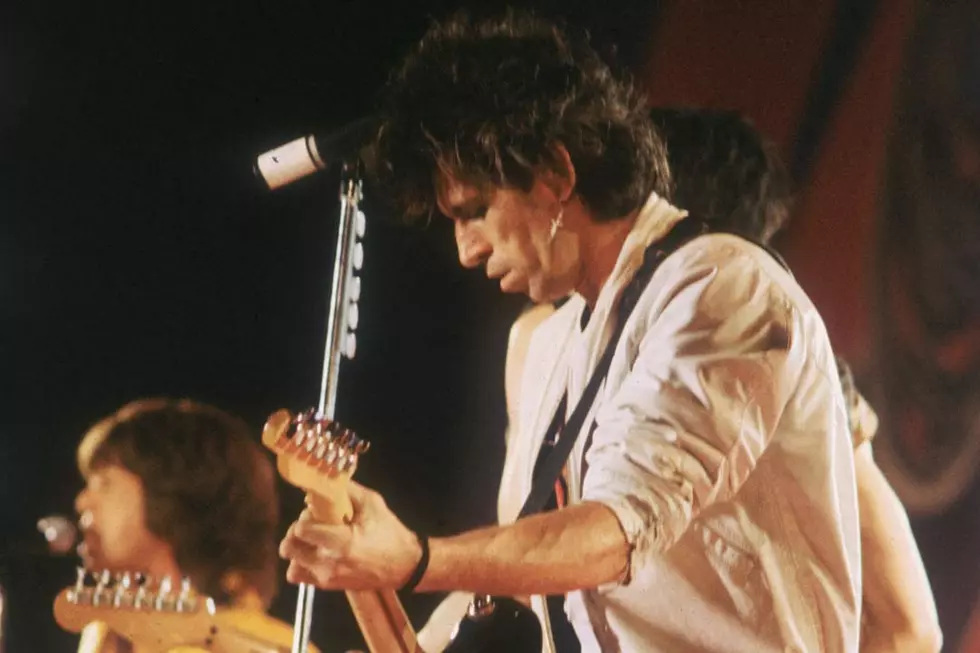 How the Rolling Stones' 'Emotional Rescue' Cashed in on a Comeback
Keystone / Hulton Archive, Getty Images
On the surface, the Rolling Stones' Emotional Rescue sounds a little like a diluted sequel to Some Girls, the 1978 album that returned them to the throne. But dig deeper into the LP – which was released on June 20, 1980 – and it sounds more like the next step in the group's evolution rather than an imitation of its comeback predecessor.
But Some Girls did have a huge influence on Emotional Rescue. In addition to receiving a mostly open-armed welcome to their ventures into disco and punk, which resulted in similarly explored paths on Emotional Rescue, it spurred the Stones into trying just a little bit harder instead of just settling into their legend. Following 1972's Exile on Main St., they pretty much just assumed they were the greatest rock 'n' roll band in the world and barely worked to prove it, until Some Girls kicked their asses back in gear.
That momentum carried over to Emotional Rescue. It's not a great album like Some Girls or 1981's Tattoo You. But it's way better than 1976's Black and Blue and almost everything else from the '80s, '90s and '00s. It just needs to clear some hurdles from the past along the way.
The Stones charged back into the studio while Some Girls was still hot, recording most of Emotional Rescue at various sessions in 1979. While some longtime fans were undoubtedly dismayed by the group's disco moves on songs like "Miss You," that cut became their first No. 1 since "Angie," and the number of new listeners it attracted was worth the payoff. So, maybe as a sort of a sneer at the backlash, they led off Emotional Rescue with another dance-floor monster, "Dance (Pt. 1)" – and they don't even bother to hide their intentions this time. (The second part, "If I Was a Dancer," ended up on the 1981 compilation Sucking in the Seventies.)
Watch the Rolling Stones' 'Emotional Rescue' Video
The rest of the album heads in one direction and then another, juggling reggae ("Send It to Me"), New Wave ("Let Me Go"), country ("Indian Girl"), blues ("Down in the Hole"), horn-kissed balladry ("All About You") and straight-up rock 'n' roll ("Summer Romance") in its mix before heading back to another disco song, the title track, which shows up near the end.
Guided by a slinking rhythm, influenced as much by New York clubs as it is late '60s R&B, and Mick Jagger's falsetto, definitely a strictly '70s affectation, "Emotional Rescue" is the centerpiece of the album with which it shares its name. Because for all of its crisscrossing of genres, the LP's most memorable cut is the one that rests comfortably in Some Girls' shadow. "She's So Cold," the album's other single, immediately follows, and plows forward with more Some Girls-style spunk.
Not so surprisingly, despite more backlash from increasingly disheartened rock fans, Emotional Rescue became the Rolling Stones' eighth No. 1 album, eventually going double platinum (about a third of its predecessor's sales but still not too shabby). "Emotional Rescue" climbed to No. 3 on the pop chart and stayed there for a couple weeks; "She's So Cold" topped out at No. 26.
When the band returned a year later with Tattoo You, they recovered a handful of leftover songs from the productive and extensive Emotional Rescue sessions: "Hang Fire," "Little T&A," "Black Limousine" and "No Use in Crying" were all resurrected; other Tattoo You songs originated from sessions going as far back as 1973's Goats Head Soup. The 1981 LP spent nine weeks at No. 1, beating Emotional Rescue for that record by two weeks, and it turned out to be one of the Rolling Stones' last great works – their final No. 1 album, their final classic and their final spark before they quit trying to be the greatest rock 'n' roll band in the world.
Rolling Stones Albums Ranked
More From Ultimate Classic Rock