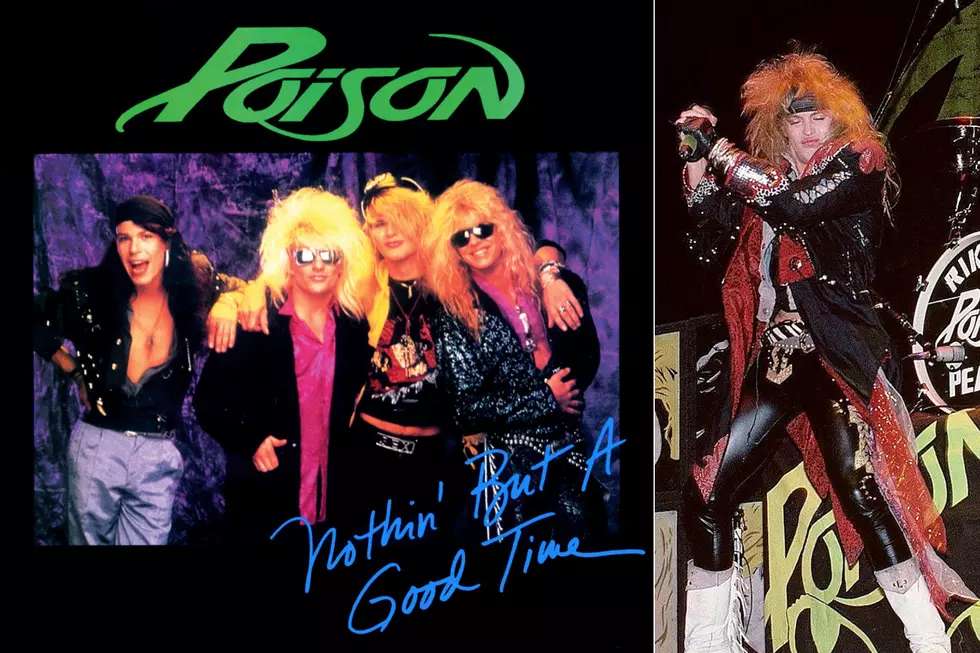 35 Years Ago: Poison Goes Big Time With 'Nothin' but a Good Time'
Enigma / Ebet Roberts, Getty Images
Poison may not have had the credibility or the chops of their peers, but they made up for their deficiencies with an unquenchable desire for stardom and an unrelenting pursuit of fun.
Formed in 1983 in Mechanicsburg, Pa., under the moniker Paris, Poison quickly changed its name and relocated to Los Angeles to stake its claim in the exploding Sunset Strip hard rock scene. They cut their 1986 debut album Look What the Cat Dragged In for a measly $23,000 with producer Ric Browde and watched as it became an unlikely double-platinum smash thanks to the Top 10 single "Talk Dirty to Me."
Poison had quickly, almost inexplicably, entered the big leagues, and it was time to upgrade their personnel accordingly. After discussions with Kiss' Paul Stanley came to naught, they enlisted superproducer du jour Tom Werman to record their sophomore album Open Up and Say ... Ahh!
Werman had made his bones in the '70s working with artists like Ted Nugent and Cheap Trick, and he was riding high off the consecutive multiplatinum successes of Motley Crue's Shout at the Devil, Theatre of Pain and Girls, Girls, Girls. He liked what he heard in Poison, but he also knew they would need his guiding hand, particularly guitarist C.C. DeVille.
"They were great guys, they worked hard, but C.C. was mercurial at best," Werman told VWMusic in 2022. "He was dabbling in drugs. I'm not even sure what kind, but I know he was probably doing something that involved a white powder. You know, he'd play something, we'd listen to it and he'd say, 'I'll be right back.' Then he'd go to the bathroom, then he'd come back and say, 'Eh, I don't like it. Let's start again.'"
The process became especially arduous on "Nothin' but a Good Time," released as the lead single off Open Up and Say ... Ahh! on April 6, 1988. Unpretentious and catchy, it's the quintessential party-metal anthem, anchored around one of DeVille's most recognizable riffs and sporting a blazing solo that took a full day to record.
Watch Poison's 'Nothin' but a Good Time' Video
"He was more concerned with being as fast as Eddie Van Halen than with being creative," Werman said in Tom Beaujour and Richard Bienstock's aptly titled 2021 book Nothin' but a Good Time. "The solo for 'Nothin' but a Good Time' took eight hours, partially because C.C. was constantly going back and forth to the bathroom. I assumed he was freebasing or doing something that had to do with inhaling cocaine because it took him longer than it would to just go in and snort a couple of lines. That said, he was extremely cooperative — but definitely not all there."
"Nothin' but a Good Time" also benefited from a splashy video, which opens with a burned-out dishwasher getting reamed out by his boss as Poison's cover of Kiss' "Rock and Roll All Nite" blares through his tinny radio. He kicks open the kitchen door to discover the band running, spinning and leaping to and fro across a massive soundstage. In essence, it's identical to the "Talk Dirty to Me" video, albeit with a bigger budget — and its elementary concept suited Poison just fine.
"Too many bands are starting to take their personal aggressions out on the fans," singer Bret Michaels told Spin in 1988. "They're mad at the world and try to get their fans to feel the same. Rock 'n' roll is fun. We kick ass, but with smiles on our faces. We don't have to be negative to get a message across."
Poison had good reason to smile when "Nothin' but a Good Time" soared to No. 6 on the Billboard Hot 100. It was their best showing to date, but it would soon be dwarfed by their signature, chart-topping power ballad "Every Rose Has Its Thorn." Inspired by Michaels' real-life heartbreak, "Every Rose" propelled Open Up and Say ... Ahh! to quadruple-platinum status within eight months of its release.
With figures like that, not even heartbreak could thwart Poison's good time.
Top 30 Glam Metal Albums
There's nothing guilty about these pleasures.
More From Ultimate Classic Rock