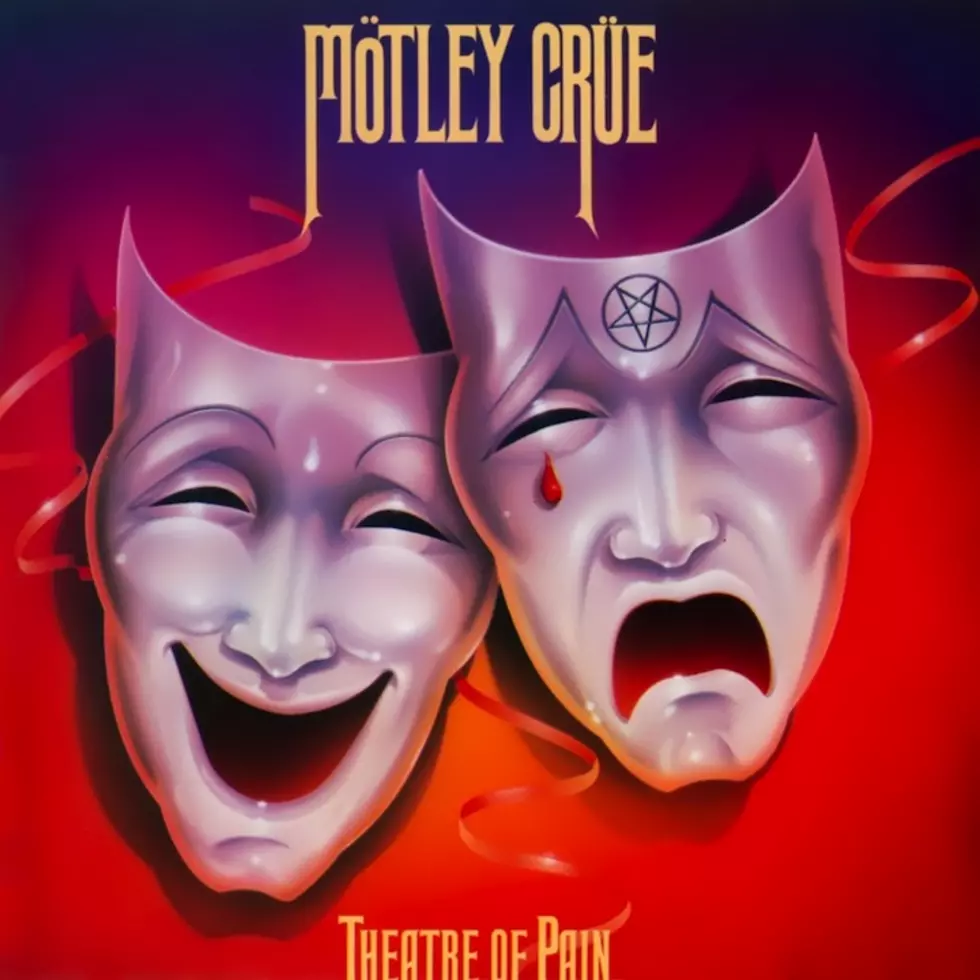 35 Years Ago: 'Theatre of Pain' Changes Motley Crue
Elektra
As Motley Crue were unveiling their hotly anticipated third studio album, Theatre of Pain, in June 1985, they were smong the most notorious, talked-about bands in America -- though not necessarily for the right reason: their music.
Alas, there were no guarantees that Neil would remain free to even carry on as Motley Crue's frontman, and that very real possibility (to say nothing of his guilt over the pain he'd inflicted), loomed like cloud over the recording sessions for Theatre of Pain, which took place between January and May at various L.A. studios.
But finally, with legal proceedings still pending and Neil out on bail, the album was delivered and the time had finally come for the tabloid chatter to stand back and let the music to do the talking. But what would the music say, exactly?
Mixed messages, as it turned out, since the somber note of Theatre of Pain's title accompanied band glamour shots that showed Neil, bassist Nikki Sixx, drummer Tommy Lee and guitarist Mick Mars sporting as much lace as they once did leather. And the songs themselves could be as black and white as the musicians' outfits.
Watch Motley Crue's 'Home Sweet Home' Video
On the one hand riff-centric headbangers like "Louder Than Hell," "Tonight (We Need a Lover)," "Use It or Lose It" and "Fight for Your Rights" all harked back to Motley Crue's thoroughly metallic commercial breakthrough, Shout at the Devil. On the other, chorus-driven rockers like "City Boy Blues" and "Raise Your Hands to Rock" aimed for greater accessibility and paved the way to a pair of crossover smash hits achieved through the band's faithful cover of Brownsville Station's "Smokin' in the Boys' Room" and the mega-ballad "Home Sweet Home."
These very modifications -- both in sound and image -- help explain why Theatre of Pain, perhaps more so than any other release of its time and place, managed to transform heavy metal from an album-oriented to a singles-oriented format. It essentially inaugurated the pop-metal era (with Poison, Cinderella and others soon following their example) that would rule supreme until the grunge revolution of the early '90s.
A month after Theatre of Pain, which was dedicated to Dingley, was released, Neil was sentenced to 30 days in jail, 200 hours of community service, five years probation and a multi-million dollar settlement.
Motley Crue Albums Ranked
More From Ultimate Classic Rock