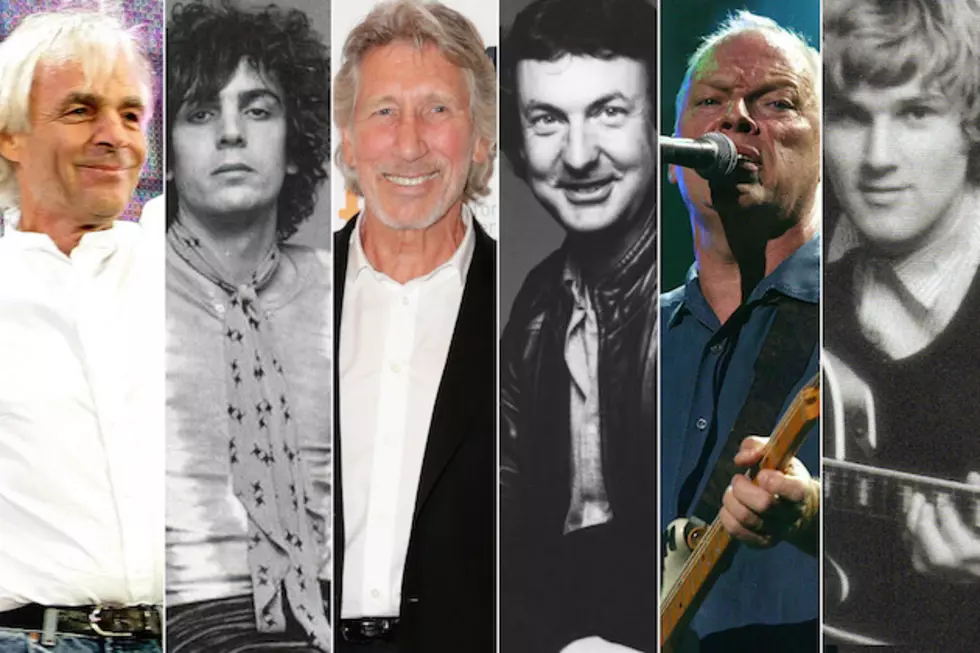 Pink Floyd Lineup Changes – A Complete Guide
MJ Kim, Getty / Hulton Archives / Philip Cheung, Getty / Columbia Records / Jo Hale, Getty / YouTube.com
Pink Floyd made their legend with a series of '70s-era triumphs constructed by the David Gilmour / Nick Mason / Roger Waters / Richard Wright lineup. But there's more to this story. During two other periods, the group expanded into a five-man lineup. A pair of albums was released by two different trio combinations, and another still with just Gilmour and Mason as official members. Then there was the one-off concert in the 2000s that found this often-battling quartet back together for one last time ...
1964-65

Syd Barrett / Bob Klose / Nick Mason / Roger Waters / Richard Wright

Long before their initial rise to psychedelic fame with 1967's 'The Piper at the Gates of Dawn,' to say nothing of David Gilmour's arrival, Pink Floyd were a trippy five-piece featuring two guitarists: Syd Barrett and Bob Klose. In fact, that's how Waters ended up on bass. Klose left after working on a pair of unreleased demos, 'Lucy Leave' and 'I'm a King Bee.'

1965-67

Syd Barrett / Nick Mason / Roger Waters / Richard Wright

This lineup recorded two successful singles ('Arnold Layne' and 'See Emily Play,' both of which reached the U.K. Top 20), and then Pink Floyd's whacked-out debut, a No. 6 U.K. hit. But even as they began to pick up commercial stream, Mason, Waters and Wright began to find working with Barrett untenable as his use of mind-altering drugs escalated. They were forced to cancel an appearance at the National Jazz and Blues Festival, and a subsequent U.S. tour was marred by increasingly eccentric behavior.

1967-68

Syd Barrett / David Gilmour / Nick Mason / Roger Waters / Richard Wright

Pink Floyd added Gilmour as a fifth member in December 1967, hoping to limit Barrett's public exposure while he continued to work behind the scenes as a creative partner. But by early the next year, it was clear Barrett's tenure in the band was ending. 'A Saucerful of Secrets' would include a final Barrett original called 'Jugband Blues,' and he would participate in a five-man take on Waters' darkly atmospheric 'Set the Controls for the Heart of the Sun.'

1968-1979

David Gilmour / Nick Mason / Roger Waters / Richard Wright

Pink Floyd's best-known lineup would release a string of career-making moments through the '70s, most notably 'Meddle,' 'The Dark Side of the Moon,' 'Wish You Were Here' and 'Animals.' But by the time the group reassembled for the decade-ending opus 'The Wall,' Wright found himself at odds with modern-era mastermind Waters. Wright would end up as a contract laborer on the subsequent tour, and he wouldn't return to the lineup until after Waters' departure in the early '80s.

1979-1985

David Gilmour / Nick Mason / Roger Waters

The bulk of this era was spent fighting over the rights to the Pink Floyd name, and the group managed only a single studio album, 1983's Waters-dominated 'The Final Cut.' By then, Pink Floyd had essentially been reduced to Waters' backing band. Lawsuits ensued when Waters chose to leave. Gilmour and Mason, it quickly became clear, wanted to continue forward as Pink Floyd. And so arguments in the press continued for years, even as the individual members began releasing solo albums.

1987-1990

David Gilmour / Nick Mason

Finally cleared to move forward, Pink Floyd emerged with their first album in five years, now being led by Gilmour and Mason. Because of ongoing legal entanglements, however, Wright once again worked only as a paid sideman on the subsequent album and tour. 'Momentary Lapse of Reason,' which shot to No. 3, also saw the return of longtime Pink Floyd cover artist Storm Thorgerson, who hadn't worked with the group since 'Animals' in 1977. The legal issues weren't over yet, though: Waters initially sued concert promoters over the use of the Pink Floyd name.

1990-95

David Gilmour / Nick Mason / Richard Wright

As Pink Floyd returned for their second post-Roger Waters release, their time in court seemed to be over for good. Moreover, Wright was officially in tow again as a third member. He'd make his first songwriting contributions since 1975's 'Wish You Were Here' on 'The Division Bell,' and become a regular touring partner with both Pink Floyd on the supporting tour and with Gilmour on his solo jaunts through 2008, when Wright succumbed to cancer. Pink Floyd's 2014 album, 'The Endless River,' grew out of these sessions.

2005

David Gilmour / Nick Mason / Roger Waters / Richard Wright

On July 2, 2005, the '70s-era lineup reunited for the first time in nearly 25 years, brought together for one improbable night by the Live 8 benefit concert at London's Hyde Park. The show, which was dedicated by Roger Waters in part to Syd Barrett (who died the following year), included 'Speak to Me,' 'Breathe' and 'Money' from 'Dark Side,' the title track from 'Wish You Were Here' and 'Comfortably Numb' from 'The Wall.' Pink Floyd reportedly turned down millions for a reunion tour.

BONUS: You Think You Know Pink Floyd?

Learn something new about David Gilmour, Roger Waters and the rest with lesser-known facts from this exclusive video!
More From Ultimate Classic Rock