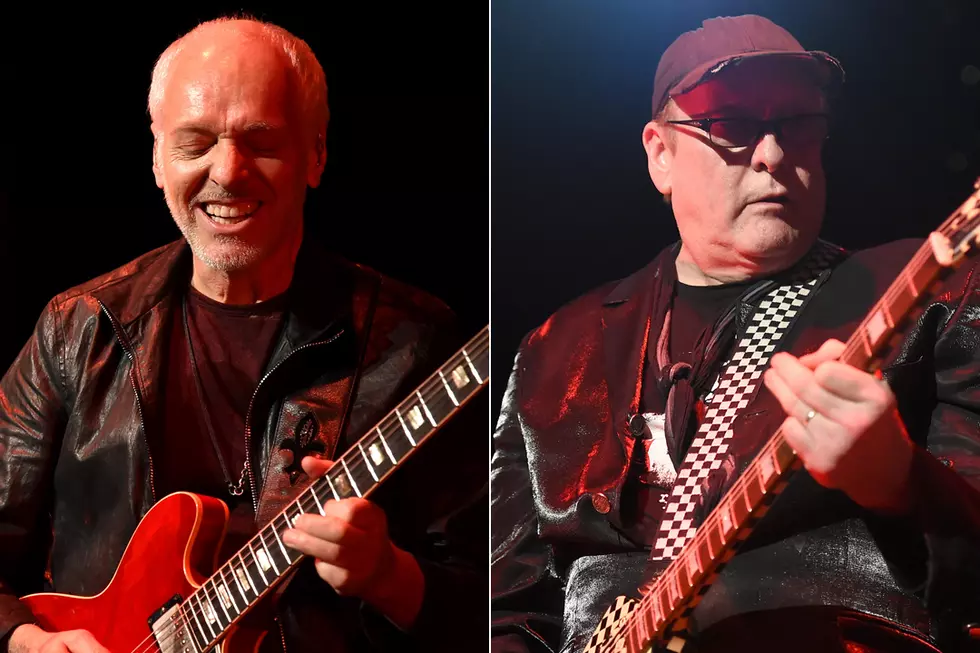 UPDATED: Peter Frampton and Cheap Trick Announce Co-Headlining 2015 North American Tour
Mike Coppola Getty Images
Two of the most-loved acts of the mid-to-late '70s will be hitting the stage together this summer. Peter Frampton and Cheap Trick will embark on a co-headlining tour of North America starting in June.
So far only seven dates (which are listed below) have been announced, but as Jambase notes, they are expected to reveal more in the future. As of now, the tour begins on June 6 in Lincoln, Calif., and will end on Aug. 5 in Toronto.
FEB. 11 UPDATE: 16 more dates have been added to this schedule.
However, be very careful about taking pictures during Frampton's set. Last summer he made headlines when he grabbed the cellphone of a fan, who had been repeatedly told to put it away, and threw it into the rafters. "When I go to do a show, it's my time," Frampton said later. "It's all about me. You've come to see me. You haven't come to see me if you're in an armchair watching a video. It's very distracting."
Peter Frampton / Cheap Trick North American Tour Dates
June 5 - Temecula, Calif.
June 6 - Lincoln, Calif.
June 13 - Indio, Calif.
June 14 - Scottsdale, Ariz.
June 16 - Morrison, Colo.
June 18 - Kansas City, Mo.
June 20 - Welch, Minn.
June 25 - Vienna, Va.
June 27 - Portland, Maine.
July 11 - Canandaigua, N.Y.
July 12 - Clarkston, Mich.
July 28 - Bethlehem, Penn.
July 29 - New York, N.Y.
July 31 - Atlantic City, N.J.
Aug. 1 - Boston, Mass.
Aug. 2 - Mashantucket, Conn.
Aug. 5 - Toronto, Ontario
Aug. 11 - Newport News, Va.
Aug. 12 - Cary, N.C.
Aug. 14 - Biloxi, Miss.
Aug. 15 - Peachtree City, Ga.
Aug. 21 - Tucson, Ariz.
Aug. 25 - Livermore, Calif.
The 10 Worst Rock and Roll Hall of Fame Snubs
See the Yearbook Photos of Rick Nielsen and Other Rock Stars
More From Ultimate Classic Rock