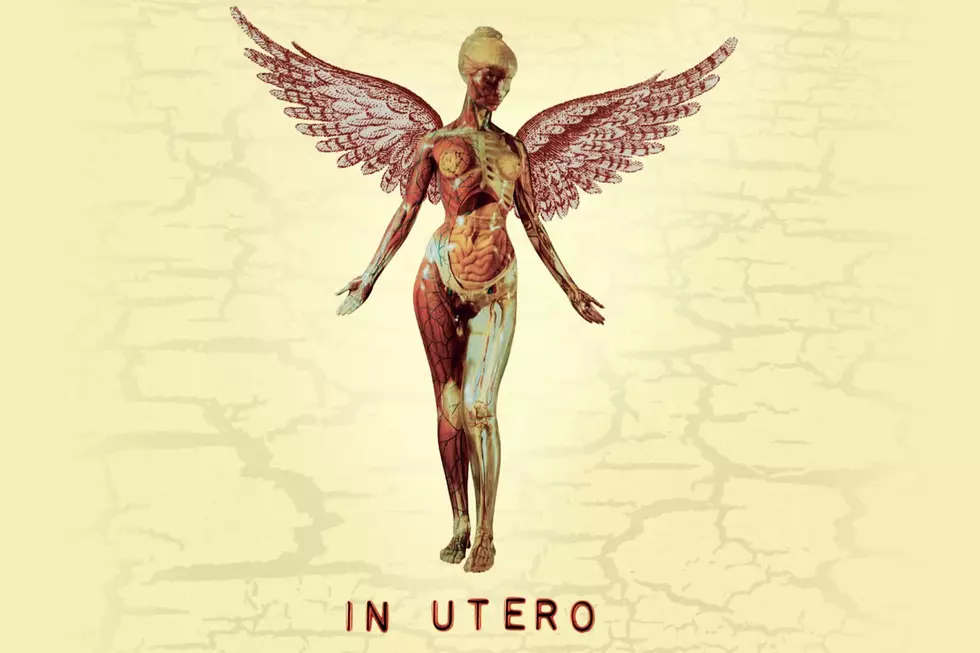 30 Years Ago: Nirvana Shakes Everything Up With 'In Utero'
DGC
When Nirvana went into the studio to record their third — and ultimately final — studio album, In Utero, they were aiming for a major departure from their first two albums.
Instead, they landed a giant hit with a record that melded the sonic pieces of those previous two LPs.
Back in 1989, when they released their debut album, Bleach, the musical mainstream wasn't ready for the swirling guitars, massive chunks of distortion, hard-hitting drums and screamed-out slacker-pop songs penned by frontman Kurt Cobain.
Sure, Jane's Addiction, early gatekeepers of alternative nation, released the seminal Nothing's Shocking a year earlier in 1988, but the seeds of the revolution were not yet sown.
READ MORE: Top 30 Grunge Albums
Just two years later, Nirvana's follow-up, Nevermind, simultaneously took clippers to hair metal and a razor to the neck of adult contemporary. Their arrival was arguably the biggest rock 'n' roll moment since the Beatles debuted on The Ed Sullivan Show — an appearance Nirvana would later pay tribute to with the "In Bloom" video — or when Bob Dylan infamously went electric at the 1965 Newport Folk Festival.
The grunge movement swept over the world with lightning speed, spawning imitators and crowning Nirvana kings of the era. The trio's overnight success begged the question: Would a follow-up be anywhere near as massive? In September 1993, Nirvana answered with In Utero.
Watch Nirvana's 'Heart-Shaped Box' Video
Why Nirvana Changed Producers
The first notable thing about the album is its producer. Given the success of Nevermind, it would have made sense for Nirvana to again enlist Butch Vig. But Cobain, Krist Novoselic and Dave Grohl went a less obvious, and less commercial, route by tapping the controversial Steve Albini.
A former member of noise bands Big Black and Rapeman, Albini had manned the boards on the Pixies' 1988 debut Surfer Rosa, and as Cobain and the gang looked to widen their sound and broaden their scope by scaling things back, Albini seemed like the perfect man for the job.
Nirvana was also looking for a way out of the grunge gutter. In Utero, like Bleach, was going to be something the world wasn't ready to hear. Except this time, the world was ready, and no matter what the band delivered, post-Nevermind it probably would have sold a million copies.
Still, In Utero wasn't particularly groundbreaking. Louder, yes, but if Nirvana were going for something truly out there, they got only partway there.
If you listen to Bleach and Nevermind back to back, you can hear the chrysalis of In Utero's sonic attack. It's as if the band and Albini had ripped the earlier albums to shreds and pieced them back together into one Frankenstein monster, taking the least accessible aspects of the first album and wedding them to the behemoth hooks Vig helped craft on Nevermind.
Listen to Nirvana's 'All Apologies'
How Nirvana Was Still Evolving
In Utero differs from its predecessors in a couple of key ways: There are fewer effects and more raw guitars, which dropped the low E down to a D – a technique that became a hallmark of grunge and the era. In Utero also features some odd time signatures ("Milk It," "Radio Friendly Unit Shifter"), screaming speed-metal ("Tourette's") and even a cello ("Dumb," "All Apologies").
Cobain's deeper, darker lyrics take on the twisted pull of love and sexual violence ("Rape Me") to film ("Frances Farmer Takes Her Revenge on Seattle" was partially inspired by a 1978 biography about the doomed actress).
READ MORE: Nirvana Songs That Are Better Than 'Smells Like Teen Spirit
Also notable are the listenable "Heart-Shaped Box," "Rape Me" and closer "All Apologies." Cobain had a knack for writing pop songs that sound inspired by '60s garage rock and British Invasion. They included simple structures (verse-chorus-verse) and sometimes a bridge; plus, they could be easily digested by a mass audience. The catchy songs sold In Utero to the masses, while the noisier, artsier songs were there to represent the band's growth – and perhaps to lure in fringe fans caught up in the punk, metal and hardcore scenes.
Even as the band tried to break new ground and possibly even put off casual fans with a harder, less straightforward album, In Utero was a major critical and financial success. It topped both the U.S. and U.K. charts, and the singles "Heart-Shaped Box" and "All Apologies" reached No. 1 on Billboard's Alternative Songs chart.
Some might argue Nirvana's MTV Unplugged in New York, recorded in November 1993, is actually the band's farewell statement. In Utero was their final album of new material, however, so in that sense, it was their goodbye to the world. Just listen to the final song, "All Apologies." Then and now, it signaled an end.
Legends Who Never Had a No. 1 Single
It's all the more surprising when you consider the success so many of them had by any other measure.
You Think You Know Nirvana?
More From Ultimate Classic Rock