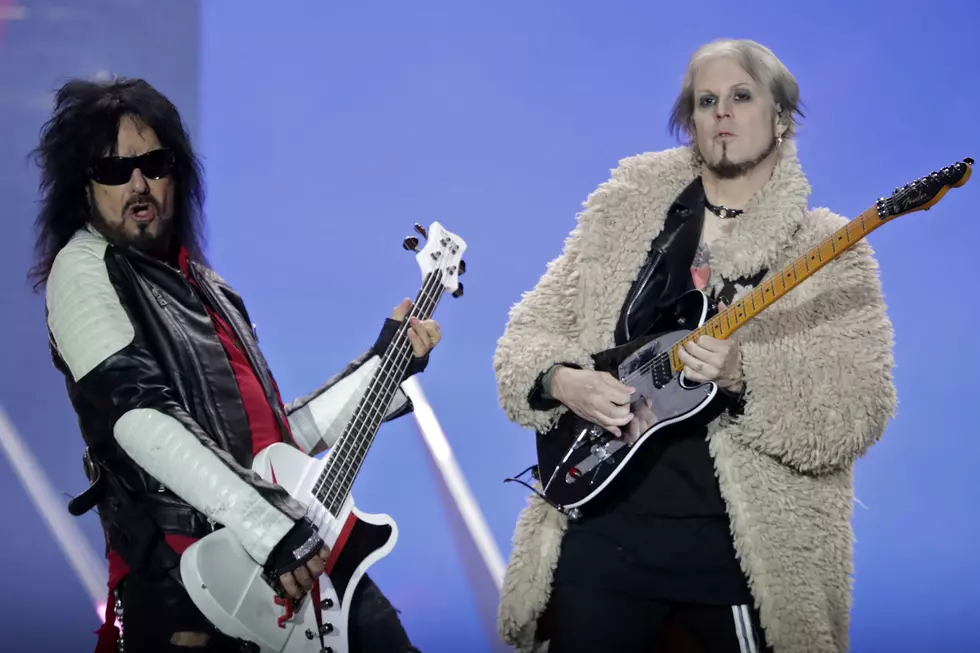 Nikki Sixx Says John 5 Has Re-Inspired Motley Crue
Juan Pablo Pino / AFP, Getty Images
Nikki Sixx has revealed that the addition of guitarist John 5 has re-inspired Motley Crue.
The guitarist, who was officially announced as Mick Mars' replacement in October, had been friends with the Crue's members for some years. During a recent interview with Planet Rock, Sixx detailed how John 5's arrival reinvigorated the band.
"It's nothing against any other musician that you play with, just that when you play with new musicians you play differently," the bassist noted. "We're still playing the same songs that people wanna hear but it kind of like re-inspires you. And I'm sure the same thing would happen if they got a new bass player. They're like 'oh wow, he's attacking it differently.' So it's never about how bad anybody was."
John 5's influence has been felt during the band's performances, as well as in the studio.
"It's a nice time [for Motley Crue] and it's kind of inspired us to write a little bit," Sixx revealed. "We love our history, we're very proud of everything we've done. We've always been really supportive of Mick no matter what Mick was going through. We're just happy with where we're at right now."
Sixx's update comes after the current members of Motley Crue posted images to social media which revealed the band was working in the studio with producer Bob Rock.
Despite Sixx's excitement about John 5's addition, the transition from Mars – who was a co-founding member of Motley Crue – has not been easy. The guitarist sued his former band, claiming they were ripping him off financially, while also accusing Sixx of gaslighting him during the 2022 Stadium Tour. Sixx and the other Motley Crue members responded by calling Mars' lawsuit "unfortunate and completely off-base."
"If a member of a band tells you that they can't tour because of health reasons, you have two choices. You can quit as a band (after) 42 years of work. Or we could look at each other and go 'are we done yet?!' We're really peaking and we understand (Mick's) health issues," Sixx explained to Planet Rock. "We wish him the best and we know that he's a little bit confused and being misled by representatives right now. But we still have to stay focused on why we're here."
Motley Crue Lineup Changes: A Complete Guide
The complete story of Motley Crue's lineup changes.
More From Ultimate Classic Rock