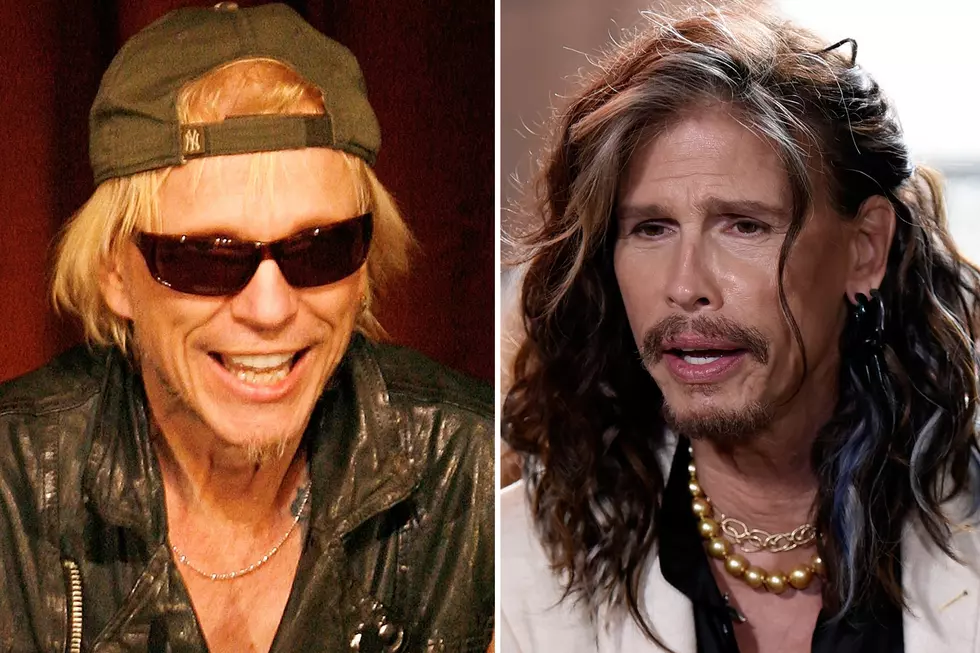 Did Michael Schenker Reactivate Ailing Aerosmith?
Jo Hale / Angela Weiss, Getty Images
Michael Schenker said he was the catalyst in reactivating Aerosmith after they lost original guitarist Joe Perry in 1979.
The German musician auditioned for the Boston band at the time, but it didn't work out. In a recent interview with Vinyl Writer Music, he explained that he later came close to hiring bassist Tom Hamilton and drummer Joey Kramer for his own project, and that was the reason Aerosmith refocused on their own work.
"I was in a transitionary period," Schenker said. "I had just left UFO and the Scorpions. … It was like a little bit of a limbo. I was not quite sure what I needed to do next; and honestly, all of '79 is kind of a blur." He continued: "[T]he word got out that Aerosmith needed a guitar player … My management said, 'Michael, you should do this. Let's have you go out there, and see if it's a good fit.'"
The experience involved "sitting in a hotel room for five days" while "nothing happened," he said. "That is a good example of what these big bands do – they sit around for hours and for days, and they don't do anything and spend money!" He eventually gathered with Aerosmith in a rehearsal room, but it didn't go well. "Steven Tyler comes in and he was completely out of it and on something, so there was not really any point in rehearsing or doing anything. And to be honest, I was not really straight myself after waiting for five days in a hotel room; so basically, we all split, and I went back to England."
The next part of his story took place while he was forming the Michael Schenker Group later that year. "I was told by management, 'Michael, the Aerosmith rhythm section is available. I want you to go to Boston and rehearse with them, and see about them joining.'" That's how he wound up in a "big rehearsal space" working with Hamilton and Kramer.
"[T]he doors swing open, and a guy was coming in, and he's coming closer and closer, and then suddenly, he turns around and runs out," Schenker recalled. "I said to myself, 'Was that Brad Whitford?' My understanding is that he had heard that Joey and Tom were rehearsing with me, and potentially leaving Aerosmith to join my band. I think he wanted to see if it was true … I guess he saw it, turned around and ran out of there at light speed.
"At the time, Steven Tyler was in the hospital, and Brad must have run down there and said, 'Steven, you must get better soon. Michael Schenker is stealing our rhythm section!' Anyway, the next thing I know, Joey Kramer and Tom Hamilton were out of the picture, and Aerosmith had reunited with Jimmy Crespo on guitar."
Schenker is preparing for a European tour behind his album Universal, which arrives on May 27.
Top 100 '80s Rock Albums
UCR takes a chronological look at the 100 best rock albums of the '80s.
More From Ultimate Classic Rock