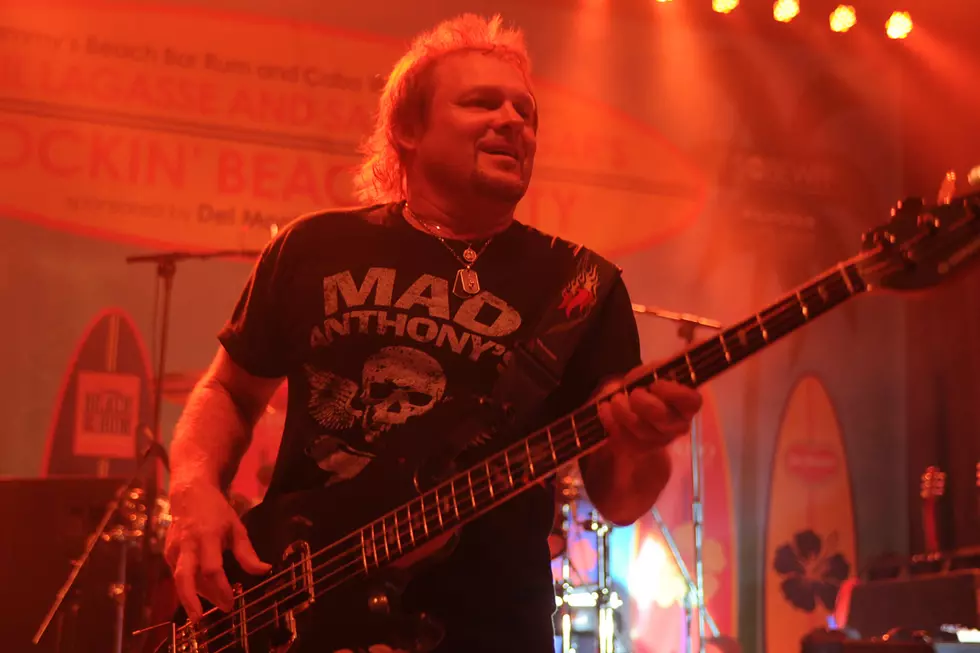 Michael Anthony Shoots Down Van Halen Reunion Rumors
Larry Marano, Getty Images
As we saw with the upcoming Guns N' Roses reunion, sometimes a band getting back together leaves clues along the way in the months leading up to the announcement. But other times it adds up to nothing. Today, Michael Anthony refuted the notion that he and/or Sammy Hagar are returning to Van Halen, a rumor that was started by some people piecing together a series of events.
"I want to clarify some confusion surrounding a recent picture from a video shoot for my new Schecter Signature Bass that will be debuting at NAMM next week," Anthony wrote on his Facebook page. "Apparently, because a road case with the name 'Van Halen' on it is in the photo (which was taken by someone off to the side of the shoot), there is speculation of me having involvement with the band. This is not true. The shoot took place in my warehouse and this is just one of the many road cases I still own from the VH days that happened to be there. As a matter of fact, the Circle will be performing at the Route 66 Casino in Albuquerque, NM next week. I hope to see you all out there!"
The photo can be seen at Van Halen News Desk, where they point out a couple of other occurences in the Van Halen world that got the rumor mill spinning. Eddie Van Halen recently had his 5150 Steinberger guitar, which he used on their first tour with Hagar, restored. At the same time, a story on Eddie in Guitar World incorporated the 5150-era logo on the magazine's cover.
Taken together, it's not a stretch to lead some to believe that Roth and Wolfgang were taking a hiatus from Van Halen while Hagar and Anthony returned. But now that we have clarification from Anthony, this appears to be a case where it was all coincidence.
See Van Halen and Other Rockers in the Top 100 Albums of the '80s
You Think You Know Van Halen?
More From Ultimate Classic Rock