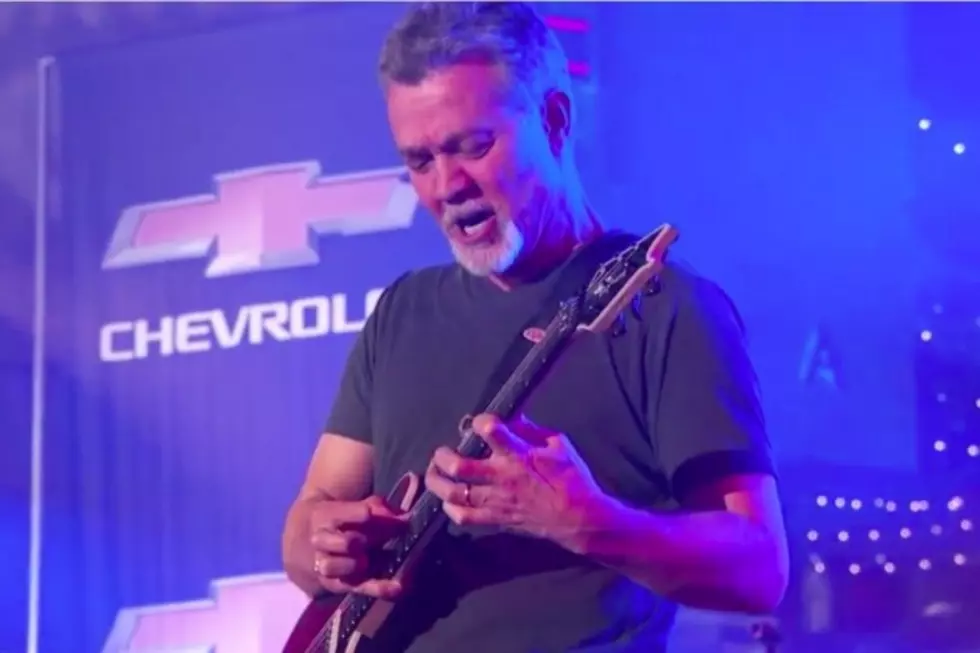 Eddie Van Halen Calls Wolfgang's Album 'Important,' Says He'd 'Love To' Make Another Van Halen Record
YouTube
If Wolfgang Van Halen's upcoming album isn't a hit, it certainly won't be due to a lack of effort on his dad's part. Eddie Van Halen talked up his progeny's project during a recent interview with Guitar World, and although he's gone on record with his enthusiasm before, he sounds even more excited now.
"It's like AC/DC meets Van Halen meets aggressive pop," said Eddie. "The riffs are catchy. It's a little of everything and sounds like a freight train coming at you. I've never heard anything quite like it. It's so powerful that I'm jealous."
In fact, he added, listening to the new Van Halen remasters helped put Wolfgang's project in a different perspective for him. "There is no music like that out there anymore. It's really sad," he lamented. "What happened to rock 'n' roll? That's why I can't wait for the world to hear what Wolf's working on. I'll be bold and say that what Wolf and [producer Eric 'Erock' Friedman] are doing is important."
And while there's no substitute for a proper new Van Halen album, he seems to suggest that Wolfgang's record might scratch the hard-rock itch for fans jonesing for new material. "It hits really hard. I think that people who hear it are either not going to believe it or they're finally going to go, 'This kid is the real deal,'" he continued. "When he plays drums, it's scary. When he plays bass to his own drums, it's even scarier. And then he's playing guitar on top of it. It's insane. The grooves are so locked in it's ridiculous."
And as for another Van Halen album? "We just take it as it comes," he shrugged. "I'd love to do another studio record if everybody else is up for it. At the end of this tour, Wolf is going to finish his record. After that we'll see. We don't ever plan that far ahead. That's how the live album came about. The best things aren't planned that far in advance. We like to keep it loose."
The Top 100 Rock Albums of the '70s
Van Halen Albums: Worst to Best
More From Ultimate Classic Rock