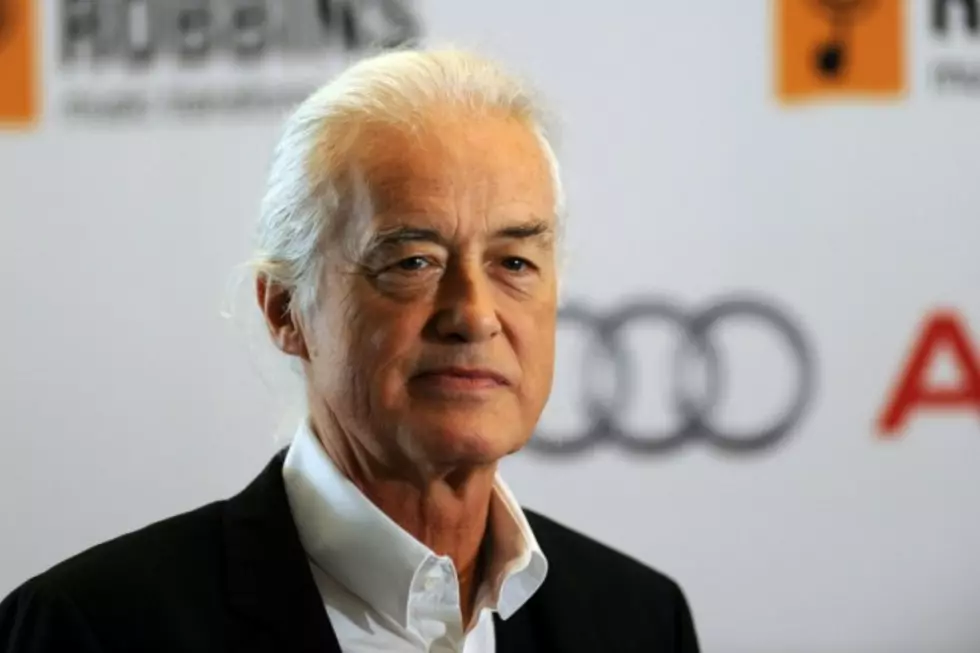 Jimmy Page Hints at Unreleased Surprises in Upcoming Led Zeppelin Reissues
Stuart C. Wilson, Getty Images
Page danced around the subject during a recent discussion with Rolling Stone, telling the magazine he'd dug up "two extra things" for the upcoming 'Presence' reissue, due in 2015. Pressed for details -- and an explanation regarding why certain archival cuts have been left off previous installments, like the B-side 'Hey, Hey, What Can I Do' and unreleased versions of 'Friends' and 'Four Sticks' -- he dodged the question while hinting that there might be more than we know on the Zeppelin horizon.
"Can't comment on that, really," Page teased. "I can't tell you what's coming, can I?"
Page's coyness jibes with his overall approach to the reissues -- as he told RS in the spring, "I want to surprise people. That's always been my game plan." But given that he concluded his most recent chat with the magazine by saying "I've done my share of listening to Led Zeppelin," it might be reasonable to assume that he intends for the reissue series to go out with a final vault-scouring flourish -- perhaps a massively expanded version of 'Coda.'
Whatever hidden treasures end up filtering their way to Led Zeppelin fans, Page is already shifting his focus to new solo work. "I seriously intend to be seen playing, to have a document of what I'm doing," he said when asked about his plans for 2015. "I've been doing a lot of stuff, archiving everything on my behalf, on Led Zeppelin's behalf. That needed to be done. I enjoy playing live. I like sending people surprises as well."
And on that note, Page also refused to divulge a direction for his new solo project, shrugging, "I've got a game plan. I'm not going to tell anybody anything. I don't want to give people ideas, where they end up going later, 'Oh, I thought he was going to do this.' I prefer to just get people by the jugular -- when I'm ready."
You Think You Know Led Zeppelin?
More From Ultimate Classic Rock