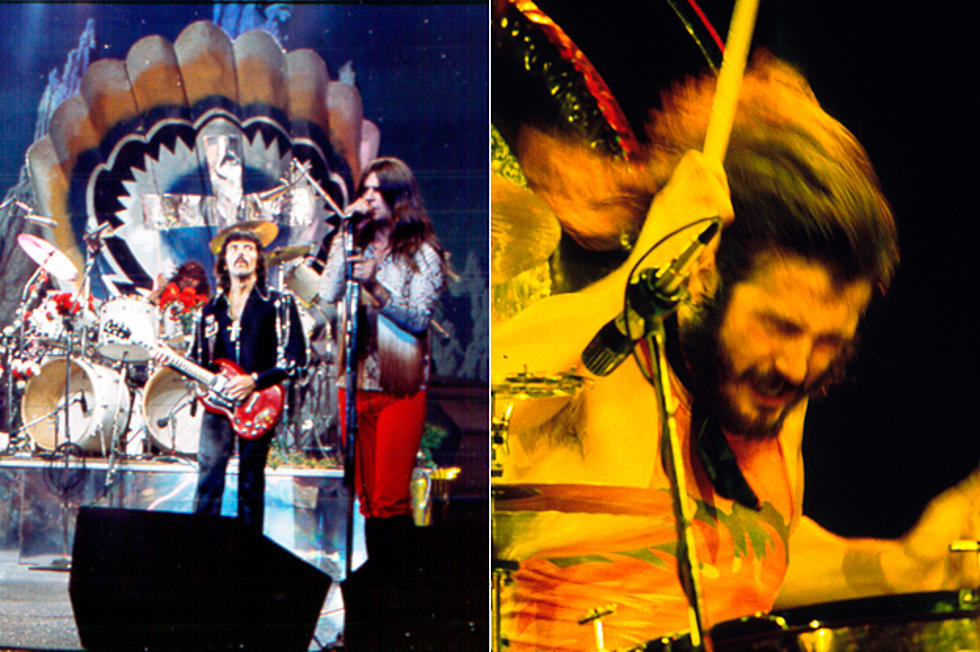 Led Zeppelin and Black Sabbath's Jam Session Remembered by Bill Ward
Black Sabbath drummer Bill Ward has opened up about the legendary "Black Zeppelin" studio jam, which featured his band performing together with three members of Led Zeppelin in the studio. Depressingly, he maintains that nobody thought to press "record" on that fateful day.
"It only happened on one occasion... and I think it was in the mid-'70s," Ward tells BackPage. "I don't remember what album we were working on -- but it all started when Bonzo comes into the studio and sits down at my drum kit and starts playing 'Supernaut.' That was one of our songs he really liked."
He goes on to recount how Bonham enjoyed the heck out of playing on Ward's two-bass drum setup while leading Sabbath's frontline -- Ozzy Osbourne, Tony Iommi and Geezer Butler -- through a 45-minute session with help from his own bandmates, Robert Plant and John Paul Jones, periodically yelling out 'Supernaut!' to punctuate the fun.  (Apparently Jimmy Page was off conjuring magic somewhere else.)
Sabbath's original drummer also credits the tragedy of Bonham's death with helping him clean up his own addictions: "I've always thought of his death as a signal for me that, 'if you don't shape up, Bill, you will be the next one drowning in beer or overdosing.'
Anyway, back to more positive thoughts. Can you imagine if this studio meetup had happened in today's smartphone, YouTube obsessed era? Some engineer probably would have had it tweeted video footage within an hour! Well, at least we can get a glimpse of what this Sabbath / Zeppelin pairing might have sounded like with this, possibly the most awesome mashup that has ever been created: Wax Audio's 'Whole Lotta Sabbath.'
Hear The Wax Audio Mashup of Led Zeppelin and Black Sabbath
More From Ultimate Classic Rock