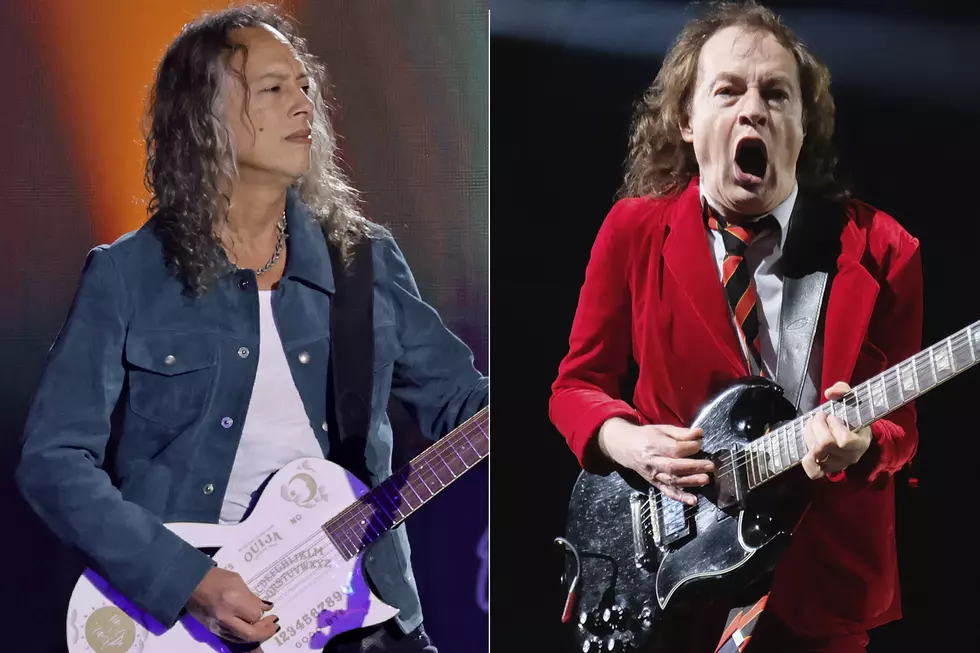 '72 Seasons' Helped Kirk Hammett Get Over Angus Young Fixation
Kevin Winter / Mike Coppola, Getty Images
Kirk Hammett said the act of working on the latest Metallica album, 72 Seasons, was the perfect opportunity for him to get over his "fixation" with Angus Young.
The American guitarist revealed he'd been fascinated by his Australian counterpart for years, but didn't talk about it much because it's a "real common thing."
Hammett told Guitar World: "I've been obsessed with AC/DC most of my life – Angus and Malcolm's guitar tones, just their whole approach." He added: "One of the things I love about Angus is how he never plays the same solo twice. I have to confess that this is the album that got my Angus fixation out of my system, finally.
"I've always marveled at Angus' guitar style because it's the perfect combination of blues, hard rock and boogie. He has a lot of humor in his playing, and yet it's just so intense. You can't fucking beat it...it's just so organic. You know he's not thinking about what all the guitar magazines are gonna say. He just goes up and fucking does it. And I love that."
Hammett recently faced criticism for some of his solo work on 72 Seasons, but dismissed it, saying he could have played something else, only he hadn't seen the point of doing so. "First and foremost I'm an improvisational musician," he said, adding that he wished he'd worked that out at an earlier stage. "I've realized that everything you do is pretty much improvisation. Any songwriting is improv. Writing melodies is improv. Improvisation is playing guitar."
Metallica recently launched their M72 World Tour, with dates booked until the end of next year.
Top 50 Classic Heavy Metal Albums
We take a look at some of the heaviest, loudest and most awesome records ever made.
More From Ultimate Classic Rock