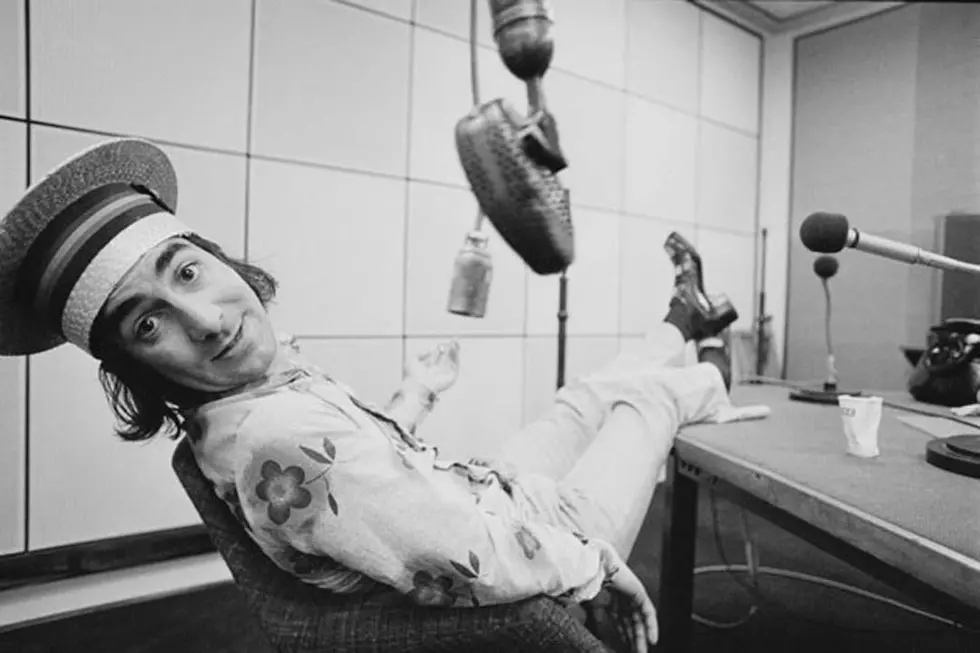 Top 10 Keith Moon Who Songs
Jack Kay / Hulton Archives, Getty Images
This list of the Top 10 Keith Moon Who Songs shows just how important the group's former drummer was to their music. The old saying "they broke the mold with that guy" couldn't be more appropriately applied to anyone than Moon. Everything about "Moon the Loon" was original. Sadly, he was also a pioneer in overindulging, and that led his early death back in 1978. He was also the first genuine lunatic rock 'n' roll performer, with an (often-destructive) sense of humor has yet to be topped. So don't bother raising your glasses in a toast to Moon. Instead, smash them to pieces while you check out these great songs. He would have wanted it that way.
10

"Bell Boy"

From: 'Quadrophenia' (1973)

Besides delivering a raucous noise behind the drum kit, Moon does a bit of voice acting on this ditty from Quadrophenia. As Roger Daltrey sings the part of Jimmy, the frustrated Mod in the story, Moon lends his heavy cockney accent to Jimmy's hero – the Ace Face of the Mods – with humor and a bit of sadness.

9

"Bargain"

From: 'Who's Next' (1971)

On an album featuring three of the Who's most well-known tracks – "Baba O'Riley," "Won't Get Fooled Again" and "Behind Blue Eyes" – people might forget Who's Next holds even more treasure. "Bargain," which is No. 9 on our list of the Top 10 Keith Moon Who Songs, is a perfect example. Everything about the song reeks of prime Who, including the powerhouse performance by Moon. But it's not all manic bashing. At times he shows off his range by pulling in, ever so slightly, and allowing the song room to breathe.

8

"Happy Jack"

From: 'Happy Jack' (1966)

"Happy Jack" features Moon on what could best be described as "lead drums." Granted, many of his performances stole the spotlight, but on "Happy Jack," he really cuts loose. Everything begins simply enough - with a charming, almost quaint beat. But once we hit the halfway point, Moonie's in charge and taking everyone else with him. Still, Pete Townshend gets the final word, yelling "I saw ya!" at song's end as he catches Moon trying to sneak back into the control room after being told his services were not needed for backing vocals.

7

"So Sad About Us"

From: 'A Quick One' (1966)

The Who practically invented power pop with this sparkling gem from their second album. "So Sad About Us" is all about loud ringing guitars and sweet melodious vocals, all backed by the onslaught of Moon behind the drum kit. Moon's playing is totally over the top, and probably gives heart palpitations to those who prefer their drummers to be a a slave to the metronome. That's one thing about Keith: no matter how wildly he would careen off-course, he would somehow always manage to pull it back together.

6

"Heaven and Hell"

From: 'Live at Leeds' (1970)

This John Entwistle composition was often the opening song for the Who's concerts in the early '70s – and what a way to kick off a show! From the moment that first power chord is struck, the guitar, bass and drums duke it out for supremacy, sounding like a musical rumble of sorts. Though there is no denying the power of Townshend's guitar or the brute force of Entwistle's bass, the gold medal goes to Mr. Moon for yet another display of stick-to-skin insanity. An instant classic from start to finish and one of the Who's most underrated songs.

5

"Out in the Street"

From: 'The Who Sings My Generation' (1965)

We reach the midpoint of the Top 10 Keith Moon Who songs with the first song on the first Who album, which uncorked the bottle that would forever change the concept of how a rock and roll band could sound. "Out in the Street" is your basic R&B-influenced rocker, not miles apart from the Animals or the Rolling Stones, with one large exception named Keith Moon, and his drumming style was totally unlike anyone that had gone before. Unlike many of his contemporaries (Charlie Watts, Ringo Starr), keeping time was only part of the picture, and not always the most significant. He adapted a full-on attack mode as his signature early on. Many would imitate this approach, but we're still waiting for someone to do it better.

4

"The Real Me"

From: 'Quadrophenia' (1973)

The Who's 1973 opus ranks among their finest work, and some would call it their last truly great album. Throughout Quadrophenia, Moon's playing is highly symphonic. His fills, accenting and flair for the dramatic – not to mention the sheer power of his performance – is almost classical in nature, if not delivery. It began with the opener, "The Real Me," especially on the bridge.

3

"Young Man Blues"

From: 'Live at Leeds' (1970)

The Who were at the top of their game as a live act in 1970, and this essential document of the era bears this out to any ears. The trio of musicians create a wall of sound that sounds like it was the work of twice as many men. On this cover of an old Mose Allison song, Moonie's attack is particularly vicious and solidly in tandem with bass of John Entwistle. Far from traditional, the Moon/Entwistle rhythm section was an army all their own.

2

"I Need You"

From: 'A Quick One' (1966)

"I Need You" is one of a small handful of songs credited to Moon as songwriter, and it's a great one! "I Need You" is one of the highlights of the band's second album. Here's another surprise: Moon not only drums up a racket, but also sings lead on the track. According to the the liner notes from the CD reissue, the song was written about an evening at the Ad Lib club in Soho, where the Beatles were holding court. Was Moon seeking the Fabs approval, or dismissing it? "Let us come and sitar with you," he sings, not to mention the muttering of "Reorge and Gingo will come down later, with the wives you know." All in all, not a bad showing for Moon's first real outing as a writer.

1

"A Quick One, While He's Away"

From: 'The Kids Are Alright' (1979)

In 1968, the Rolling Stones decided to put together a concert featuring an impressive line-up including Jethro Tull, John Lennon, Eric Clapton and the Who. The show, The Rock and Roll Circus, never made it to air as the Stones claimed to be unhappy with their performance, and it remained in the vaults until the '90. Still, the Who gave an incredible rendition of "A Quick One While He's Away" that night, and it got seen in their documentary, The Kids Are Alright. Moon's pulls out every trick from his arsenal, and it tops our list of the Top 10 Keith Moon Who Songs.
More From Ultimate Classic Rock