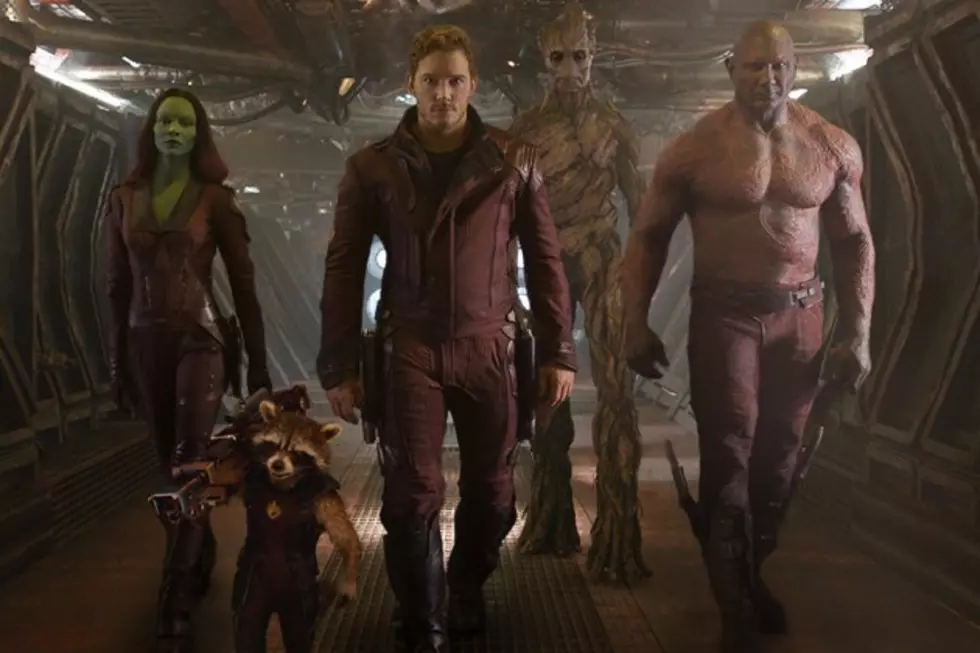 Everything You Need to Know About the 'Guardians of the Galaxy' Soundtrack
Marvel
With its eclectic mix of classic rock, pop and soul, it's been heartening to see the 'Guardians of the Galaxy' soundtrack doing so well on the charts. With both the film and the record seemingly on the way to being among of the biggest hits of the summer, we thought we'd run give you a rundown on every track from the soundtrack, and share some facts that you might not know about these beloved songs:
'Hooked on a Feeling'

Blue Swede

Originally an AM pop Top Five hit for B.J. Thomas in 1969, Blue Swede toughened up 'Hooked on a Feeling' five years later and reached No. 1. The memorable "ooga chaka" chant was actually lifted from Jonathan King's 1971 cover, a minor hit in Britain. Blue Swede's version was also prominently featured in Quentin Tarantino's classic film 'Reservoir Dogs.'

'Go All the Way'

The Raspberries

In 1972, the Raspberries debuted their second single, 'Go All the Way', which took off like a shot up the U.S. charts. People instantly fell in love with the song's jangly guitar riff and signature chorus, and young men everywhere instantly identified with the song's rather obvious goals. In 2005, lead singer Eric Carmen told Blender Magazine that the inspiration for the song came from seeing the Rolling Stones play 'Let's Spend the Night Together' on television. "I knew then that I wanted to write a song with an explicitly sexual lyric that the kids would instantly get, but the powers that be couldn't pin me down for."

'Spirit in the Sky'

Norman Greenbaum

One of the oldest songs on the 'Guardians of the Galaxy' soundtrack, Norman Greenbaum's 'Spirit in the Sky' became one of the biggest hits of 1969. Interestingly, despite writing a song with such strong Christian themes and content, Greenbaum is actually Jewish. In an interview with the Examiner, he explained this seeming contradiction very well: "It wasn't like a Christian song of praise, it was just a simple song. I had to use Christianity because I had to use something. But [the most important part] was the spirit in the sky." 'Spirit' has been used in well over 100 films throughout the years, including 'Apollo 13,' 'Wayne's World 2' and 'Ocean's 11.'

'Moonage Daydream'

David Bowie

David Bowie originally wrote 'Moonage Daydream' in 1971 as a single for his side project band Arnold Corns and recorded it at Radio Luxembourg Studios. But the song -- and the side project itself -- was an unmitigated disaster, sales-wise. Never one to let a good song go to waste, Bowie later re-purposed the tune as the third track of his glam rock masterpiece, 'The Rise and Fall of Ziggy Stardust and the Spiders from Mars.'

'Fooled Around and Fell In Love'

Elvin Bishop

By 1975, Elvin Bishop had a reputation as one of the great blues guitarists in the world -- but the chart success of his ballad 'Fooled Around and Fell in Love' still surprised everybody, not least of all its composer. Bishop explained how the song became a last minute addition to his 1975 'Struttin' My Stuff' album: "The producer, Bill Szymczyk, said, 'We need one more piece of material here. You got anything else laying around?' I said, 'Well, there's this tune I wrote the other day'... we cut a track, it was a really nice track. I tried singing it, and I said, 'That's not buttering my biscuit, my vocal on this. Why don't we give (Starship singer) Mickey [Thomas] a shot at this?' And the producer said, 'Well, that's big of you.' And I said, 'Well, I don't think so. It's just common sense, you know?' And Mickey just tore it up."

10cc's 1975 hit 'I'm Not in Love' gained fame not just for its lovely melody and heartbreaking lyrics, but for its innovative production. The ghostlike background vocals were created by the four members of the group making tape loops of their voices, then bringing up the console's faders to form chords. The technique worked. The song went to No. 7 in the U.S. and won Britain's prestigious Ivor Novello award for Best Song Musically and Lyrically.

In addition to 'Guardians of the Galaxy,' the song has been used in a variety of films through the years, including 'Bridget Jones: The Edge of Reason' and 'The Virgin Suicides.' The Pretenders also covered it in 1993 for the Robert Redford thriller 'Indecent Proposal.'

'I Want You Back'

Jackson 5

With its octave guitar lick and heavy bass, the Jackson 5's debut single 'I Want You Back' showed that Motown was aware that funk was on the verge of replacing their brand of pop-soul. But that heaviness was soon balanced by the extraordinary vocal talents of Michael Jackson, who was all of 11 years old when the song was released in late 1969.

'Come and Get Your Love'

Redbone

Redbone, not to be confused with cult retro musician Leon Redbone, blended strings, Latin rhythms and electric sitar on this Top Five smash from 1974. Twenty-one years later, German electronica act Real McCoy covered 'Come and Get Your Love' and scored a No. 19 hit with it.

'Cherry Bomb'

The Runaways

Before Joan Jett found the Blackhearts and Lita Ford became a heavy metal goddess, the duo were kicking out glass ceilings in an L.A. punk outfit called the Runaways. In 1976, they entered the studio and cut this two-minute punk rock anthem, which was written by Jett and producer Kim Fowley. While it didn't make much of a dent on the U.S. charts, it enjoyed massive success overseas in Japan and the U.K., where it peaked at Nos. 1 and 2 respectively. The song has grown in popularity  tremendously over the years, and was also used in Richard Linklater's stoner classic 'Dazed and Confused.'

'Escape (The Pina Colada Song)'

Rupert Holmes

The newest song on the 'Guardians of the Galaxy' soundtrack, 'Escape (The Pina Colada Song)' reflected the then-relatively new trend of people meeting via personal ads when it was released in 1979. Its laid-back music and ironic twist helped 'Escape' to become the last No. 1 song of the '70s. Oddly enough, Holmes has often said that he hates pina coladas. Not sure how he feels about yoga, health food or champagne.

'O-o-h Child'

The Five Stairsteps

The Five Stairsteps were a family soul group from Chicago who had little success until 'O-o-h Child' reached No. 8 in 1970. Its optimistic message, backed by a great horn chart and some killer drumming, have resonated for generations and is used to fantastic effect in this film.

'Ain't No Mountain High Enough'

Marvin Gaye and Tammi Terrell

Released in 1967, 'Ain't No Mountain High Enough' is the oldest song on the 'Guardians of the Galaxy' soundtrack. It was one of many hits the husband-and-wife team of Nickolas Ashford and Valerie Simpson wrote for Marvin Gaye and Tammi Terrell. Three years later, Diana Ross had her first solo No. 1 with an elongated gospel-infused version of it.
More From Ultimate Classic Rock