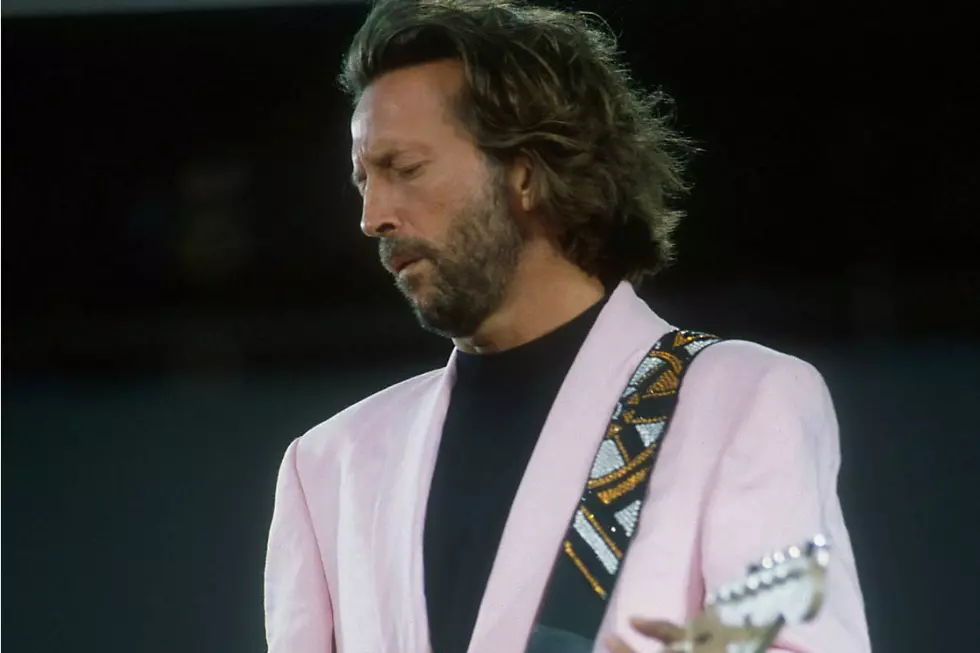 Revisiting Eric Clapton's First Residency at the Royal Albert Hall
Frank Micelotta, Getty Images
By the '80s, London's Royal Albert Hall was clearly Eric Clapton's favorite venue. After ending the decade with three years of annual shows there, he opened the '90s by taking their close relationship to the next level.
Clapton started an ambitious 18-night residency on Jan. 18, 1990, divided up into different approaches to his classic catalog. For six shows, he performed with a four-piece band; for another six, he expanded it to 13 pieces. Three dates featured a blues band that included Buddy Guy and Robert Cray, and for the final three concerts on the itinerary, he played with the National Philharmonic Orchestra conducted by Michael Kamen, with whom he'd worked on the (still sadly unreleased) "Concerto for Electric Guitar."
Naturally, plans called for the shows to be recorded and released. They hit a temporary snag, however, when Clapton surveyed the tapes after the shows were over and deemed them unworthy of release. He decided instead to wait until the following year, when he returned to the Royal Albert Hall for an even longer 24-night residency. That later formed portions of 1991's double-disc 24 Nights live LP.
"After listening to it, I didn't think my performance was satisfactory. And so we did it all over this year every night," he told Rolling Stone in 1991. "We recorded 24 nights! And in hindsight, I see that I was very tired. I had done a whole year of touring, and I wasn't really up to it. And so we had to scrape the barrel a lot to come up with a good selection that worked. I mean, it is good, but I'm just so bloody critical about it."
Enjoying a resurgence in popularity after the release of 1989's Journeyman, Clapton was filling venues far larger than the 5,200-seat venue, so what made it so special for him? "It's a very very comfortable homey place for me," Clapton laughed during a 1990 interview with the BBC. "I tend to think of it as mine."
Watch Eric Clapton Perform at Royal Albert Hall
Admitting he'd gotten annoyed while sitting in the audience for a boxing match at the hall, he elaborated on what kept drawing him back to the stage there.
"It's got a very genteel, sophisticated and yet comfortable atmosphere. Like it is like a club," he mused. "It reminds me of what the Marquee was like in the early days, you know; everybody is very very comfortable at home, and you feel welcome. I don't have half the nerves there that I have anywhere else."
Describing the atmosphere as "incredibly intimate" and adding that while looking out at the audience from the stage, "you can virtually see the whites of their eyes," he added, "It's almost like the house lights are always on, you know. But for some reason, that place -- because it's in a round, all the people are very close to you. It feels like you're amongst friends."
Clapton would continue to reaffirm that friendship throughout the '90s, returning for lengthy stays every year between 1992-'96 and again in 2001, 2004, 2006, 2009 and 2013 -- with a handful of assorted other gigs, including charity shows and reunion dates with Cream (who performed their own farewell concert there), scattered in between.
Clapton's love affair with the Royal Albert Hall continued in 2015, as the iconic guitarist celebrated his 70th birthday there with a series of performances dubbed Slowhand at 70. Released as a live DVD and theatrical concert film, the events further cemented Clapton's affinity for the venue. The rocker has since announced plans to return to Royal Albert Hall, with dates lined up for 2021.
Eric Clapton Albums Ranked 
More From Ultimate Classic Rock