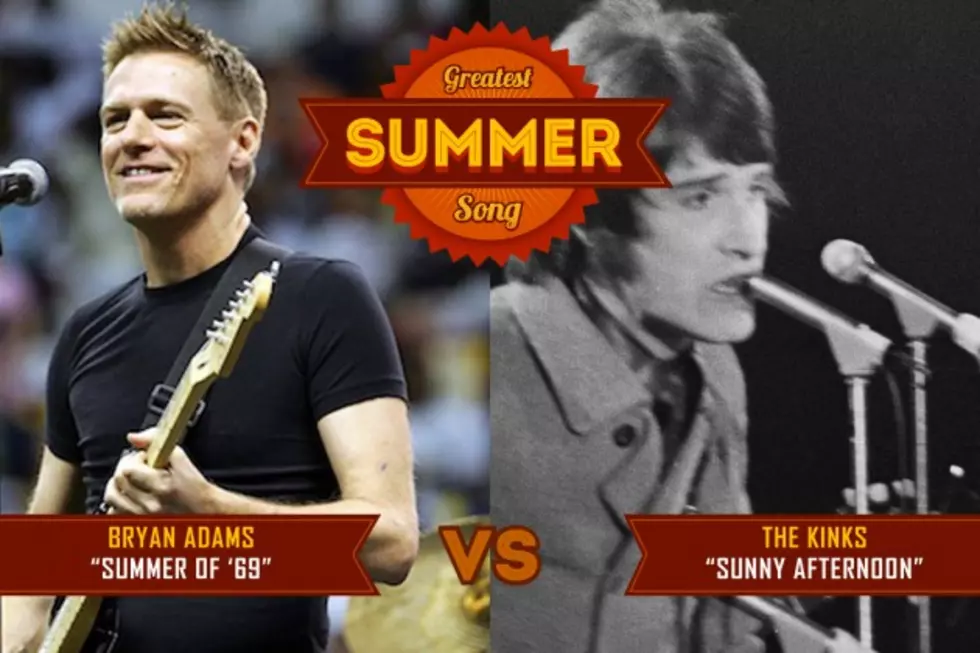 Bryan Adams, 'Summer of '69' vs. the Kinks, 'Sunny Afternoon': Greatest Summer Song Battle
Ultimate Classic Rock
Bryan Adams' "Summer of '69" continues an impressive run thorugh each bracket of our Greatest Summer Song battle – but there's a difficult challenge ahead in the Kinks.
After starting with 32 of classic rock's best summertime songs, we're now down to the final four. The field is repeatedly cut in half, based on your votes, until we arrive at the greatest summer song ever made.
Adams' "Summer of '69" most recently dispatched Don Henley's "The Boys of Summer" with a commanding 66 percent of the vote. He earlier bested Billy Idol with 83 percent of the vote. The Kinks, meanwhile, pulled off an upset by topping the Beach Boys' perennial summer anthem "California Girls" with 60 percent of the balloting. They first got past the Lovin' Spoonful with 56 percent and then Led Zeppelin with 58 percent.
If the original charts are any guide, then the Kinks should prevail. "Sunny Afternoon," released in the summer of 1966, went to No. 1 in the U.K. and No. 14 in the U.S. – while 1985's "Summer of '69" was a No. 5 hit but couldn't break the Top 40 in the U.K.. This time you get to decide.
Listen to both below and make your call. You can vote once per hour in each of the eight second round Greatest Summer Song battles until voting closes on Aug. 17 at 11:59PM ET. Your choice for the Greatest Summer Song of all time will be revealed on Aug. 25, 2015.
Watch Bryan Adams Perform "Summer of '69"
Watch the Kinks Perform 'Sunny Afternoon'
See Bryan Adams and Other Rockers in the Top 100 Albums of the '80s
More From Ultimate Classic Rock