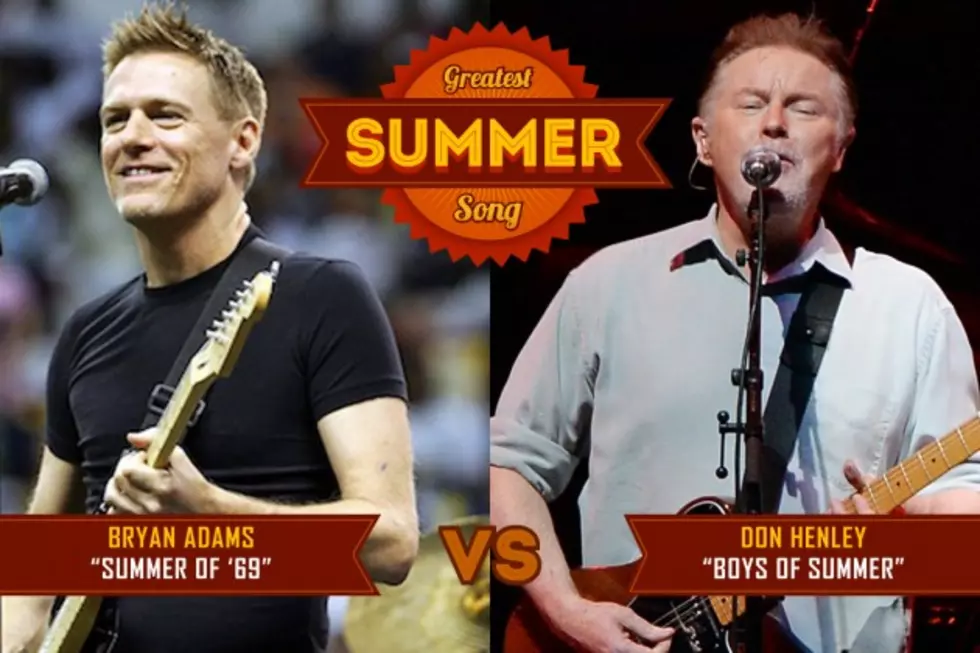 Bryan Adams, 'Summer of '69' vs. Don Henley, 'The Boys of Summer': Greatest Summer Song Battle
Two of summer's all-time best songs square off in the third round of our Greatest Summer Song battle: Bryan Adams' "Summer of '69" goes up against Don Henley's "The Boys of Summer." And your votes will determine the winner.
After starting with 32 of classic rock's best summertime songs last week, we're now down to eight for the third round. Over the next few weeks the field will be repeatedly cut in half by your votes until we arrive at the greatest summer song ever made.
Adams had no problem delivering a smackdown to Billy Idol, whose "Hot in the City" was slaughtered by "Summer of '69," which netted 83 percent of the vote. Henley had a bit of a harder time taking down the Beatles' "Here Comes the Sun," which put up a good fight. But "The Boys of Summer" cleared the hurdle with 57 percent of the vote.
Now the two summer perennials face off in what may prove to be the most heated summer song battle yet. Both are great summer songs and arguably career highs for each artist. And both arrived around the same time in 1984. Though "Summer of '69" was on Adams' Restless album, it wouldn't be released as a single until the following year, just in time for -- you guessed it -- summer. "The Boys of Summer" was also released on a 1984 LP, Henley's Building the Perfect Beast, and came out as a single just as summer ended. Coincidentally, both songs reached No. 5 on the chart.
So which one will earn a trip to the next round? Listen to both below and make your call. You can vote once per hour in each of the eight second round Greatest Summer Song battles until voting closes on Aug. 10 at 11:59 PM ET. Your choice for the Greatest Summer Song of all time will be revealed on Aug. 25, 2015.
Watch Bryan Adams Perform "Summer of '69"
Listen to Don Henley's 'The Boys of Summer'
See Bryan Adams and Other Rockers in the Top 100 Albums of the '80s
More From Ultimate Classic Rock