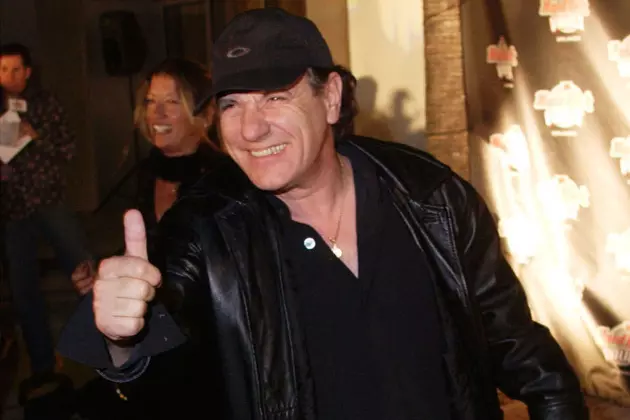 Brian Johnson to Meet With Inventor Who Offered to Help Him Fight Hearing Loss
Matt Stroshane, Getty Images
Brian Johnson has reached out to Stephen Ambrose, the inventor who offered to help him combat his hearing loss with in-ear monitors that could allow him to continue touring. As previously reported, Johnson's doctors recently warned him that he risked total hearing loss if he continued performing live — which, in turn, led to him reluctantly vacating his spot in the AC/DC lineup while vowing to continue his recording career and search for a solution.
Ambrose went public with his offer of support, pleading with Johnson to keep performing and promising "help is on the way." That help could come in the form of the Ambrose Diaphonic Ear Lens, an improved version of the in-ear monitors that he previously marketed before realizing they could cause hearing loss. Now, according to the inventor, he and Johnson have scheduled an in-person meeting to talk about the new technology.
"Happily, due to everyone's tremendous support, Brian and I spoke yesterday," Ambrose wrote on Facebook. "What a gracious man; he and his wife Brenda invited me to visit them next week. If anyone deserves to benefit from my research, it's Brian — who has been giving incomparable performances for years despite increasing hearing loss. I'm going to do my utmost to see if our new hearing breakthroughs can help him, and if I am at all successful, I'm sure Brian will let everyone know; he really cares about people and would like to help. I am truly humbled and honored to meet this man, and I wish to sincerely thank everyone who helped. Fingers crossed; please pray for our success next week."
AC/DC Lineup Changes: A Complete Guide
More From Ultimate Classic Rock