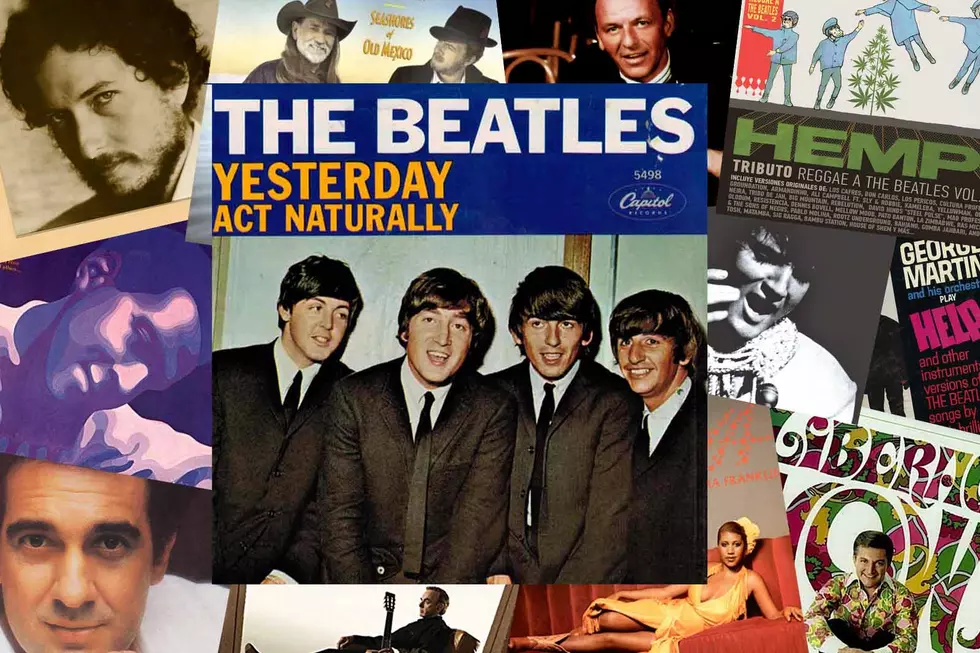 50 Wildly Diverse Covers of the Beatles' 'Yesterday'
Ultimate Classic Rock
The Beatles' "Yesterday" is believed to be the most covered song in history, with about 2,200 known versions as of 2017. We're looking at 50 of them, from metal to jazz to classical to country (and even barbershop quartet).
As the oft-told story goes, Paul McCartney woke up with the melody in his head. He gave it the working title "Scrambled Eggs" but eventually came up with a less-whimsical lyric. Producer George Martin suggested a string quartet, and they collaborated on it, but the other Beatles didn't contribute during sessions originally held on June 14 and 17, 1965.
McCartney would later say that the group was "a little embarrassed" by the idea of a rock band putting out a downcast, string-heavy ballad, and buried it as the second-to-last song on 1965's Help! But their U.S. label Capitol thought otherwise, and released it as a single which quickly reached No. 1 on the Billboard Hot 100.
Within a couple of years, it had risen to the level of a standard, with numerous pop singers and jazz musicians taking a shot at it alongside treasures from the Great American Songbook. It was a symbiotic relationship: The Beatles earned a degree of credibility for their growing compositional skills while the established stars showing that they, too, had their ears tuned to the new generation.
With so many versions to choose, we've restricted our list to only 50, with acts that are mostly famous. However, in the name of sonic diversity, we've discovered some renditions by lesser-known acts. Check them all out below.
Marvin Gaye (1970)
Marvin Gaye covered "Yesterday" on That's the Way Love Is, which also featured his interpretations of songs by the Young Rascals ("Groovin'"), the Temptations ("I Wish It Would Rain") and Dion ("Abraham, Martin & John").
Merle Haggard and Willie Nelson (1987)
Outlaw country legends Willie Nelson and Merle Haggard recorded "Yesterday" for Seashores of Old Mexico, a follow-up to their 1983 classic Pancho and Lefty. Nelson had previously released a version on a 1966 live album.
Ray Charles (1968)
Ray Charles put his oft-imitated-never-duplicated stamp on the Beatles classic in 1967. The version embedded above is from a 1988 concert in Australia.
Bob Dylan and George Harrison (1970)
When it was first released, Bob Dylan didn't think too much of "Yesterday," saying: "If you go into the Library of Congress, you can find a lot better than that. There are millions of songs like 'Michelle' and 'Yesterday' written in Tin Pan Alley." Still, in May 1970, he and George Harrison went into a New York studio with some session pros (including Al Kooper) and cut a handful of songs, including "Yesterday." The recordings have never been officially released.
Elvis Presley (1970)
Elvis Presley's residency at the International Hotel in Las Vegas was about seven months old when he recorded On Stage in February 1970. The album contained none of his defining hits, although "The Wonder of You" from the record hit the Top 10. Instead, it consisted of his versions of songs like "Yesterday," Creedence Clearwater Revival's "Proud Mary," Neil Diamond's "Sweet Caroline" and Del Shannon's "Runaway."
Dr. John (1975)
Hollywood Be Thy Name was marketed as a Dr. John live album recorded at Willie Purple's Niteclub in Los Angeles. But it was really a studio creation: Producer Bob Ezrin added in crowd noise.
Aretha Franklin (1979)
Aretha Franklin cut some incredible studio versions of Beatles songs, including "Eleanor Rigby," "The Long and Winding Road" and "Let It Be." This version of "Yesterday" comes from a 1979 appearance of The Mike Douglas Show; the host joins in on the last line.
Frank Sinatra (1969)
The surest way to know that that a pop song had become a standard is if Frank Sinatra recorded it. Although it took him a few years, he recorded "Yesterday" on 1969's My Way, which featured the career-defining title song and also a take on Simon & Garfunkel's "Mrs. Robinson."
En Vogue (1992)
En Vogue bridged '60s girl-group harmonies with a '90s sound with multi-platinum success. "Yesterday," a No. 29 R&B hit, appeared on their biggest seller, 1992's Funky Divas. The album also included the hits "My Lovin' (You're Never Gonna Get It)," "Free Your Mind" and "Giving Him Something He Can Feel," which Curtis Mayfield wrote for Aretha Franklin in 1976.
Neil Diamond (2010)
Neil Diamond's Dreams was mostly a covers record, with the lone original being a remake of "I'm a Believer." "Yesterday" was one of two Beatles songs on the disc; "Blackbird" was the other.
George Martin and His Orchestra (1965)
In the mid-'60s, Beatles producer George Martin released a few records of instrumental takes on their songs. Help! consisted of the 12 original tunes from the 1965 album of the same name. "Yesterday" was called by its working title, "Scrambled Egg."
Cathy Berberian (1967)
Cathy Berberian, the opera singer mocked by Steely Dan in "Your Gold Teeth," released an entire album of Beatles songs as arias in 1967. If that wasn't surreal enough, the cover art was drawn by Gerald Scarfe, who famously did the illustrations for Pink Floyd's The Wall.
Sarah Vaughan (1966)
Pop Artistry found jazz great Sarah Vaughan recording a dozen songs from the side of the pop charts that owed a debt to Tin Pan Alley, including a pair of Burt Bacharach-Hal David songs and Petula Clark's "I Know a Place." The album was kicked off by "Yesterday."
Liberace (1967)
Mr. Showmanship himself even got in on the "Yesterday" game, recording it for 1967's Liberace Now!
Boyz II Men (1994)
Boyz II Men's second record contained the No. 1 hits "I'll Make Love to You" and "On Bended Knee." They closed with an a cappella version of "Yesterday."
Marty Robbins (1968)
The track listing for country star Marty Robbins' By the Time I Get to Phoenix was light-years removed from the cowboy ballads like "El Paso" and "Streets of Laredo" which inspired Bernie Taupin. In addition to "Yesterday" and the Jimmy Webb-penned title track, Robbins also recorded standards like "As Time Goes By" and "You Made Me Love You."
Al Hirt (1965)
New Orleans jazz great Al Hirt released a single of his take on "Yesterday," with harpsichord and a choir providing wordless vocals. It was arranged and conducted by Dick Hyman.
Judy Collins (2007)
Judy Collins first covered the Beatles when she mde "In My Life" the title track for a 1966 alum. More than 40 years later, she released Judy Collins Sings Lennon and McCartney, an entire full-length devoted to their catalog which included "Yesterday."
Molly Hatchet (2012)
Molly Hatchet's 2012 effort Regrinding the Axes was a re-sequenced update of the 2008 covers record Southern Rock Masters with a few substitutions. It closed with "Yesterday."
Count Basie and His Orchestra (1966)
Count Basie put his swinging, blaring horns on the Beatles catalog with Basie's Beatle Bag. "Yesterday" is the only track to feature vocals, which were provided by Bill Henderson. Three years later, Basie gave their songbook another treatment with Basie on the Beatles, which contained liner notes from Ringo Starr.
The Lettermen (1966)
Although the Lettermen were primarily known for their middle-of-the-road, close-harmony re-recordings of contemporaneous pop songs, their take on "Yesterday" is a solo vocal performance. The record from which it stems, More Hit Sounds of The Lettermen!, was re-issued in 1971 as And I Love Her, after the other Beatles song found within its grooves.
Perry Como (1966)
Crooner Perry Como added a bit of Brazilian flair to "Yesterday" when he sang it under a mild bossa nova rhythm on his 1966 release, Lightly Latin.
MadDriven (2013)
Romanian metal band MadDriven uploaded a live cover of "Yesterday" in 2013. The band has since broken up.
Lee Morgan (1966)
Trumpeter Lee Morgan put a hard-bop spin on "Yesterday" in 1966. The tenor saxophone solo was played by Weather Report founder Wayne Shorter; the alto sax solo was performed by Phil Woods, who was memorably featured on Steely Dan's "Doctor Wu."
Julien Neel (2014)
Julian Neel has been regularly uploading solo barbershop quartet arrangements of songs under the name Trudbol since 2008. His take on "Yesterday" arrived in 2014.
Rain: A Tribute to the Beatles (2016)
Rain are a well-known Beatles tribute band who regularly tour the U.S. Paul Curatolo does his best Paul McCartney impression here.
La Lupe (1967)
Born Lupe Victoria Yolí Raymond in Cuba, La Lupe gained fame during the Latin music boom of the '60s and became known as the Queen of Latin Soul. "Yesterday" appeared on 1967's El Rey y Yo (The King and I), one of several albums she did with legendary percussionist Tito Puente.
Andy Williams (1966)
Andy Williams' The Shadow of Your Smile LP, which contained both "Yesterday" and "Michelle," was nominated for a best male vocal performance Grammy in 1967. He lost to Frank Sinatra's "Strangers in the Night."
The Sylvers (1973)
Two years before the Sylvers' breakthrough disco hit "Boogie Fever," the Los Angeles family band cut an a cappella version of "Yesterday" for their second album.
Modern Jazz Quartet (2010)
The venerable Modern Jazz Quartet put out a pair of records for the Beatles' Apple label in the late '60s, Under the Jasmin Tree and Space. Their version of "Yesterday" was added on as a bonus track when those two albums were packaged together and re-released in 2010.
Wes Montgomery (1968)
Jazz guitar legend Wes Montgomery covered "Yesterday" on 1968's Road Song, a record that also saw him cover the Beatles' "I'll Be Back" and Simon & Garfunkel's "Scarborough Fair/Canticle." Montgomery died five weeks after the sessions for the album.
Eva Cassidy (2003)
Eva Cassidy was a beloved interpretive singer in the Washington, D.C., area who gained international fame after she passed away from cancer in 1996 at the age of 33. Since her death, her family has put out several collections of previously unreleased material, including 2003's American Tune, which contained "Yesterday."
Mayfair High School ShowTime (2008)
The award-winning ShowTime show choir out of Lakewood, Calif., had "Yesterday" in their 2008 repertoire.
Lawrence Welk (1965)
Bandleader, accordionist and popular television variety-show host Lawrence Welk picked up on "Yesterday" early. It appeared on 1965's Today's Great Hits.
Xavier Cugat (1970)
Latin bandleader Xavier Cugat, known for conducting his orchestra with a chihuahua under his arm, recorded "Yesterday" in 1970.
Ras Attitude (2013)
There have been numerous compilations of Beatles songs performed by reggae artists over the years, including 2013's Hemp! That one begins with UB40's Ali Campbell and the famous rhythm section of Sly & Robbie performing "A Hard Day's Night" Ras Attitude takes honors on "Yesterday."
Puddles Pity Party (2017)
Mike Geier has been making videos of himself singing a variety of songs while dressed as a sad clown named Puddles since 2013. He tackled "Yesterday" in 2017 and got some help from former American Idol contestant Casey Abrams.
Placido Domingo (1981)
Tenor Placido Domingo set a commercial high point for opera-pop crossover with 1981's Perhaps Love, which included a version of "Yesterday." The selling point was the title track, an Adult Contemporary hit duet with John Denver.
Nicky Hopkins (1966)
As his star as a session pianist rose, Nicky Hopkins made a solo record. But the sounds found on The Revolutionary Piano of Nicky Hopkins were far removed from the bluesy rock he made with the likes of the Kinks, the Rolling Stones and the Who. Instead, it's an orchestrated, easy-listening collection of standards, including "Yesterday."
The Band of Irish Guards (1966)
The Irish Guards are one of regiments whose job is to protect the British royal family, and its band often supplies the music at ceremonial functions. In 1966, they honored the Beatles with an entire album of their songs.
David Partridge (2013)
David Partridge, the owner of HELM Recording in Milton, Ontario, Canada, played all the instruments on a punk rock cover of "Yesterday" in 2013.
Chet Atkins (1966)
One of the most influential country guitar players ever added his own style to 1966's Chet Atkins Picks on the Beatles. George Harrison, who often played a Gretsch Chet Akins Country Gentleman guitar in the band's early days, wrote the liner notes.
Vince Guaraldi (1969)
Best remembered for his music on the Peanuts television specials, Vince Guaraldi had a celebrated career as a jazz pianist. His cover of "Yesterday" appeared on 1969's The Eclectic Vince Guaraldi.
Royal Philharmonic Orchestra (1987)
Later retitled The Royal Philharmonic Orchestra Plays the Beatles, 1987's Beatlephonic was the famous London orchestra's second album of Beatles songs. Conductor Louis Clark previously worked with Electric Light Orchestra on the arrangements for many of their albums.
Toots Thielemans (1993)
Celebrated guitar players like Adrian Belew, Allan Holdsworth, Leni Stern and Larry Coryell contributed to 1993's Come Together: Guitar Tribute to The Beatles, Vol. 1. Toots Thielemans, a legend on the harmonica, closed out the record with "Yesterday."
Jason Falkner (2008)
Jason Falkner is a power-pop legend, having played with the Three O'Clock, Jellyfish and the Grays, while recording several solo albums. He's also done a pair of lullaby albums of Beatles songs; "Yesterday" arrived on the second installment.
Two Rivers Chamber Music (2014)
Based in the Baltimore-Washington, D.C., area, Two Rivers Chamber Music have been performing a repertoire of classical, jazz and pop at weddings and corporate events since 2013.
Ohio State University Marching Band
Ohio State's marching band presented a tribute to the Beatles during halftime of the Buckeyes' game against Florida A&M in 2013. The performance included "She Loves You," "I Saw Her Standing There," "Ticket to Ride" – and, of course, "Yesterday" which begins at roughly the 6:30 mark.
The Grassmasters (2005)
The Grassmasters turned "Yesterday" into a bluegrass waltz on their own Beatles tribute disc in 2005. That's fitting: On the same day that Paul McCartney originally recorded the tune, he also tracked the bluegrass-tinged "I've Just Seen a Face."
Shirley Bassey (1991)
Shirley Bassey of "Goldfinger" fame put her huge voice on "Yesterday" for 1991's Keep the Music Playing. The record also featured her renditions of Foreigner's "I Want to Know What Love Is" and Elton John's "Sorry Seems to Be the Hardest Word."
More From Ultimate Classic Rock