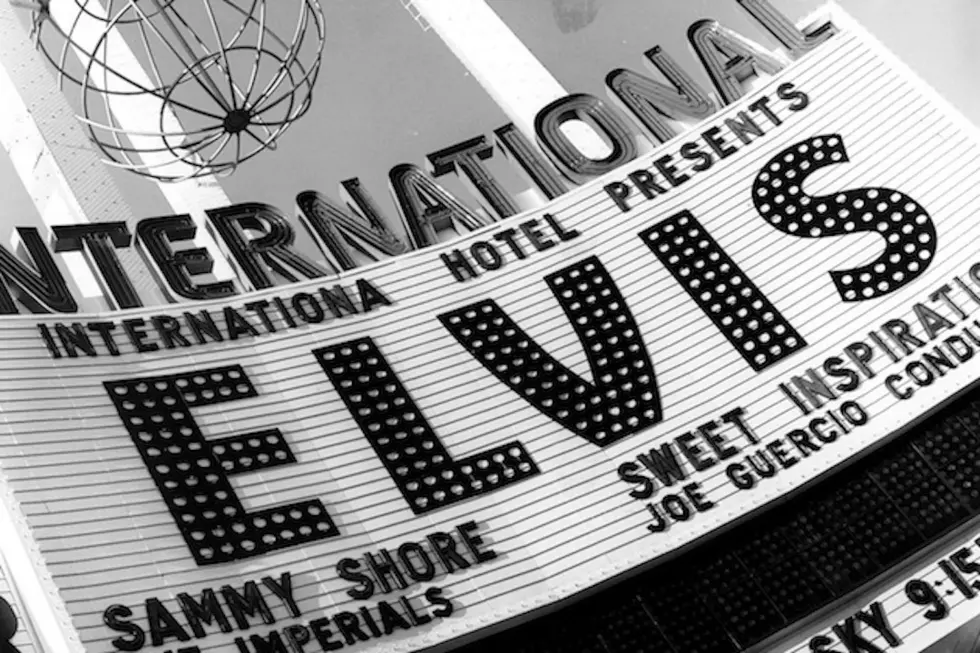 The Night Elvis Presley Began His Las Vegas Residency
elvis.com
He'd joined the Army. He'd filmed movies. He'd even recorded a number of albums. But what Elvis Presley hadn't done for nearly a decade, until July 31, 1969, was play a proper concert.
His original run with Sun Records and RCA from 1954-8 produced some of the most recognized songs in the history of popular music. Then, of course, came two years in the Army – after which, many assumed he would get back to doing what he did best. The only problem was that Presley's manager Col. Tom Parker had other ideas.
Prior to going into the Army, Elvis made four movies, with 1957's Jailhouse Rock as the standout. Upon returning from his service, Parker took Presley off the road and set him up in Hollywood full-time in an attempt to solidify Presley's spot as the biggest star on the planet. Beginning in 1960 with G.I. Blues, and ending in 1969 with Change of Habit, Presley made a total of 27 films.
At the outset, this shift in focus may have been a smart play. As time passed, however, the quality of the films dramatically decreased – and the King began to lose some of his luster, both at the box office and on the charts. Sensing that it was again time for a change, in 1968 Parker negotiated a deal with NBC for an Elvis TV special. When the show debuted on Dec. 3, it drew in millions of viewers – scoring big ratings and rave reviews.
Elvis was officially back. To capitalize on the success of the special, Parker realized his client could be even more profitable if he was on stage. He negotiated a deal with Alex Shoofey of the International Hotel in Las Vegas. Presley would be paid $500,000 for four weeks worth of shows at the hotel, which was still under construction.
Before he could play to an audience, though, Presley would need a backing group. He decided to forego familiar faces like Scotty Moore, D.J. Fontana and the Jordanaires, settling instead on a new lineup – later dubbed the TCB Band (short for "Taking Care of Business") – that featured lead guitarist James Burton, rhythm guitarist John Wilkinson, pianist Larry Muhoberac, bassist Jerry Scheff, drummer Ronnie Tutt and a vocal gospel backing outfit named the Sweet Inspirations. The ensemble held rehearsals at RCA Studios in Hollywood prior to the first date, working out as many as 150 songs from Presley's extensive back catalog.
The debut show sold out, of course, but Parker continued blanketing the city with advertisements. Some 100,000 glossy 8x10 pictures were printed up, along with an extensive list of other materials such as calendars and catalogs. Barbra Streisand was playing the International the night before Elvis and, almost immediately after the final note escaped her lips, Presley's people ripped down every trace of Streisand throughout the building and replaced them with ads for Presley.
Fans weren't the only ones flocking to the show. A slew of big stars said they planned to attend – from Fats Domino and Pat Boone, to Dick Clark and Paul Anka, to say nothing of several other key Vegas Strip headliners. Presley's old label head Sam Phillips received a personal invitation from Elvis himself. As show time neared, Presley began to feel the weight of expectation.
He seemed, as long-time friend Joe Esposito later remembered, more nervous than he'd ever been in his life. "Everything was fine right up until that night," he said. "He was pacing back and forth, back and forth; you could see the sweat just pouring out of him before he went onstage. He was always nervous before every show, but he was never nervous like that again."
A lot of this pressure also came from Col. Tom. According to Peter Guralnick's Careless Love: The Unmaking of Elvis Presley, Parker was said to have told his star, "If you don't do any business, don't blame me. Believe me, everyone in town will know that Elvis Presley is coming, but you're the only one that can bring them in."
Presley, dressed in bell bottoms and a black tunic, was greeted by the roar of 2,000 audience members as he launched into a straight-ahead rock version of the Carl Perkins' hit "Blue Suede Shoes." The hits kept coming, as Presley performed favorites from his catalog like "All Shook Up," "Love Me Tender," "Jailhouse Rock" and "Don't Be Cruel" – as well as covers of songs made popular by Del Shannon ("Runaway"), Ray Charles ("I Got a Woman") and the Beatles (both "Yesterday" and "Hey Jude").
Midway through the set, Presley addressed the crowd. "Good evening ladies and gentlemen," he said. "Welcome to the big, freaky International Hotel with those weirdo dolls on the walls and those little funky angels on the ceiling – and, man, you ain't seen nothing until you've seen a funky angel. Before the evening's out, I'm sure I will have made a complete and utter fool out of myself – but I hope you get a kick out of watching."
Presley attacked the material with a fiery determination. "He was all over that stage," producer Felton Jarvis recalled. "I mean, he almost hurt himself. He was doing flips and cartwheels and all kinds of stuff. On "Suspicious Minds" [which made its debut on this night], he'd be down on one knee and do a flip across the stage and just roll. He was about half crazy." After the final song, Elvis left the stage and gave his manager a big hug, his body shaking from spent energy and raw emotion.
Filled with raw charisma and undeniable talent, the concert was a performance for the ages – and it helped briefly move Presley back to the top of a rock and roll pecking order. Presley released "Suspicious Minds" as a single later that fall, and it shot up the Billboard Hot 100 chart – becoming Elvis' last No. 1 hit. He would ultimately play more than 700 sell-out performances through 1976 at the International, by which time it had become the Las Vegas Hilton. In July 2014, the hotel traded hands again and became known as the Westgate.
 
 
See Mug Shots of Elvis Presley and Other Rockers
See Elvis Presley in Rock's Craziest Conspiracy Theories
More From Ultimate Classic Rock