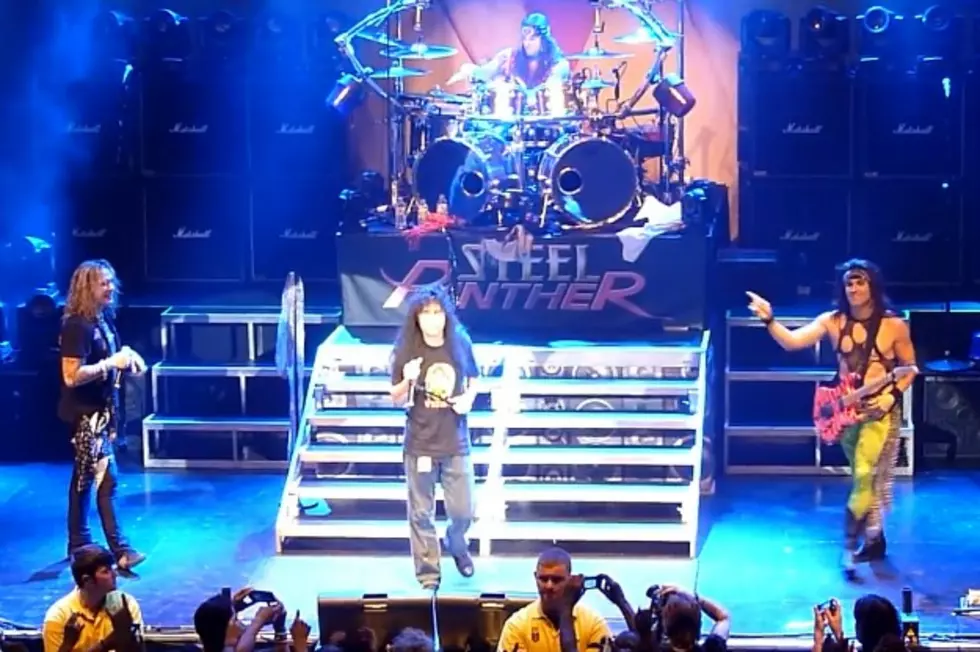 Anthrax Singer Joey Belladonna Covers Journey with Steel Panther
YouTube
This discovery was made during Steel Panther's Wednesday night (Nov. 7) show in Newcastle, England, during which Anthrax singer Joey Belladonna strolled out on stage to join the band for a pleasantly surreal rendition of the oft-karaoke'd Journey classic 'Don't Stop Believin'.' You can check out some fan footage of the number, embedded below.
Although it might seem odd to think of a thrash metal titan like Belladonna crooning power ballads, he's actually got a long list of bona fides when it comes to this stuff -- Anthrax covered Joe Jackson on its 'Persistence of Time' LP, and he's known for incorporating a number of Journey anthems into the set list of his side project, Big Chief Way.
Additionally, as Blabbermouth points out, Belladonna actually reached into the Journey songbook during his original Anthrax audition. "They'd heard of me and they asked me to come in, but we were going in to start tracking and stuff, to get the mic set up and all that and they said, 'Let's get you in there and get you warmed up.' I hit the mic and belted out some Journey," he recalled in a 2005 interview. "I think it was 'Lights.' I didn't know what the hell I was getting into in the first place. I just wanted to lay some vocals or something. Just to kinda give an idea and that's what happened. It wasn't really anything more than that. I just kinda belched it out."
"I think I did 'Oh Sherrie,' too, or something," added the vocalist. "I dunno why, but I just did. It was something off the top of my head I could do a cappella and it was kinda challenging. I thought maybe in range or something that would be kind of intriguing. It was definitely one they weren't expecting."
Belladonna's choice of material might be a partial indication of the track listing for Anthrax's upcoming covers EP, which drummer Charlie Benante has said will include songs originally recorded by Rush, Thin Lizzy, Boston, and -- you guessed it -- Journey.
Watch Steel Panther Featuring Joey Belladonna on Journey's 'Don't Stop Believin''
More From Ultimate Classic Rock