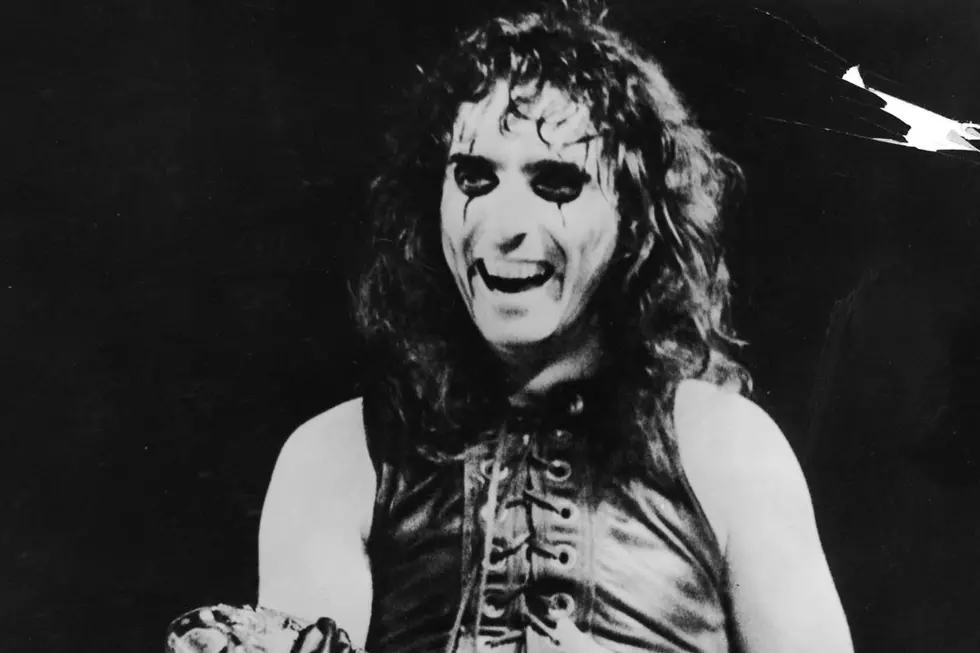 How Alice Cooper Got It Right and Hit It Big With 'Love It to Death'
Max Schneider, Getty Images
It took Alice Cooper two uninspired albums and a move to Detroit for the band to finally get it right.
Nobody bought the first or second albums made by the quintet, which was still called Alice Cooper at the time (before its singer claimed the name for himself as a solo artist). Pretties for You and Easy Action – released in 1969 and 1970, respectively – were sludgy, messy and mired in period psychedelia.
Their third album arrived on March 9, 1971. Inspired by the noisy rock bands they were encountering in their new home in Detroit, where the members had moved the previous year, Love It to Death turned up the volume, fine-tuned the songs and relaunched Alice Cooper as a tough rock 'n' roll band.
Love It to Death sounded little like the Alice Cooper heard on the two earlier albums, and the LP transformed them into one of Detroit's premier bands. In almost no time, they went from mostly obscure Los Angeles (via Phoenix) rockers with an occasional headline-grabbing stage show to one of the architects of Detroit's hard-rock renaissance spearheaded by radical groups like the MC5 and the Stooges.
And they had support in the form of a young producer from Canada named Bob Ezrin, who was given Love It to Death as his first-ever project. Along with some assistance from Guess Who producer Jack Richardson, he helped shape the sound of the record, working closely with the band as they sharpened their songwriting and locked into a proto-metal groove. In December 1970, Ezrin took Alice Cooper into a Chicago recording studio and helped change their, and his, future.
Listen to Alice Cooper's 'I'm Eighteen'
Unlike their first two records, Alice Cooper's third LP locked into a mix of teenage sex, post-teen angst and here-come-the-'70s swagger, all backed by a sonic template that pushed the guitars up front. And Alice himself, Vincent Furnier, sang with a bratty confidence that was mostly absent from Pretties for You and Easy Action.
And the songs were killer, particularly "Caught in a Dream" and "I'm Eighteen," which became Alice Cooper's first hit single, making it to No. 21. Ezrin – who was 21 at the time and would go on to work with Kiss, Pink Floyd and Lou Reed, as well as continue a relationship with Cooper that carried over to his solo records – polished the band's sound enough to raise commercial awareness. With Love It to Death, they hit the Top 40 for the first time.
It was just the beginning.
That relative success brought more people to the band's shows, which went even more over-the-top, with a couple of key album cuts serving as set pieces to two of Cooper's most famous stage productions, ones involving a straitjacket (during "Ballad of Dwight Fry") and electric chair ("Black Juju"). In a few years, the concerts would become a more significant part of Alice Cooper than the music.
But on Love It to Death, the focus was on the songs and performances. Glenn Buxton and Michael Bruce's guitar interplay influenced generations of players, and within a couple of years, Alice Cooper would be one of the biggest bands on the planet. The album itself inspired everything from rock and pop to punk and metal over the decades. And while Alice Cooper, both the band and solo artist, made bigger records, they never made a better one.
Forgotten First Albums: Rock's 61 Most Overshadowed Debuts
From David Bowie's overlooked debut to Dave Grohl's pre-Nirvana record with Scream.
How Alice Cooper Wrote 'No More Mr. Nice Guy'
More From Ultimate Classic Rock