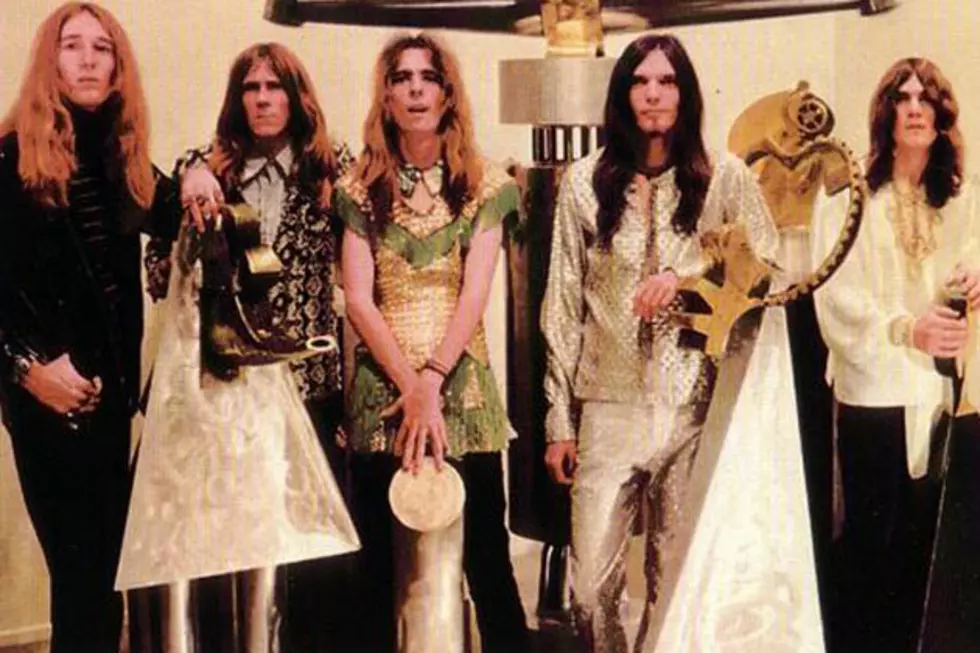 45 Years Ago: Alice Cooper Release 'Pretties for You'
Straight/Warner Brothers Records
In 1969, freaks were freaks, and straights were scared. And even some freaks weren't sure what to make of a new assemblage of long hairs known collectively as Alice Cooper, and their debut album 'Pretties for You.'
The music scene was in the midst of a collective hangover from the fabled 'Summer Of Love.' The drugs weren't what they used to be, the glow had faded a bit, and a darker mellow vibe was encroaching on the culture.
Still, Alice Cooper took full advantage of the outgoing era's "anything goes" mentality. Previously known as the Nazz -- until they realized a fellow future star in Philly named Todd Rundgren already had claim to that distinctly cool moniker-- Vince Furnier, Michael Bruce, Neal Smith, Glen Buxton and Dennis Dunaway did what any logical combo would do: they consulted their Ouija board, which told them to use the name Alice Cooper from now on. Furnier would, of course, eventually take the name as his own as well.
The band adopted a style of dress far removed from the hippie culture, best described as "thrift store drag meets vintage Hollywood glamor at an Acid Test ceremony." Their look -- as well as their "everything and the kitchen" sink approach to live performance -- caught the attention of Frank Zappa, who signed them to his new label, Straight Records. "You know it takes something really off the wall to catch the attention of Frank," Smith told Shindig! Magazine in 2009. "When he heard us, he signed us and really gave us our first break."
The band entered the studio with Zappa as producer in early 1969. "We essentially recorded those songs live in the studio," explained Smith. "We were going through a song, and we said 'OK Frank, we're ready to record,' and he'd say 'we already recorded...it's done.' We asked what he meant, and he said he'd 'fix it in the mix.'" If you're only familiar with the riff-heavy Alice Cooper of 'School's Out,' 'I'm Eighteen' or ' Billion Dollar Babies,' 'Pretties For You' will definitely take you by surprise. It is unlike any other record in the Alice Cooper catalog. Take equal parts Yardbirds, Syd Barrett's Pink Floyd, Salvador Dali and a trashy Hollywood vibe, and you're almost there. Even the LP cover looks like nothing going on at the time. In fact, the band originally wanted Dali to do the cover art for the album, but ended up opting for an odd painting they saw hanging in Zappa's living room -- of a girl lifting up her skirt to an old man.
'Titanic Overture' opens the album in grand style. It's an instrumental piece that sounds like a surreal carnival ride gone awry. Short and sweet, it leads into the odd, and oddly titled '10 Minutes Before The Worm," another short romp that sounds like some sort of TV jingle filtered through hallucinogens. 'Swing Low, Sweet Cherrio' is an off-kilter rocker with a sound that somehow crosses elements of the Doors, Captain Beefheart and the Beatles. Psychedelic? Perhaps. Intriguing and beguiling for sure. 'Today Mueller' is another brief track, clocking in at under two minutes -- with elements of Syd Barrett and a general Dada-esque offbeat playfulness stretching its shape.
'Living' is not only one of the most straight ahead and dynamic songs on the album, but also one of the great lost songs in the entire Cooper library. The fuzz guitar riff pushes this sucker into the stratosphere. Imagine the Yardbirds fighting it out with the Byrds and you're on the right track. The band hit hard once again with 'Fields Of Regret,' another fuzzed out, brash rocker. These songs feature elements of the more straight forward rock sound the group would soon adopt -- you can hear the seeds of things like 'Killer' and 'Dwight Frye' here -- but for now it remains entwined with elements of the era.
With the jarring yet bouncy little tune 'No Longer Umpire,' Alice Cooper tip their hat once again to Syd Barrett. The close-cut harmonies add a certain tension and dynamic that fits both the band and the song perfectly. Don't blink or you'll miss it, once again this track barely breaks the two minute mark. Next up is one of the most overtly psychedelic songs on the album, 'Levity Ball' has both a dreamy glow as well as a raw bite to it. This one was recorded live at the Cheetah Club, and although there is a studio outtake that eventually arrived on a box set years later, there is something about the original live take that wins out.
'B.B. On Mars' is just over one minute of surreal goodness that surges along, direction uncertain. 'Reflected' will ring a bell with the more causal fans, for a few years later, the song would be re-written in part to become the 1972 smash hit 'Elected.' Where 'Elected' flat out rocks, 'Reflected' retains the, shall we say, wiggy elements of the band's early incarnation. But don't worry, it still has the punch to knock you flat. 'Apple Bush' is a somewhat eerie little number set to a swing tempo. Alice (the man, not the band) puts forth some nice harmonica work here as the band tumble along.
'Earwigs To Eternity' is a slightly autobiographical song. The band's first steps were taken under the name the Earwigs when they entered a contest at high school, miming to Beatles songs. This one scurries along in slightly disjointed beauty, sounding, once again, unlike anything else that was happening at the time. 'Changing Arranging' ends the album with another look into the future, displaying elements that would turn up in more pronounced ways on later albums.
Throughout the album the band are tight and solid as can be, and though at first listen one might assume some sort of studio wizardry was at work behind the scenes, 'Pretties for You' was basically recorded live. Proof of that can be found on the '90s archive release, 'Live At The Whiskey,' where they blast many of these songs out in versions note faithful to the album takes.
Alice Cooper were an incredible band. Not to take anything away from Alice, the man, but the original band had a certain special something that was never again matched over all the years. They would soon move into a more commercial and rock solid style on albums like 'Love It Top Death' and 'Killer,' but thankfully all the records made with the original band retained elements of that early Dada-esuqe and surrealist spirit.
Again, 'Pretties For You' is not for everyone -- it's pretty safe to say that many a 'diehard' AC fan never pops this one on as frequently as, say, 'Billion Dollar Babies,' and that's understandable. But 'Pretties For You' is for life! It's a one of a kind album whose charm and spirit rings through with every note, even 45 years later.
More From Ultimate Classic Rock