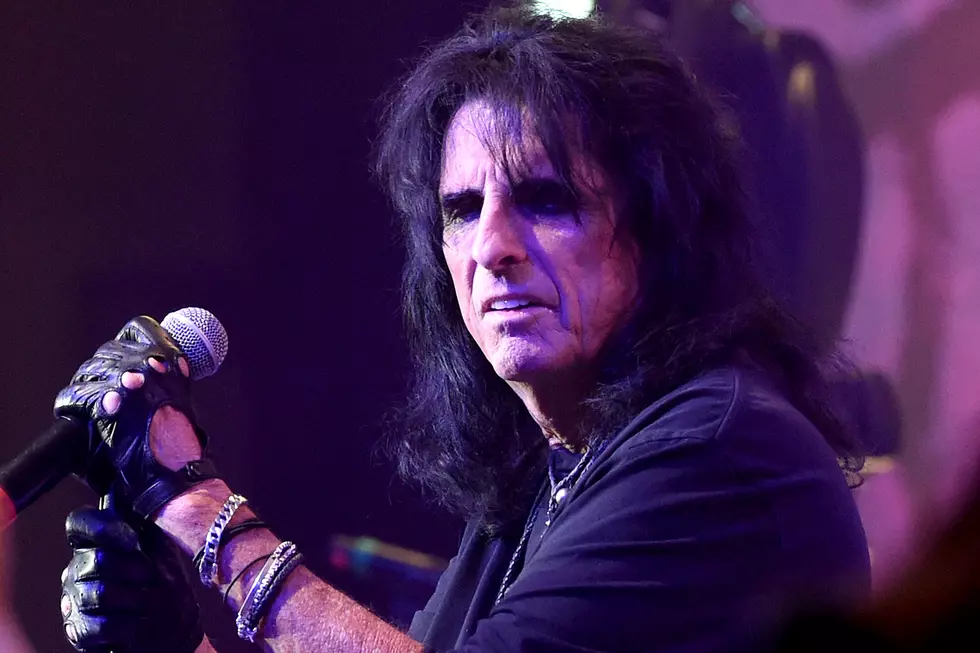 Alice Cooper Details Upcoming Tour Plans: Exclusive Interview
Rick Diamond, Getty Images
"What I like about this is it's a very creative time," Alice Cooper tells UCR. And rest assured these are creative days indeed for the king of shock rock.
Cooper is just days away from launching his Too Close for Comfort tour on April 28 in Mount Pleasant, Mich., debuting a brand new stage show and celebrating the return of guitarist Nita Strauss to the band after a brief absence. He'll be supporting Def Leppard and Motley Crue on a few Stadium Tour dates, too, and has a Freaks on Parade North American trek with Rob Zombie starting in August. Meanwhile, Hollywood Vampires — his all-star band with Joe Perry, Johnny Depp and Tommy Henriksen — will be in Europe during June and July in conjunction with their Live in Rio album that comes out June 2.
And Cooper has a new studio album, titled Road, due out this year, though details have not been announced. Plus, he has a song, "I'm Always Chasing Rainbows" from 1976, on Guardians of the Galaxy Vol. 3: Awesome Mix in conjunction with the movie's release on May 5.
Not bad for a guy just a couple of months past his 75th birthday and still as active as ever. So let's let him give us a roundup of everything coming from Camp Cooper these days.
What You'll See
Cooper and his band have been rehearsing in Nashville for the spring tour, the successor to his Haunted Castle show. "That was really a lot of fun," Cooper says of that production. "That's sort of like what my Friday night horror movie should look like. That's kind of what the feel of it was. But this show is totally different to that." Cooper isn't revealing much, but he does say that wife and longtime stage mate Sheryl will be playing a new character, Marie Antoideath, and that video technology will allow the tour to live up to its name.
"It's called Too Close for Comfort because now you'll be seeing ... like when Alice does Dwight Fry - before you could never see the facial thing going on there, where you will be seeing it this time," Cooper explains. "We just kind of got tired of people not being able to see some of the real intricate parts. I think people lose some of the real detail in the show. So there's that, but that's just a little part of it. There's gonna be a lot of things going on in the show that we haven't done yet, and a few things that we've done but reimagined. I can tell you it's really gonna be cool."
What You'll Hear
Cooper says with the tour repertoire the songs will remain the same-ish.
"Like anything else, we have to do the hits," he acknowledges. "The audience wants to hear the hits, so it's, How do you decorate those hits? How do you put them into a story form or some kind of a new way of looking at the show." He does promise that "we've added two or three new things," and he holds out the possibility of changes being made during rehearsals.
"We have a set list ... and I know that's going to change seven or eight times because we're gonna go, 'Ah, that song doesn't go into that song right. Let's put this song in there and that way it'll bridge into this next thing,'" Cooper explains. "And then musically my guys can learn a song in an hour, any song. So we're good on any front.
"It's putting a puzzle together, really. It's just a matter of connecting the dots once you get up there. And I've got all the people that have done this for 50 years. Sheryl and I have been putting a show together like this forever. And [manager] Shep [Gordon] has been really more interested in the lighting of the show. So we really do know how to put it all together."
Guys ... and a Gal
Strauss' return is not unexpected. She left on good terms last fall to tour with Demi Lovato with promises that she was welcome to come back at any time.
"I have [a] revolving door kind of policy," Cooper says. "I told her right up front, 'You should go [do] this,' but I said, 'The door's always open' and she came back. There was never any bad blood about stuff like that, and I got to bring Kane Roberts back for a while, which was fun.
"To me, that's music, and that's showbiz. It's weird when people get angry with people for leaving. When they have an opportunity to do something, I'm like, 'See ya. Come back any time you can.' So Nita's back in the fold, and that's going to add that other element she brings. I can open up and do some songs that I don't normally because she can represent that Kane Roberts era."
Watch Nita Strauss Perform With Alice Cooper in 2017
The Road and 'Road'
We're still waiting for release details on Road, Cooper's follow-up to his well-received 2021 album, Detroit Stories, which debuted in the Top 5 of the Billboard Hard Rock Albums and Top Rock Albums charts. Produced with longtime compatriot Bob Ezrin, the album showcases Cooper's road band.
"I wanted to show this band off a little," he says. "So we wrote the songs and did them live in the studio with very, very little ... if there's any overdubs, it's minor, and only because that little bit could be a little better here or there. But 95% of this album is live in the studio. I did that on purpose to show off how good the band is."
Conceptually the album is — surprise – about the road. "It's things that happen on the road," Cooper says. "There's a lot of humor in it. There's a couple of heartbreakers, but it's very guitar-driven because that's what I look for in an album. I love writing the songs with Bob and the guys, and we really emphasize that the main instrument is gonna be guitar. It's not gonna drift off into any other land out there."
Cooper has spoken about working on multiple albums with Ezrin, but he won't talk about any of that yet. Addressing one possibility, he says, "Let's just put it this way: It's historic and at the same time it's really kind of quirky. Sometimes you sit there and go, 'Really? OK, let's go with that.' [Laughs] We'll get to that one later on, and it'll be really cool, too."
The Vampires Awaken
Hollywood Vampires have been in the coffin since before the pandemic, and Cooper is excited about reactivating that band, too. "We've had enough time off now, so everybody's ready to get back on the road," he says, noting that Henriksen, who serves as musical director, was working with the band at Depp's house in Hollywood before Cooper's tour rehearsals started. "This is a band that plays great live," Cooper says of the covers-heavy troupe. "There's not a lot of theatrics in that show. It's basically a bar band that puts out a really good, fun vibe, and yet it's still a little dark. When you picture Joe and Johnny and I and the whole vampire thing, it really does have a darkness to it. But in the end, people are just having a great time, because all the songs that are being played are songs everybody wants to hear."
Cooper hadn't seen Depp for nearly three years until he and Jeff Beck performed in Phoenix on Nov. 1, but he'd been vocally supportive of his fellow Vampire during Depp's sensational trial with ex-wife Amber Heard. "I kinda went backstage and I opened his door and went, 'Sooo ... what's new?' Were you doing something on TV?'" Cooper says with a laugh. He promises that there will "certainly" be a tribute in this year's shows to Beck, who died in January.
"I've known Jeff since I was 16 years old," Cooper says. "I met him back then, and I've always been a friend of his. I saw him there in Phoenix and they were great. Jeff played as good as I've ever heard him play. So it was a real shock when he [died]."
Watch Hollywood Vampires Perform Live in 2019
Rainbow Chasing
Cooper says his inclusion on the soundtrack for Guardians of the Galaxy Vol. 3 came as a surprise. "I was at the premiere of the new Ant-Man movie. We were in L.A. and Michael [Douglas] and Catherine [Zeta-Jones] said, 'You gotta come down to the premiere,' so we went," Cooper recalls. "And there was the main guy from Marvel there and he's a big Alice Cooper fan, and he says, 'I got one of your songs in the new Guardians movie,' and I said, 'Really?!' I didn't even know about that. So I can't wait, because I'm a big fan of the Guardians of the Galaxy. I think they're really funny. It's what Marvel should do; it's all the action, all the great CGI stuff, with a sense of humor."
Cooper included "I'm Always Chasing Rainbows," a vaudeville song written for the Dolly Sisters in 1917, as the penultimate track of Alice Cooper Goes to Hell in 1976. "[Ezrin] said, 'We need something that's so opposite of what this [album theme] is, and [the song] fits right in with the point when I'm going home when Alice finally talks his way out of hell somehow, and he's going home. I think [Ezrin] started playing it, and I said, 'Well, let's treat it like the 1930s as if Al Jolson were singing it.' And [Ezrin] is the king of putting productions together. The orchestrations were spectacular on that. And the way it goes into 'Going Home' really was brilliant. Those two songs next to each other really brought the story to a perfect close."
Zombie Stomp
Freaks on Parade is not the first time Cooper and Zombie have hit the road together. They went out as the Gruesome Twosome in 2010, and Zombie inducted the original Alice Cooper band into the Rock & Roll Hall of Fame the following year.
"I can't wait to do that," Cooper says of the upcoming tour. "Rob's like my little brother. We have a lot of fun doing these shows. It's really good because the two shows are so visual and both bands are really, really great." Freaks on Parade gets underway on Aug. 24 in Dallas and plays 19 dates before wrapping up on Sept. 24 in Cooper's ground zero of Phoenix.
Watch Alice Cooper Perform With Rob Zombie in 2022
2023 Rock Tour Preview
Reunions, farewells and long-awaited shows are on the horizon.
More From Ultimate Classic Rock