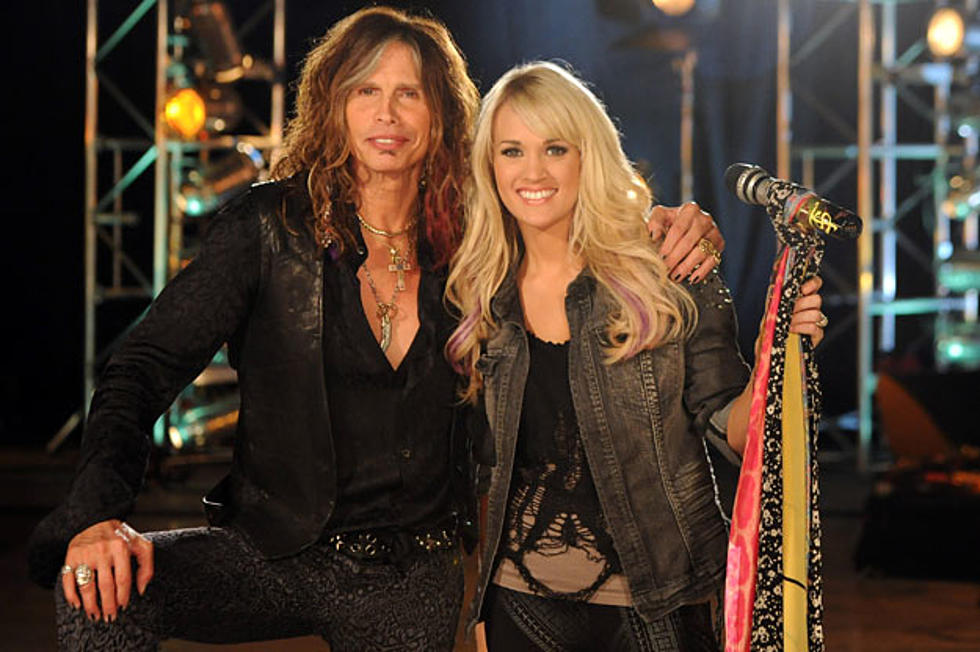 Aerosmith Album Rumored to Include Carrie Underwood Duet
At this point it's only a rumor that country star Carrie Underwood recently dipped into a recording studio to cut vocals for the upcoming Aerosmith album, but it's a rumor with a little sizzle.
MJSBigBlog.com was the first to point out a well-connected Aerosmith fan's Facebook post, claiming Underwood and Steven Tyler sing together on a country duet.
The post was taken down, shortly after the band's drummer Joey Kramer tweeted, 'Stealing @Aerosmith thunder look up the word PROSECUTION !" Tyler and Underwood have collaborated numerous times before, including a performance at the 2011 ACM Awards in Las Vegas and a CMT 'Crossroads' special during Superbowl weekend.
Underwood wouldn't be the first country singer -- or even first 'American Idol' contestant -- to sing on the album. Season 10 runner-up Lauren Alaina let fans know in March that she'd cut backing vocals for a song on 'Music From Another Dimension,' which will be in stores August 28.
MJSBigBlog.com reports the song Underwood and Tyler sing together is either 'Beautiful' or 'Closer.' It's reportedly a country ballad that could cross over to other genres. The band is expected to release the full-length video for their current song 'Legendary Child' later this week.