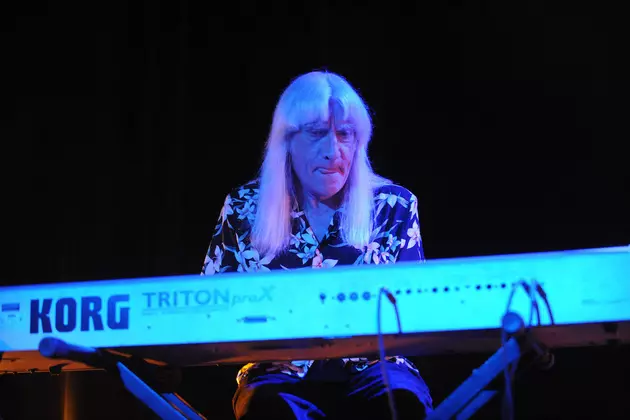 Grateful Dead's Tom Constanten Recovering From Broken Neck
Brad Barket, Getty Images
Tom Constanten, the only surviving full-time Grateful Dead keyboardist, is recovering from a scary accident in which he broke his neck.
Constanten, who was with the Dead from 1968-70, said he tripped while entering a local post office on "a bit of uneven pavement. ... I fell, face first, onto the concrete."
Thankfully, another customer "spotted me right away and called 911," Constanten said on Facebook. He was taken to Novant Presbyterian Hospital in Charlotte, N.C., where he was put under the care of neurosurgeon Andrew Healy. Constanten thanks Healy -- saying he "performed the procedure that pulled me out of the darkness and into the light" -- as well as others, including the anesthesiologist, though Constanten says he is "spacing on his name, maybe because he did such a good job."
Constanten, a former roommate of Grateful Dead co-founder Phil Lesh, appeared on the band's first three albums before splitting. Since then, he has worked as a teacher and solo artist. Constanten also reportedly had a heart attack in 2012.
He said loved ones, and no small amount of Grateful Dead fans, are bolstering his recovery. "I get back to the house, and the first thing I'm aware of is a forest of wonderful friends near and far showing such unbelievably warm support," Constanten said. "I've experienced it before and, even though I have no idea what I might have done to deserve it, I felt the lift and reassurance. There have been rough patches in my life these past fifteen years, and it's helped me get through it."
The Grateful Dead's original keyboardist, Ron "Pigpen" McKernan, died in 1973 after suffering a gastrointestinal hemorrhage. Constanten's successor, Keith Godchaux, died in a 1980 car accident. Brent Mydland followed, and was lost to a drug overdose in 1990.
Grateful Dead Albums Ranked Worst to Best
More From Ultimate Classic Rock