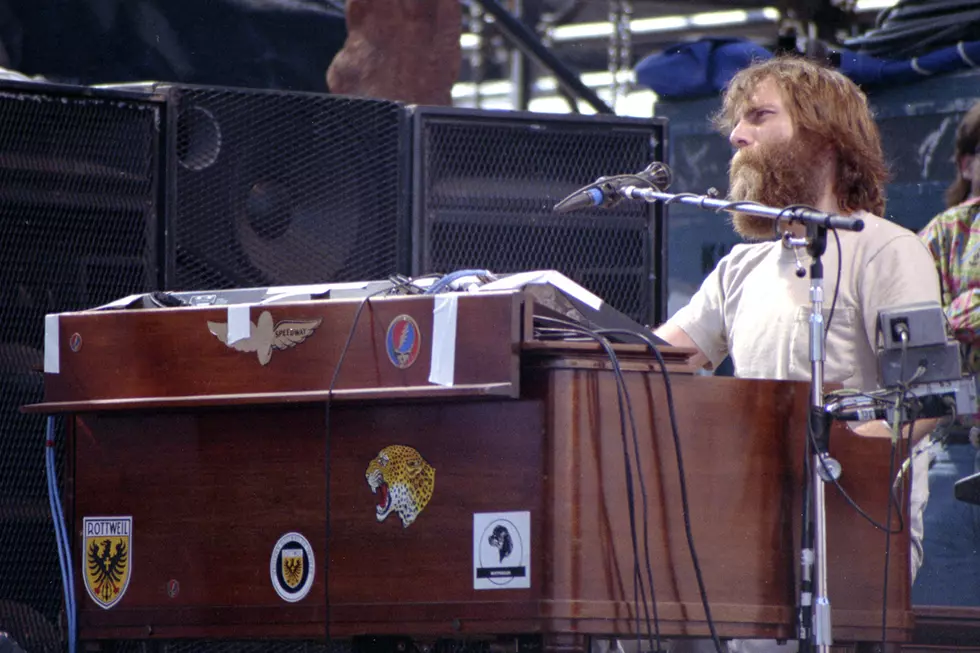 30 Years Ago: Grateful Dead Keyboardist Brent Mydland Dies
Tim Mosenfelder, Getty Images
Keyboardist Brent Mydland's arrival allowed the Grateful Dead to pack the entire dictionary of rock 'n' roll into their repertoire – if ever so briefly.
Mydland, who joined in 1979 only to die suddenly on July 26, 1990, brought a classic soul and R&B sound that shook away the cobwebs, courtesy of a Hammond B3 organ with spinning Leslie speaker.
This allowed the Grateful Dead to dig deeply into revved-up oldies like "Let the Good Times Roll," "Walkin' the Dog," "Baby What You Want Me to Do?" and Mydland's show-stopping take on "Dear Mr. Fantasy," which was paired up with the coda from "Hey Jude." He also came up with a steady stream of original songs – making key contributions, for instance, to the Grateful Dead's surprise 1987 comeback, as "Touch of Grey" drove In the Dark up the charts. Mydland's song "Tons of Steel" was singled out for praise, and he also earned songwriting credit on Bob Weir's raucous "Hell in a Bucket," which became a Top 5 hit on Billboard's mainstream rock charts.
Along the way, Mydland earned the respect of fans both old and new – the freshly minted late-'80s Deadheads were sometimes derisively referred to either as "Touch Heads" or "In-the-Darkers" – during tours now considering some of the finest in the history of the Grateful Dead. Appearing before huge stadium crowds in the fall tour of 1989 and spring of 1990, Mydland's playing was right on the money. He could handle rock and roll and blues, and he could get spacy during long jams out of the newly resurrected "Dark Star." Of special note was a run at Hampton Coliseum eventually released as Formerly the Warlocks, which became the stuff of legend as the Grateful Dead broke out a slew of old favorites.
Mydland contributed his own signature touches, too. In 1989, the Grateful Dead began to add MIDI effects to its arsenal. Jerry Garcia and Mydland both experimented eagerly with gadgets that allowed Garcia's guitar to mimic the sound of an angelic choir or a clarinet while Mydland's keys could follow along as a variety of instruments.
Ultimately, though, an old-fashioned, deeply soulful organ sound became Brent's most distinctive contribution in the band. His own voice too, a dusky voice that resembled a harder-edged Michael McDonald, wove itself into the Grateful Dead.
And then, he was gone.
Before Brent Mydland joined the Grateful Dead in April 1979, he had been playing in a band called Silver, formed with John Batforf. Silver released one record for Arista in 1976, featuring the minor hit "Wham Bam." Silver disbanded soon after, and Mydland joined Bob Weir's solo band. That led directly to a spot in the Grateful Dead, after Keith and Donna Godchaux's departures.
From the first, it became clear that Mydland was more than just a keyboard virtuoso. Already an accomplished vocalist and songwriter, Mydland immediately contributed two songs to the Grateful Dead's 1980 album Go to Heaven, "Far From Me" and "Easy to Love You." There was, by the way, a small lyric change on the latter: "Real as a raven" replaced the original "real as a bluebird"; apparently, a raven sounded more at home in a Grateful Dead song.
Later, when the Grateful Dead released Built to Last, their final studio album, Mydland's contributions made up almost half of the record. "Blow Away," "Just a Little Light," "We Can Run" and "I Will Take You Home" – a tender lullaby that Mydland and lyricist John Perry Barlow put together for Mydland's daughter.
Like Jerry Garcia and Bob Weir, Mydland also made time to perform away from the Grateful Dead. In 1982, he began working on a solo album, though the music went unheard until the So Many Roads box set and 1990's Built to Last reissue Mydland and drummer Bill Kreutzmann also played with Bay Area bands like Kingfish and the Healy-Treece Band. As Garcia recovered from a diabetic coma in 1986, Mydland and Kreutzmann toured with members of Santana under the name Go Ahead.
Watch Brent Mydland Perform 'Blow Away' With the Grateful Dead
Yet, Brent Mydland still battled personal demons. Though flourishing with the biggest touring band in the country, and though his tenure was longer than any prior keyboardist, Mydland still felt like "the new guy." He struggled with drink and depression, and his behavior on the road eventually became increasingly troublesome. There were difficulties with his marriage, and Mydland was facing the possibility of jail time after a series of drunk-driving arrests.
After a 1990 tour finale at the World Music Theater in Tinley Park, Ill., Brent Mydland went home to Lafayette, Calif., where he died from a lethal mix of heroin and speed.
Despite losing a key member, however, a fall tour of Europe was on the horizon. The gears of the Grateful Dead machine could not slow down to mourn Mydland. Vince Welnick of the Tubes was hired on and Bruce Hornsby, a friend of the band, filled in to help Vince find his footing.
The next few years would be spotty, but even on the best nights Mydland was missed. His death would mark the beginning of the end for the Grateful Dead.
Grateful Dead Albums Ranked 
More From Ultimate Classic Rock