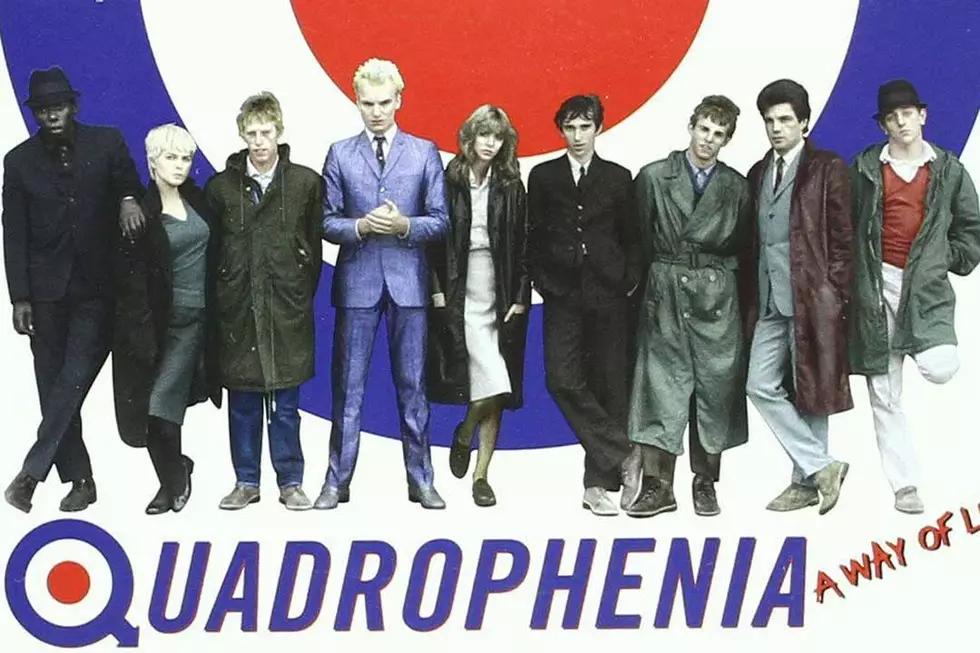 When the Who's 'Quadrophenia' Movie Premiered
Universal
Co-written by Pete Townshend, the movie adaptation of the Who's Quadrophenia marked a definitive departure from the earlier Tommy.
To begin with, the script Townshend and three other screenwriters presented during the Sept. 14, 1979, premiere at the Toronto Film Festival, was no musical. The differences didn't end there. Whereas the Who's initial rock-opera movie production had a outlandish, almost psychedelic feel, this project would be governed by a traditional narrative.
In this way, the character of Jimmy -- a mid-'60s British mod at the center of the Who's semi-autobiographical 1973 song cycle -- was finally given true shape, as was his essential conflict with another group of young London toughs. But the Franc Roddam-directed film tended to play down the album's signature songs in favor of a fleshed-out story, a risky proposition.
Townshend was under no illusions about the odds. "Quadrophenia was us writing and singing about something we knew about, and Tommy was fantasy," he said. "There's a greater audience for fantasy."
Then disaster struck this high-concept proposition. Keith Moon, the Who's co-founding drummer, died as the film was being prepared on Sept. 7, 1978 -- briefly sending everything into disarray.
Moon had been battling an alcohol addiction for some time, and ultimately he overdosed on Heminevrin, a sedative the drummer had been prescribed to deal with the symptoms of acute withdrawal. "Keith's decline while the movie was being made was hidden away," Townshend told the New York Times in 2012.
The drummer had kept his legendary sense of humor, however, until the end. Roddam said that in an early meeting with the Who and their manager Bill Curbishley, Moon said, "I've got a great idea. Why don't we direct this movie together?" Roddam, however, was quick with his reply: "I've got a great idea. Why don't you let me drum on the next Who album?"
In the sad aftermath, there was talk of cancelling the movie. But ultimately, Quadrophenia continued.
"Somebody suggested putting 'This film is dedicated to the memory of Keith Moon' on Quadrophenia," Townshend said at the time, "and I said, you don't need it. You don't need to say it. Quadrophenia is Keith Moon. They'd make a tombstone out of it. It should definitely not seem to be a tombstone for Keith -- and God forbid, it turns out to be a tombstone for the Who."
Moon was cremated on Sept. 13, at Golders Green in London, almost exactly a year before the Quadrophenia premiere. "Get Out and Stay Out," a new song recorded specifically for the film, actually features Moon's replacement in the Who, former Small Faces drummer Kenney Jones.
Johnny Rotten read for the lead role, but the part was given to a then-relative unknown named Phil Daniels after the filmmakers' refused to insure the Sex Pistols frontman. "At the time I could get on a bus, and nobody could even know who I was," said Daniels, who has since become forever associated with this generation-defining role. A cast that included Sting, then at the beginning of his own career in rock, then began reshaping Quadrophenia.
Before, the original album asked listeners to fill in the blanks, as Townshend revisited the mid-'60s scene from which the Who emerged through a main character who seemed to share parts of each of the band members' personalities -- thus, the title. This adaptation brought all of Jimmy's adolescent struggles, both from within and without, to the fore.
Most importantly, it pulled no punches, right down to its enigmatic conclusion. "I feel that 99.9 percent of people are losing 99.9 percent of the time," Roddam told Clash in 2009, "and yet all American films are about winning. So I wanted to turn it around and make this about not getting it -- not being confident, not being capable, not having sexual experience, not being a good fighter, not being good looking, not being the best dancer, not getting the girl. And I thought those were normal experiences, and I think that's why the film has endured. Because it let people off the hook, they don't feel so bad about themselves."
More than that, Quadrophenia sought to capture a moment in time -- and it succeeded, even if a lot of it happened in a stream-of-consciousness fashion. There wasn't much of a script, so having a sense of place was all the more important. That look and feel, so specific and so artfully done, gives Quadrophenia its lasting cache. Part of the advance work for the film, Sting told the Times, was going out with "some actual London mods from the era, drinking with them -- and they showed us some dance moves. They were still wearing the clothes."
Upon its release, Quadrophenia developed a cult following, mostly through midnight screenings, home-video sales and the occasional TV broadcast. Decades later, Townshend still marveled at its cultural impact. "The film is a part of a continuum of those that strike a typically English and urban visual mood," he said.
In time, Brighton, England -- the setting of the script's epic battle between the forward-looking mods and their sworn enemies in the leather-wearing, retro rockers -- took on a second identity. Long known as a beach resort, it's now become a pilgrimage point for scooter-riding nostalgia buffs.
All of this seems to leave out the Who. But bassist John Entwistle was heavily involved with the soundtrack, overseeing remixing and placement of songs like "5:15" and "Love Reign O'er Me." Careful observers will find some notable changes, including a Moon-focused beginning for "The Punk Meets the Godfather."
Listen to the Who Perform 'Get Out and Stay'
More interesting still is spotting the anachronisms involving the rare times the Who is directly referenced in Quadrophenia. They are shown, for instance, performing "Anyway, Anyhow, Anywhere" on the Ready Steady Go! television series. That episode aired, however, in July 1965, a year before Jimmy's adventures in the film take place. Similarly, "My Generation" is featured during a house party, though that song wasn't released until 1965, either. There's a brief glimpse of the Who's repackaged A Quick One/The Who Sell Out double album, and that wasn't released until 1974.
The bulk of the film -- at least until its final sequence, when several Who songs play -- is dominated by early '60s R&B that was part of the mods' musical diet. As with everything else involved with Quadrophenia, the focus is squarely on the characters, on their story -- not the Who. That's given the film, Townshend says, an ageless quality.
"It allows anyone who wishes to be Jimmy, or indeed to be any of those lost souls from that amazing time when youth culture as we know it became a currency that Hollywood probably could never parody again," Townshend told the Times years later. "Quadrophenia may be the first film that treated the snotty little git hero with the respect he really did not deserve."
The Who Albums Ranked
More From Ultimate Classic Rock