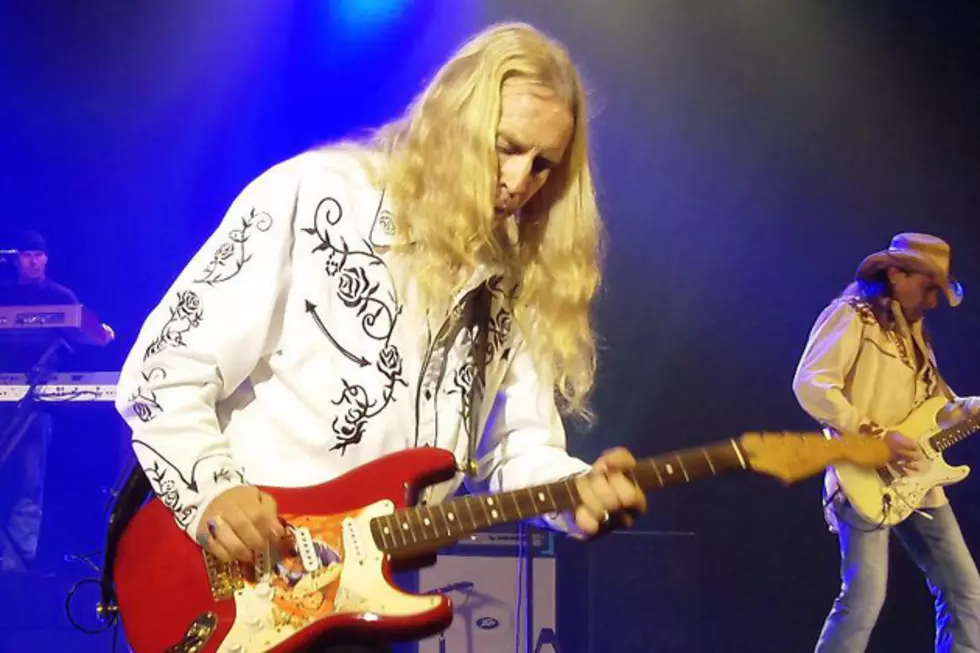 The Outlaws Say Goodbye to Guitarist Billy Crain
Dominic Guagliardo / The Outlaws
Billy Crain, guitarist for Southern rockers the Outlaws, has announced that he has been forced to leave the group due to unspecified health issues.
As his official site notes, Crain played under Bobby Whitlock and with the Henry Paul band during the '70s. in 1982 he joined the Bellamy Brothers, co-writing their 1988 hit 'I'll Give You All My Love Tonight.' In recent years he released two solo albums, the latest being 2012's 'Creole Shoes.' He's been a member of the Outlaws since their 2008 reformation and performed on the group's 2012 album 'It's About Pride.' But as the Facebook announcement he made Friday (June 14) explains, he needs to focus on his health:
"It is with a heavy heart that I make the announcement that I am retiring from the road due to health issues. Wednesday, my doctor ordered me off the road effective immediately. It is a heartbreaking decision as I love Henry, Monte, Chris, Randy, Dave, Chris B, Nicky, and Little Henry dearly. Please continue to support this mighty band as they will carry the torch and we will be friends for life. Thank you all my friends and fans for your support, you have been amazing. Now may God heal me and get me back to where I need to be. Long live the Outlaws and may God bless you all!!!!!!!"
Crain's bandmate and founding Outlaws member Henry Paul was quick to return those kind words and express his sadness at this announcement on his own Facebook post the next day. While vowing that the Outlaws would continue, he declared:
"We're all saddened to see Billy leave. After all the years we've played together, we've shared many great moments and stood side by side through some tough times. My love and respect for Billy is immeasurable. He is a one of a kind talent that can never be duplicated. I wish he could stay but I want him to be healthy and live a long and happy life. Music forms a highly personal connection between the player and the listener that lasts a lifetime. Billy's contribution to the Outlaws will forever endure.

The Outlaws will go on. We will continue to give the band our complete commitment and we will find the right person to join us and see to it that the Outlaws musical legacy never dies. We love our fans. Without you there would be none of this. Thank you for being true."
More From Ultimate Classic Rock