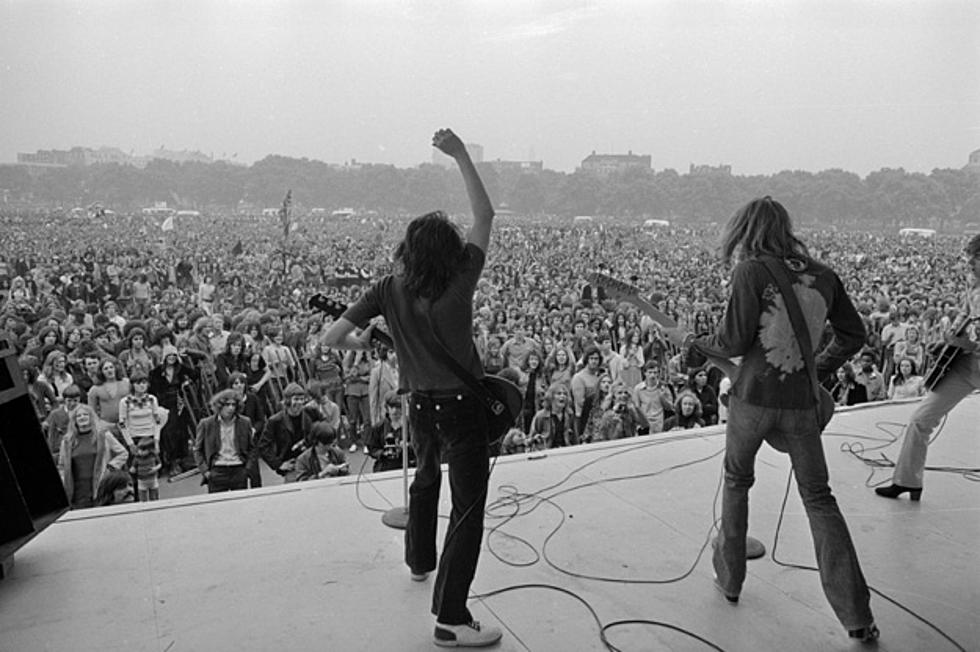 Top 10 Southern Rock Songs
Hulton Archive, Getty Images
The best southern rock songs merge the basic fundamentals of rock 'n' roll, country and the blues to create a sound that more than justifies its own genre. The music often incorporates long jams, boogie rhythms and fast guitar leads, with lyrics relating to the values and excesses of the southern working class.
Now, we're fixin' to look back and choose the ten of the best southern rock songs ever. Mind you, we've excluded 'Free Bird' (just because we're rebel rousers), and for the sake of variety we've only picked one song from each band. We know this is gonna start some arguments, so give us three steps towards the door as we present our list of the Top 10 Southern Rock Songs:
10

'Mississippi Queen'

Mountain

From 'Climbing' (1970)

Mountain guitarist Leslie West admits that when drummer Corky Laing brought him this track, he thought it was just a "one chord dance song." Influenced by The Band, West attempted to put a 'Cripple Creek' feel to the number and presto, one of the most enduring southern rock songs ever emerged. The screeching guitars and foot stompin' beat are certainly worth noting but truth is, it's that well timed cowbell that makes this number rise above the rest.

9

'30 Days in the Hole'

Humble Pie

From: 'Smokin'' (1972)

The only non-American group on our list, these boys from Britain copped the southern rock sound brilliantly and added a flair that sets them apart from their peers. A lil' less country and a lot more rock, '30 Days In The Hole' was a hit on USA radio. Inspired by Humphrey Bogart's line in the 1938 movie 'Angels With Dirty Faces' this song, like many others in southern rock, features multiple references to drugs and alcohol. How to this day is this band so underrated?

8

'Ramblin' Man'

The Allman Brothers Band

From 'Brothers And Sisters' (1973)

It's been said that southern rockers don't queue, they 'form lines' and when they do, they make friends with everyone in the line, treating them like family. The Allman Brothers Band knows about family; this is the family band that inspired the term "southern rock" after all. 'Ramblin Man' has turned into a mantra for every gypsy soul that's found it hard to settle down in one place. The tone of the guitar in this song has seemingly set the bar for every southern rock song that has followed it.

7

From: 'Tres Hombres' (1973)

Any band that has that much facial hair, wears their sunglasses indoors and drives vehicles such as the ones ZZ Top cruise around in are definitely from the South. Quick to create an interesting image, this lil' Texas band also easily mastered their own style of blues-based-boogie-rock. They originally formed in 1969 but it was this 1973 single that brought the band into the mainstream, with its lyrics about a bordello on the outskirts of La Grange, Texas. What 'La Grange' lacks in words, it makes up for with innuendos -- "haw, haw, haw, haw" -- and it's still known as one of their staple songs.

6

'Flirtin' With Disaster'

Molly Hatchet

From: 'Molly Hatchet' (1979)

What's not to like about a band that took their name from a 17th century axe murderess (Hatchet Molly) that would behead her lovers with the hand tool Lizzy Borden made famous? 'Flirtin' With Disaster' is one of those songs that most people can identify with, in one way or another. Lonesome roads, heavy loads and a speedy guitar solo that is well over a minute long are what drive this song home. A note to the girls, if you're at the bar and this number comes on the jukebox -- just give it up, there's no way you're dancing to this one. Kick back and flirt with the bartender instead.

5

'Long Haired Country Boy'

The Charlie Daniels Band

From 'Fire On The Mountain' (1975)

Any song that starts out declaring the benefits of getting stoned in the mornin' and getting drunk in the afternoon is definitely going to take a place in a southern rock top ten. Unlike Marshall Tucker or Lynyrd Skynyrd, Charlie Daniels is a man, the type of good ol' boy who will get the horseshoe bar at your local Army-Navy Garrison singing in unison faster than your mama can bring out the sweet tea. Strong on personality and ethics, the long hair in this song isn't going to ask you for nothin' – unless he can get it on his own. 28 years later, in the days of entitlement, this country boy comes off as a real role model.

4

From: 'Strikes' (1979)

If there were ever the perfect song for the all the truckers out there, this one's it. Featuring an absolutely blistering guitar solo, 'Highway Song' has enough adrenalin to keep you awake even on the longest of rides. You could argue that Blackfoot gets pigeonholed into the southern rock genre, when the fact is they lean more heavily towards the rock genre. But all that really matters is that 'Strikes' is so potentially dangerous it made perfect sense to put a poised cobra on the cover of the album.

3

'Green Grass & High Tides'

The Outlaws

From 'The Outlaws' (1975)

The Outlaws formed in Tampa, Florida in 1972, and after hitting the road for some intense touring, were the first act signed to Arista records by legendary guru Clive Davis. Heavily influenced by the Eagles and the Allman Brothers, the band's self-titled album brought them into the spotlight almost instantly. This song, nearly 10 minutes in length, definitely fits in that 'long jam' category and has a lot of time changes. At least the guitar solos are long enough to allow the listener ample time to check on the chicken getting deep-fried in the back room. Tater salad, anyone?

2

'Sweet Home Alabama'

Lynyrd Skynyrd

From 'Second Helping' (1974)

If Birmingham has an anthem, hopefully this is it. Lynyrd Skynyrd, led by the late songwriter Ronnie Van Zant, may have a redneck image but it shouldn't over-shadow the fact that Van Zant was a real rocker that wrote down to earth lyrics with a rebellious spirit. Big wheels, his kin, the southland, Neil Young and the good Lord all get a nod here, and that twang-fueled guitar riff is pretty unforgettable. Asking the question "does your conscience bother you?" mid-song before the honky-tonk piano comes in, is likely to make even the most conservative folks want to wave their bandanas high in the air.

1

'Can't You See'

Marshall Tucker Band

From 'Marshall Tucker Band' (1973)

Starting out in South Carolina, the Marshall Tucker Band (not a man like so many people want to believe) still tour regularly, and one of their biggest hits 'Can't You See' still gets serious airplay. Though recorded in 1973, it didn't get released as a single until 1977. Next time you hear this song in public, take notice and you'll make the strangest observation, especially if there is booze involved. There seems to be something about this particular song that makes the majority (very ironically) close their eyes and sway their head from left to right while singing the song's famous "Can't you see" line. That universal connection earns this song the top spot on our southern rock songs list.
More From Ultimate Classic Rock