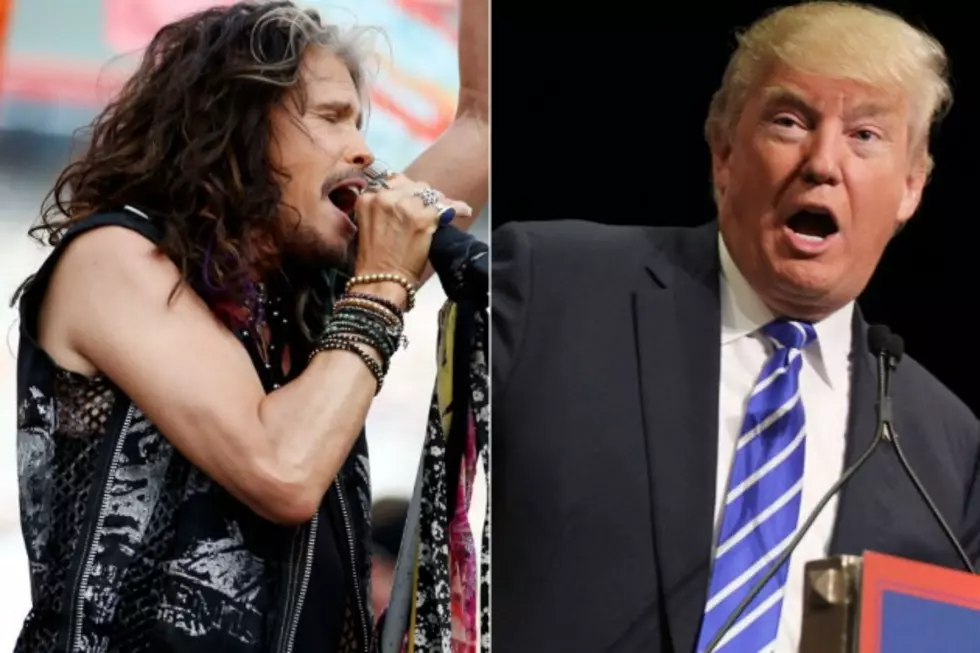 Steven Tyler Demands Donald Trump Stop Playing 'Dream On' at Campaign Stops
Gregory Shamus / Isaac Brekken, Getty Images
Steven Tyler has joined the growing list of artists who've told Donald Trump to stop playing their music at public events during his campaign for the U.S. presidency. According to the Hollywood Reporter, the Trump campaign has now received two cease-and-desist notices from the Aerosmith frontman, both stemming from Trump's continued usage of the band's classic "Dream On."
"Trump for President does not have our client's permission to use 'Dream On' or any of our client's other music in connection with the Campaign," reads the letter in part. "It gives the false impression that he is connected with or endorses Mr. Trump's presidential bid."
As the Reporter's post notes, while this is far from the first cease-and-desist Trump's campaign has received during the run-up to the 2016 election, it's a little more personally complicated than some of the others: Tyler — like many celebrities — has developed a Hollywood friendship of sorts with Trump over the years, and Trump is an avowed Aerosmith fan, as evidenced by a tweet he posted after attending one of the band's concerts late last summer.
Tyler's attorney, Dina LaPolt, stressed that even though the latest letter clearly and strongly opposes Trump's use of "Dream On," it isn't a "political nor personal issue" with the candidate; instead, it's being framed as an issue of copyright control. "Steven works tirelessly with both Republicans and Democrats regarding copyright reform and his position has always been consistent regarding copyright and intellectual property. Simply, one must get permission from the music creators," said LaPolt. "Steven wrote 100 percent of 'Dream On,' and this is about the unauthorized use of his property."
Aerosmith Albums Ranked Worst to Best
You Think You Know Aerosmith?
More From Ultimate Classic Rock