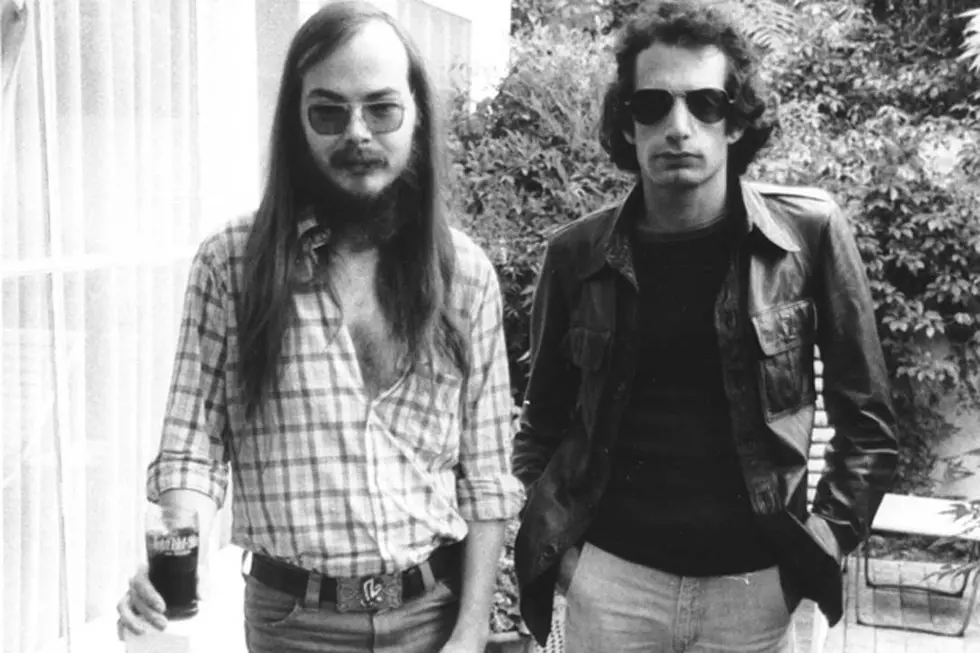 Chris Walter, Getty Images
Few bands achieved their fame as head-scratchingly as Steely Dan. They weren't rock-star handsome, they stopped touring after their third album and they rarely spoke to the media (and were often merciless towards their interviewers). Then there were the songs – full of elliptical and acerbic lyrics, complex harmonies and played by the top jazz session musicians around – that were light-years away from the folk, blues and country traditions that birthed rock and roll. Still, Donald Fagen and Walter Becker (with producer Gary Katz) created some of the most compelling, inventive rock music of their era. While their solo and post-reunion albums have plenty of great moments, it's their work from 1972-1980 that people recall when they think of Steely Dan, and it's from that period where we're pulling our list of the Top 10 Steely Dan Songs.
10

'The Boston Rag'

From: 'Countdown to Ecstasy' (1973)

Our list of the Top 10 Steely Dan Songs begins with an obscurity from their second album, 'Countdown to Ecstasy.' Despite its title, 'The Boston Rag' takes place in New York (Bayside is a neighborhood in Queens), an indication of how, even at this early stage in their career, the Dan refused to write linear lyrics. This tale of collegiate drug excess ("Lonnie" was Fagen's roommate, Lonnie Yongue) features a scorching guitar solo from Jeff "Skunk" Baxter just before the coda.

9

'Pretzel Logic'

From: 'Pretzel Logic' (1974)

The title track to Steely Dan's third album, 'Pretzel Logic' finds Fagen musing on the life of a touring musician (which he would soon give up), comparing it to an old-time minstrel show. Walter Becker didn't play lead guitar often on Steely Dan's records, but here his solo was pieced together from dozens of takes – an example of how the musicians were increasingly finding the recording studio to be a more creative environment than a concert stage.

8

'Bad Sneakers'

From: 'Katy Lied' (1975)

Steely Dan discovered five-time Grammy winner Michael McDonald when they were looking for a backup singer/second keyboardist for their tour behind 'Pretzel Logic.' He and Baxter soon jumped ship to the Doobie Brothers, for whom the Dan opened, but they occasionally called him in to sing harmonies. Here, he adds his distinctive soulful vocals to a lovely tune from 'Katy Lied.'

7

'Do It Again'

From: 'Can't Buy a Thrill' (1972)

The first cut on Steely Dan's debut, 'Can't Buy a Thrill,' set the tone that this was a band that would try anything, and had the chops to pull it off. Bebop guitar lines float over a minor key R&B electric piano anchored by a Latin groove, and that's before the vocals start. Yet despite the eclecticism (which includes an electric sitar solo by Denny Dias), the song was definitely rock and roll. The listening public agreed, taking it to No. 6 in 1973.

6

The first single from Steely Dan's biggest-selling album, 1977's double-platinum 'Aja,' starts off with some jazzy call-and-response between keyboard and horns. It then appears to settle into a modified 12-bar blues before taking a hard left turn for the chorus, which features some more killer harmonies from McDonald. Jay Graydon does lead guitar honors here (and you can read his analysis of it here), all in support of a typically sneering lyric about a starlet on the rise.

5

'My Old School'

From: 'Countdown to Ecstasy' (1973)

Beginning the second half of our list of the Top 10 Steely Dan songs is a tale that, like 'The Boston Rag,' owes its origins to Becker and Fagen's days at Bard College in Annandale-on-Hudson, New York. In the late '60s the police were regularly raiding Bard students in search of drugs and "radicals," and Fagen's disgust towards his time there is evident in 'My Old School,' which owes more to southern soul than the jazz the pair usually borrowed from. As a side note, the state's attorney who prosecuted the students was future convicted Watergate co-conspirator G. Gordon Liddy.

4

'Hey Nineteen'

From: 'Gaucho' (1980)

The recording of the last album of Steely Dan's commercial heyday, 1980's 'Gaucho,' was fraught with complications. One song, the unreleased 'The Second Arrangement,' that didn't take long to record – a rarity for them – was accidentally erased without having a backup copy. Becker's drug problem had gotten out of hand. He then broke his leg when he was hit by a car, which took him out of the studio for months. Worse, his girlfriend died of an overdose. As a result, the album is mostly uninspired and sterile, but it still has a handful of vintage Dan moments, notably the title track, 'Babylon Sisters' and this gem about a guy dealing with a midlife crisis by taking up with a much younger woman.

3

'Kid Charlemagne'

From: 'The Royal Scam' (1976)

The fifth Steely Dan album, 1976's 'The Royal Scam,' is simplistically thought of as a transition from the pop-songs-with-jazz-chords of their first four to the more complex musical ideas of 'Aja' and 'Gaucho.' But that overlooks the album's harder, funkier rhythms, best exemplified on the opening cut. The rhythm section of Paul Griffin (clavinet), Chuck Rainey (bass), and Bernard "Pretty" Purdie (drums) do their best impression of the music of Stevie Wonder's mind at the time, and Larry Carlton cuts loose with a wicked guitar solo. And yeah, this one's about drugs, too, with Owsley Stanley serving as the inspiration here.

2

'Rikki Don't Lose that Number'

From: 'Pretzel Logic' (1974)

Steely Dan didn't write too many ballads; their songs - even their prettiest tunes - had too many thorns built in for them to be sentimental. But 'Rikki' is an exception, and it turned out to be their highest-charting hit, reaching No.4 in 1974. Built on the riff from Horace Silver's 1965 jazz classic, 'Song for my Father,' 'Rikki' is a poignant attempt by the narrator to regain the object of his affections.

1

'Deacon Blues'

From: 'Aja' (1977)

'Pretzel Logic' and 'Katy Lied' may have had their best collections of pop tunes, but 'Aja' is Steely Dan's masterpiece, with longer songs and more intricate arrangements. Its best song tops our list of the Top 10 Steely Dan Songs. As he would later do on his solo debut, 'The Nightfly,' Fagen draws on his own youth to create a portrait of a suburban kid with visions of growing up to be a jazz musician, and all the romance and danger that comes with it.
More From Ultimate Classic Rock