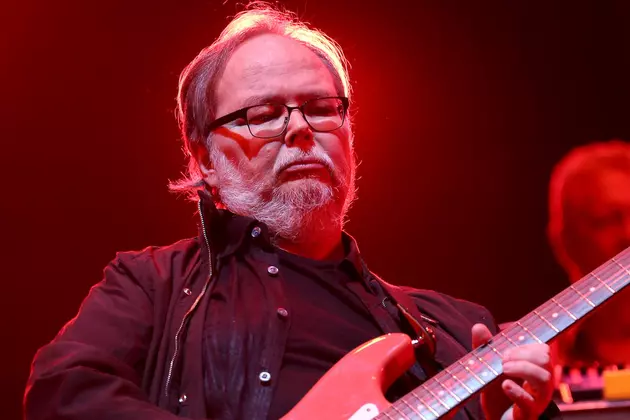 Top 10 Walter Becker Songs
Karl Walter, Getty Images
Walter Becker was the classic behind-the-scenes guy. He may have been Steely Dan's ace in the hole, but the bass and guitar-playing co-producer and co-creator remained ever in the shadows of frontman Donald Fagen ... to say nothing of a series of better-known sessions contributors.
Over the course of Steely Dan's first albums, Becker mainly focused on playing the bass, but he also co-wrote all but one of the songs, a 1974 cover of Duke Ellington's "East St. Louis Toodle-Oo." Eventually, he began to step forward on guitar as Steely Dan started working with a rotating cast of talented sidemen. Even in an atmosphere in which Becker and Fagen were writing to spec for legends like Jeff "Skunk" Baxter and Larry Carlton, there were some songs where Becker's distinct musical voice fit best.
Steely Dan ultimately took a lengthy layoff following 1980's Gaucho, then returned for a pair of '00s-era recordings that again found Becker playing a multifaceted role as bassist, guitarist, co-writer and – after the departure of longtime collaborator Gary Katz – co-producer. He even took a lone turn at the mic for Steely Dan's "Slang of Ages," while releasing a pair of solo albums with 1994's 11 Tracks of Whack and 2008's Circus Money.
Nothing he did away from Steely Dan ever got as much attention as his main band or even Fagen's solo projects. But, as you'll see in our list of the Top 10 Walter Becker Songs, he continued to put out vital music that further illuminated his importance within one of rock's brainiest and most musically groundbreaking groups.
10

'Pretzel Logic'

From: Steely Dan's 'Pretzel Logic' (1974)

A triumph of studio wizardry, more so than live, in-the-studio magic, "Pretzel Logic" features one of Steely Dan's best Frankenstein solos. Becker pieced together his turn on the guitar from a number of earlier takes, working tirelessly until he found just the right combination of snippets. Engineer Roger Nichols once surmised that it might have taken as long as "one hour per bar" to complete. Things understandably became quite convoluted. At one point during play back, Becker memorably asked: "Did I play that?"

9

'Two Against Nature'

From: Steely Dan's 'Two Against Nature' (2000)

There's a lot going on here, from a gurgling sax to talkative counterpoint background vocals to a tornado of percussion that threatens to obscure the first appearance by drummer Keith Carlock. Becker, who also played bass on this celebrated Steely Dan comeback album, cuts through it all with not one by two tasty solos – the first a sharp mid-song aside, the second a funky closing thought.

8

'Paging Audrey'

From: Walter Becker's 'Circus Money' (2008)

In Steely Dan's earliest years, Becker was the band's principal bassist – and he held his own within a stacked regular lineup that included future Doobie Brothers guitarist Jeff "Skunk" Baxter. Eventually, Becker passed low-end duties over to a rotating group of sessions aces. The late-period gem "Paging Audrey," with its sly, involving bass groove, proves that Becker never lost his touch.

7

'Bad Sneakers'

From: Steely Dan's 'Katy Lied' (1975)

You'd be forgiven for getting distracted by the stacked, scene-stealing turn on backup vocals here by Michael McDonald, another future member of the Doobie Brothers. In truth, there's soaring talent everywhere, from Hugh McCracken's vaguely Eastern-sounding rhythm to Jeff Porcaro's air-tight rhythm. Inspired, Becker leaps into a searing, blues-inflected solo that instantly redefines the song.

6

'Surf And / Or Die'

From: Walter Becker's '11 Tracks of Whack' (1994)

"Surf And / Or Die" offers a darkly evocative requiem for a hang-gliding friend who fell out of the sky. Presented as a stream-of-consciousness narrative, the song reveals itself to be just as detailed as any classic Steely Dan track. Becker completes this sad and at times harrowing tale with a shimmering turn on guitar, before everything is overtaken by a calming Buddhist chant.

5

'Home at Last'

From: Steely Dan's 'Aja' (1977)

Defined by a narrative highlighting these California transplants' Homerian nostalgia for New York, "Home at Last" is also perhaps the best example of Steely Dan blues. Becker again shines on a stage stuffed with talent – this time, it's Bernard Purdie and Larry Carlton, among others – as he tussles with Donald Fagen's whining synth during their first tandem solo together on a Steely Dan song.

4

Given how closely "Book of Liars" – a delectable perversion of the gone-girl ballad – hues to Steely Dan snarky template, it's perhaps no surprise that this Becker solo song ended up as part of his main band's set. What's interesting is how the talent-laden Steely Dan touring group improves upon the original synth-heavy setup. They find dark new depths as Becker's often-overlooked role in building the Steely Dan legend is revealed once more.

3

'Gaucho'

From: Steely Dan's 'Gaucho' (1980)

"Gaucho" may be best known for the nasty legal dispute that followed when Donald Fagen publicly admitted to making a note-for-note reference to jazz pianist Keith Jarrett's "Long as You Know You're Living Yours." (Jarrett sued and was awarded $1 million so that Becker and Fagen could keep their songwriting credits.) Becker's diametrically opposed twin guitar solos – not to mention a delicately woven turn at the bass – help make this track their own.

2

'Black Friday'

From: Steely Dan's 'Katy Lied' (1975)

You can be forgiven for thinking this solo came courtesy of original Steely Dan member Denny Dias. "Black Friday" actually features an eruptive turn by Becker – played on Dias' guitar. Ultimately credited with stand out moments on Steely Dan's "Do It Again," "Bodhisattva" and "Aja," Dias handed over his axe after Becker said he thought it had the perfect set up for "Black Friday." He was right.

1

'FM'

From: 'FM' soundtrack (1978)

Becker is again featured on both bass and guitar, but his performance on the latter is what sends "FM" to the top of our list of Top 10 Walter Becker Songs. He'd have to do something special to stand out among Johnny Mandel's tasteful orchestration, the busy percussion of Victor Feldman and the swooning background vocals by a group that includes members of the Eagles. And he does. In fact, Becker provides a clinic on AOR fade-outs.
More From Ultimate Classic Rock