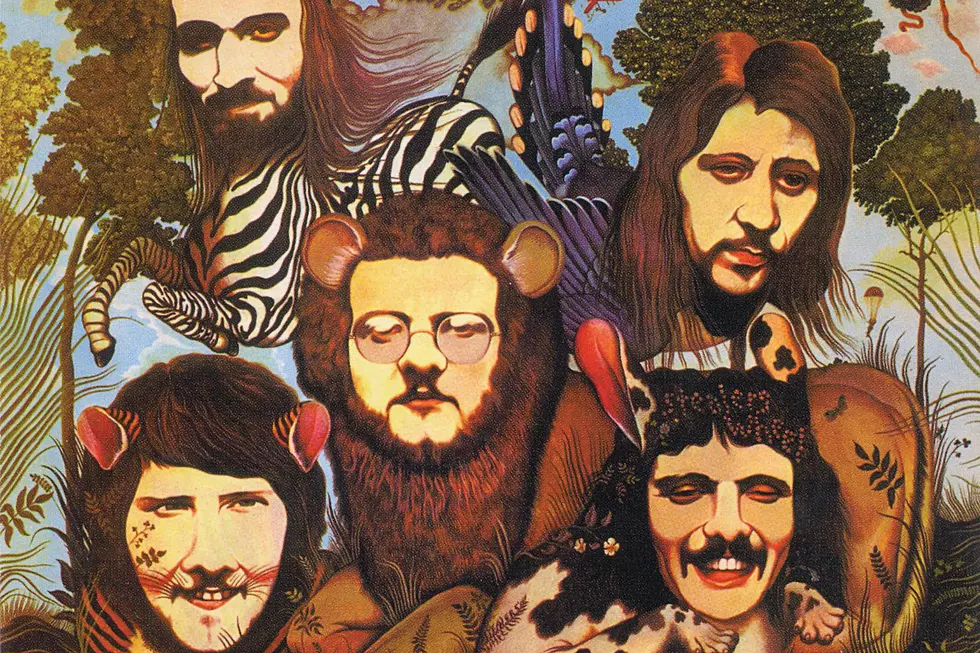 When 'Stuck in the Middle With You' Became Stealers Wheel's Only Hit
A&M
Stealers Wheel was as surprised as anyone else when "Stuck in the Middle With You" became an international hit after its release in April 1973.
After all, Gerry Rafferty and Joe Egan had thrown the song together in about half an hour as a sarcastic attack on the music industry. Then Rafferty quit before "Stuck in the Middle With You" found success.
He'd started in a folk duo called the Humblebums with future international comedy star Billy Connolly. But Connolly discovered he was becoming more drawn to the monologues between songs, while Rafferty was more interested in building a six-piece rock band. The pair went their separate ways and Rafferty regrouped with Egan, an old school friend.
An initial attempt to build a band with four lead singers didn't work out. Stealers Wheel then essentially became another duo with assistance from several sidemen, permanently flavored with the leading pair's roots in Scottish folk music.
Released on April 27, 1973, "Stuck in the Middle With You" was inspired by the experience of being signed to A&M Records. "They threw a launch party in a chic restaurant in Chelsea," Rafferty later told Record Collector. "There was a huge table with about 50 people there, record-company executives and their wives, and musicians and their wives, and the wine was flowing. It was a boisterous evening, but I was sandwiched between two rather boring label executives and their wives. Two days later, Joe Egan and I sat down and we wrote that song in half an hour."
It wasn't the first time that Rafferty wrote about a business that based itself around his creativity, and it wouldn't be the last. "It's a beast that can chew people up," he reflected. "I took up a certain stance and attitude about my career. [I] wanted to avoid the harsher aspects of it."
Listen to Stealers Wheel's 'Stuck in the Middle With You'
Rafferty had strong feelings and high standards, refusing to tour the U.S. because he felt the band sounded like "a fucking shambles" live. This presented challenges throughout his life – and that included sessions for Stealers Wheel's self-titled 1972 debut, which included their surprise hit single: Rafferty struggled mightily with the way veteran producers Jerry Leiber and Mike Stoller approached the project.
"The problems we had, had little to do, actually, with the results we got on the board," Rafferty told Rolling Stone, "because they were great in terms of sound and all that – but they were old-school producers. That means you're there dead on two o'clock, you have a coffee break at exactly five o'clock, and then you finish at eight o'clock on the dot and you don't go over regardless of what you're doing. There was a generation gap and a culture gap, too. We didn't share a sense of humor or much of anything."
Back then, Rafferty's lyrics and performance style led some to believe "Stuck in the Middle With You" was actually by Bob Dylan. "That happened by chance," Rafferty argued. "The vocal inflections are certainly reminiscent of Bob Dylan – and, if I've taken anything from him, it's his phrasing. I suppose the subject matter and the rather dark humor are akin to Dylan too."
Egan ended up miming Rafferty's lead vocals in the promo video since his bandmate departed before "Stuck in the Middle With You" reached No. 6. Rafferty would be persuaded to return, leading to more disappointments and a legal stand-off that left him and Egan unable to release new music for three years.
Rafferty later re-emerged as a solo artist with his trademark hit "Baker Street," which was written about that same legal standoff. Still, he always regretted what Stealers Wheel failed to achieve. "The combination of Joe's voice with mine was unique, so I was sorry to lose that," he admitted. "We never fulfilled our potential but that was down to the record company and management, not us."
A new generation discovered "Stuck in the Middle With You" in Quentin Tarantino's 1992 debut movie Reservoir Dogs. The director had always envisioned using the song during one of its most brutal scenes. Tarantino challenged others to come up with something better, but no one ever could.
"I knew it would be violent," Rafferty said. "We gave them the go-ahead, but I didn't see the film because it wasn't the type of film I normally go to see." A few years before his 2011 death, Rafferty finally relented: "In terms of cinema," he allowed, "it worked incredibly well."
25 Under the Radar Albums From 1973
Sure, you could listen to that classic LP again. Or you could give some of these records a spin.
More From Ultimate Classic Rock