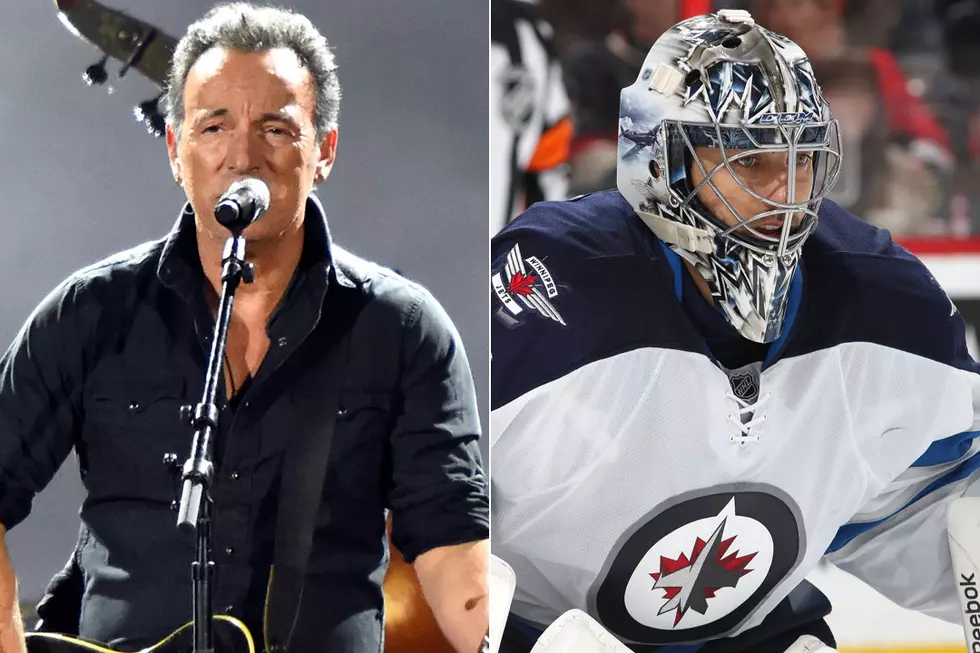 NHL Goalie Pays Tribute to Bruce Springsteen on New Mask
Frazer Harrison / Jana Chytilova, Getty Images
These days, hockey goalie masks are one of the few places where professional athletes are allowed to express their personalities and tastes during a game. Ondrej Pavelec, a goaltender for the Winnipeg Jets, has done so by unveiling a new mask that shows off his love for the music of Bruce Springsteen.
Allan Walsh, a players' agent, recently tweeted the below pictures. The right side of the mask uses an image of the Born to Run cover while the left takes a photo from The River and places it with shots from the Born in the U.S.A. and Magic eras.
Last year, Pavelec, a 27-year-old native of the Czech Republic, name-checked Springsteen in a club-produced video where players were asked to talk about their favorite musicians. He said his favorite song was "Badlands" but admitted that he has trouble getting Springsteen played in the locker room because his other teammates don't like his music.
Hopefully the new mask will help turn around Pavelec's fortunes. He's 13-13-7 this season, and has lost five of his past six games. He's not played since a 5-1 loss to the Washington Capitals on Feb. 19. The Jets are currently in fourth place in the NHL's Central Division and are leading the race for a wild-card playoff spot.
Pavelec isn't the first netminder to be inspired by classic-rock iconography. Nikolai Khabibulin often had Pink Floyd's The Wall incorporated onto his masks in a career that spanned 20 years and several teams. However, he's not a fan. As he told ESPN in 2002, "Someone tabbed me the 'Bulin Wall' [after the Berlin Wall], and it stuck. I told the painter to do something cool. So he did this thing based on The Wall by Pink Floyd. I don't know anything about Pink Floyd. I don't have any of their CDs. I don't even know what some of the things here are."
The 10 Worst Rock and Roll Hall of Fame Snubs
See the Yearbook Photos of Bruce Springsteen and Other Rockers
More From Ultimate Classic Rock