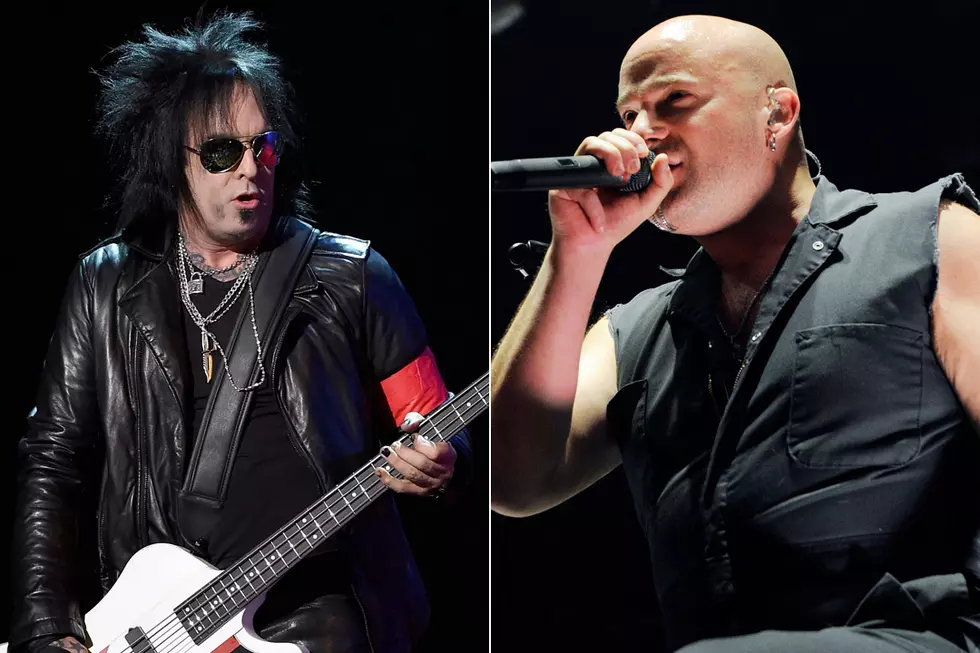 Sixx:A.M. and Disturbed Cover Motley Crue at Hellfest
Ethan Miller (2), Getty Images
Nikki Sixx has once again reneged on his promise to never play a Motley Crue song. On Saturday, he and the other members of Sixx:A.M. sat in for a cover of "Shout at the Devil" during Disturbed's set at Hellfest in Clisson, France. You can watch the video above.
"Ladies and gentlemen," singer David Draiman told the crowd. "We have a rather special series of treats comin' up for you right now. Please welcome ... from Sixx:A.M., Nikki Sixx, James [Michael] and DJ Ashba onto the stage. I think we're gonna play something from Nikki's old band, if that's okay."
The bands then launched into the title track to Motley Crue's 1983 sophomore effort, with Draiman and Michael trading verses. After the performance, Disturbed had another special guest join him. Former Deep Purple bassist and singer Glenn Hughes was called out for a cover of the Who's "Baba O'Riley."
Last year, as Sixx was planning his post-Motley Crue career, he spoke of his willingness to want to move forward and not trade on his band's legacy. "A lot of times, I see people try and do 'the next thing' and it's just kind of the same as the other," he said. "[If that were me] I'd think, 'Well, why not just do Motley Crue?' But why would I do another version of Motley Crue? Sixx:A.M. is completely different musically, spiritually, emotionally, visually … and that gives me pride," Sixx insisted. "The people who are coming to see us, are coming to see Sixx: A.M. We don't play Motley Crue music, and we never will play Motley Crue music. The day Motley Crue plays its last show, I will never play another Motley Crue song again ... even if it's one I wrote."
But just two weeks ago, Sixx:A.M. performed "Live Wire" during an appearance at a French radio station. Sixx justified the decision by tweeting, "The band had a great idea to do a haunting version just for French Radio. We are not living off of it."
Motley Crue Albums Ranked Worst to Best
More From Ultimate Classic Rock