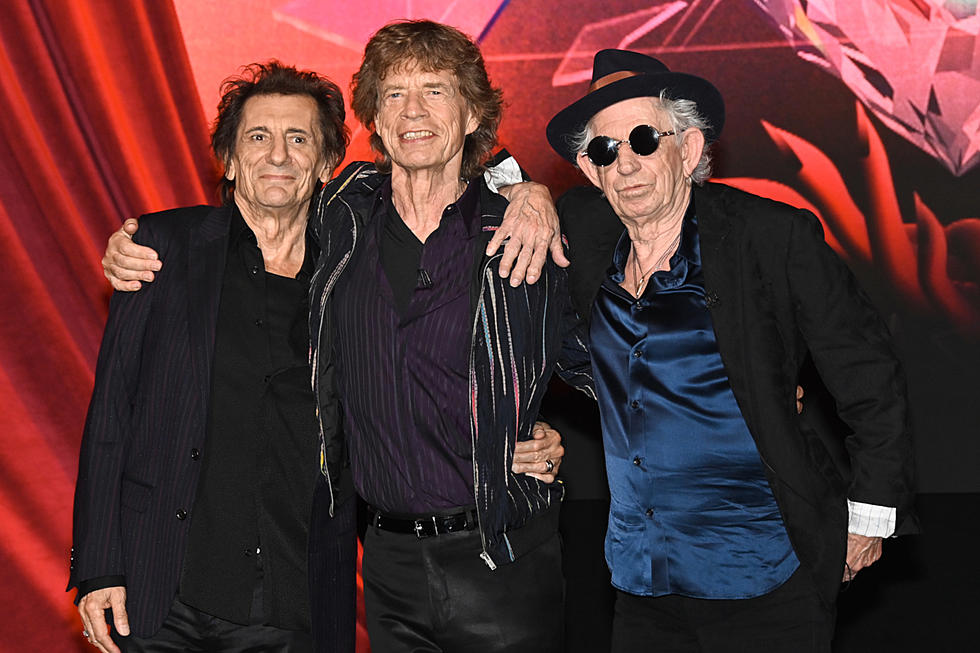 Who Is Playing Drums on the Rolling Stones' New Album?
Stuart C. Wilson, Getty Images
The Rolling Stones' new album Hackney Diamonds arrives on Oct. 20, and it will feature two drummers.
Charlie Watts was a fixture in the lineup for nearly 60 years. He joined in 1963, roughly six months after they played their first proper show. During the ensuing decades, as the Stones ascended to their place among the greatest acts in rock history, Watts remained a dependable presence. No surprise then that Mick Jagger said the group lost their "heartbeat" when Watts died in 2021.
"He was a very reliable person, wasn't a diva — that's the last thing you want in a drummer," Jagger later explained. "Charlie was a very subtle drummer. ... He did love jazz, and that gave him the subtlety that perhaps he wouldn't have had if he hadn't been such a student of [jazz] and played [it] a lot. But he was a rock drummer, as well. He was a steady rock drummer. He wasn't just a jazz drummer showing off or trying to be too technical."
READ MORE: Ranking Every Rolling Stones Album
Despite his passing, Watts' playing will still be featured on a pair of Hackney Diamonds tracks: "Mess It Up" and "Live by the Sword."
How Did the Rolling Stones Replace Charlie Watts?
The Rolling Stones were preparing to tour in 2021 when Watts became ill. The drummer chose his "great friend" Steve Jordan to fill in for him. When Watts passed, Jordan accepted the role on a full-time basis – though he is still not officially a member of the band.
"Ever since Charlie's gone, it's different, of course," Keith Richards told Spin. "Of course, he's missed incredibly. Thanks to Charlie, we have Steve Jordan, who was Charlie's recommendation if anything should happen to him. It would have been a lot harder without Charlie's blessing."
READ MORE: 15 Musicians Who Almost Joined the Rolling Stones
Jordan certainly has the credentials for the job. As a drummer, producer or songwriter, he's worked with an incredible array of musicians, including Stevie Nicks, Eric Clapton, Bob Dylan, Neil Young, Don Henley, James Taylor, Billy Joel, John Mellencamp and Rod Stewart – and, of course, Richards.
All but two songs on Hackney Diamonds feature Jordan.
Have the Rolling Stones Ever Used Other Drummers?
Though the Rolling Stones have regularly added percussionists to help fill out their sound, Jordan will only be the third drummer besides Watts to be credited on one of their albums.
Jimmy Miller produced 1968's Beggars Banquet, 1969's Let It Bleed, 1971's Sticky Fingers, 1972's Exile on Main St. and 1973's Goats Head Soup for the Rolling Stones. He also played drums on a handful of their songs, including "Tumbling Dice," "Happy," "Shine a Light" and – perhaps most memorably – "You Can't Always Get What You Want."
Kenney Jones was already known for his work with Small Faces and Faces when he drummed on a single Rolling Stones track, the 1974 hit "It's Only Rock 'n Roll (But I Like It)." He later joined the Who.
Rolling Stones Lineup Changes: A Complete Guide
Given how long they've been together, the Rolling Stones have actually weathered a surprisingly small number of lineup changes.
Gallery Credit: Jeff Giles
Real-Life 'Spinal Tap' Stories: Rolling Stones
More From Ultimate Classic Rock