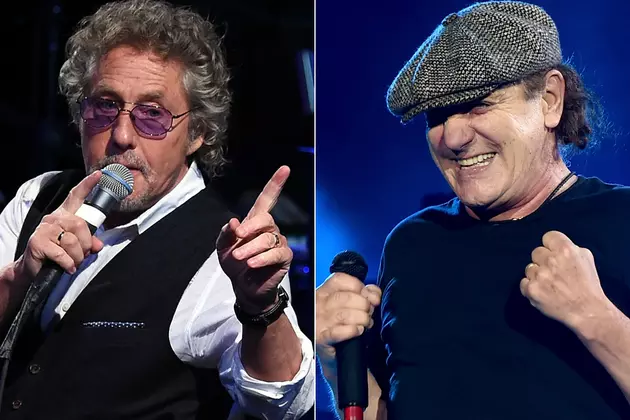 Roger Daltrey Slams AC/DC's 'Karaoke' Tour Without Brian Johnson
Andrew H. Walker / Brian Johnson, Getty Images
Count Roger Daltrey among those who don't think AC/DC should go on without his old friend Brian Johnson. "I mean, I really feel badly for Brian," Daltrey told Postmedia Network. "It must be heartbreaking for him after all the service he's given that band over the years."
AC/DC announced in early March that Johnson would step away from the group, blaming progressive hearing loss. "I thought [AC/DC's] farewell statement to the press and to Brian was fairly curt, to say the least," the Who singer added. "I felt for him. That must have hurt."
Daltrey confirmed that in the new interview. "I've spoken to Brian. He's got loads of other things he wants to do in his life," he said. "I think AC/DC will miss Brian much more than Brian will miss AC/DC. There you go. What do you expect from Australians? ... And he's such a lovely guy, Brian. I've known him for 40-odd years."
Rose is set to begin dates with AC/DC on May 7 in Lisbon, Portugal – but don't expect to see Daltrey at the shows. "I mean, go and see karaoke with Axl Rose?" Daltrey said, laughing. "Give me a break."
AC/DC Albums Ranked Worst to Best
More From Ultimate Classic Rock