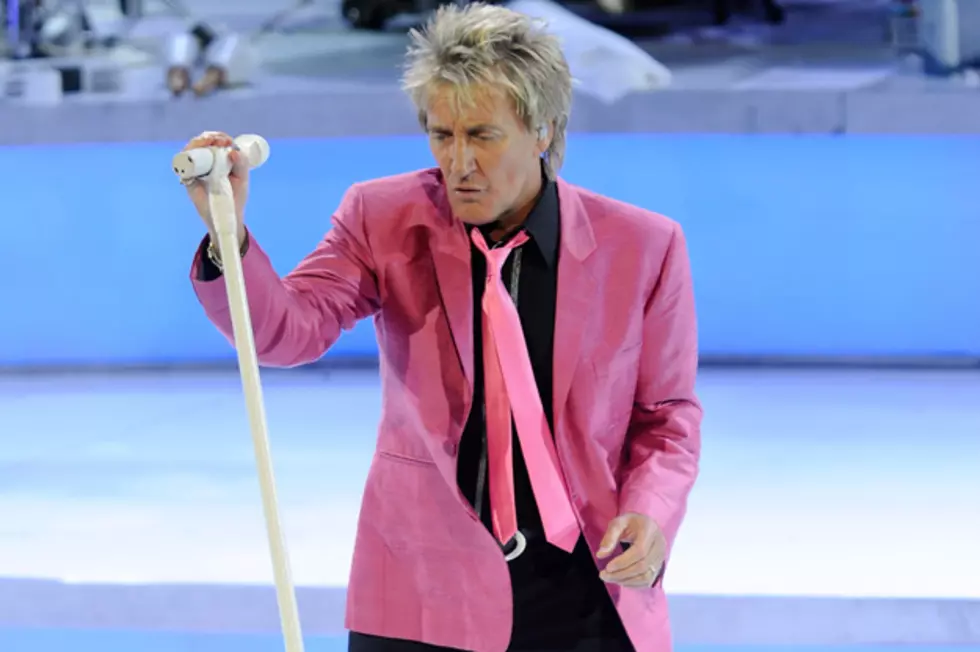 Rod Stewart Completes New Rock Album for 2013 Release
Ethan Miller, Getty Images
Rod Stewart has spent a good portion of the latter part of his career covering standards, but apparently the time has come for him to rock again. He'll do so on a recently completed album that's expected next year.
Stewart tells Billboard of his upcoming release, "It's all done mate. I produced it myself. It's all finished, mixed, everything … just a good, old-fashioned Rod Stewart album [with] a lot of mandolin and acoustic [guitar] and fiddles and good storytelling, I believe, too."
Stewart is preceding his next original release with the 'Merry Christmas, Baby' holiday album, due next week, but he says he's glad to have rediscovered his love for rock and is looking forward to a return to the genre. He credits longtime musical cohort Jim Cregan for facilitating his return.
"About a year ago, I was sitting at my house in England, and [Cregan] came around and said, 'Come on, let's try to write a song,'" says Stewart. "And I said, 'No, I can't be bothered. Those days are over.' But we sat down, I started humming a melody and he took it away and sent it back and said, 'Listen, this is pretty good,' so I wrote some words for it and ever since then it's just been flowing like a river."
The singer says he's enjoying songwriting again, and reveals that he has 11 songs for the upcoming disc, including one called 'Love the Life You Live' that is also a tentative album title. Stewart expects a spring 2013 release for the new record, and adds that he's plotting out a February and March East Coast trek through the U.S. to promote his latest effort.
In other news, Stewart also commented on his relationship with the Faces, after failing to join them at their Rock and Roll Hall of Fame induction due to illness. The vocalist says that there's been talk of reuniting for some shows, but scheduling remains the biggest issue, with Ron Wood committed to the Rolling Stones and Stewart having his own career. He adds, though, "We're all good mates, and I swear on my life it'll happen one day. We might all be using Zimmer frames and wheelchairs, but we'll do it."
More From Ultimate Classic Rock