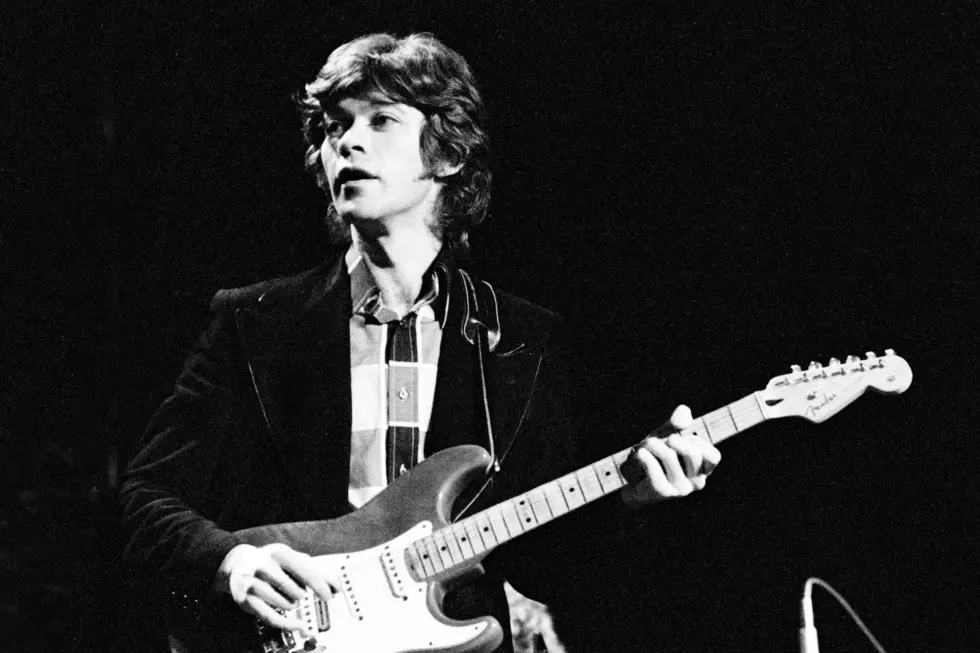 Robbie Robertson Dead at 80
Gijsbert Hanekroot, Getty Images
Robbie Robertson of the Band has died at the age of 80. The news was confirmed by his manager, Jared Levine. "Robbie was surrounded by his family at the time of his death, including his wife, Janet, his ex-wife, Dominique, her partner Nicholas, and his children Alexandra, Sebastian, Delphine," Levine said.
"He is also survived by his grandchildren Angelica, Donovan, Dominic, Gabriel and Seraphina. Robertson recently completed his 14th film music project with frequent collaborator Martin Scorsese, Killers of the Flower Moon."
Robertson, born on July 5, 1943, in Toronto, joined his first band, Little Caesar and the Consuls in 1956. A year later he formed Robbie and the Rhythm Chords, followed by a group called the Suedes, which caught the attention of singer Ronnie Hawkins.
Robertson eventually was hired as Hawkins' backing group, known as the Hawks, which also included drummer Levon Helm and, later, Rick Danko, Richard Manuel and Garth Hudson. They toured with Hawkins through the early '60s, before splitting with Hawkins in 1964. They later became known as simply the Band.
Sometime in 1965, Bob Dylan wanted to hire Robertson as his guitarist, but he refused. Instead, he agreed to play a few shows with Dylan and brought along Helm. The Hawks then toured the United States with Dylan throughout the fall of 1965, during the period in which Dylan went electric. They then went to the U.K. and Europe with Dylan. The Band would collaborate with Dylan again with sessions in Woodstock in 1967 and an album and tour in 1974.
The Band released their debut album in 1968, Music From Big Pink, which included "The Weight," "Chest Fever," "Caledonia Mission" and "To Kingdom Come," all penned by Robertson. Even though "The Weight" did not perform well on the charts, it gained more traction when it was covered by the likes of by Jackie DeShannon, Aretha Franklin and the Supremes and the Temptations.
"Before Music From Big Pink, most bands would get together and say, 'Let's take off our shirts and get a record deal,'" Robertson told UCR in 2019. "We weren't cut from that cloth at all. This was not a pop enterprise. This was not a rock-star ambition. This only had to do with all the music that we had gathered, and we had inside of us, and finding how to let it out in a universal way. So when we found Big Pink, we found a clubhouse, a workshop, a sanctuary. That was where the brotherhood blossomed and where the light could go on."
Robertson would contribute to six more Band albums through 1977's Islands. He released his debut solo album, Robbie Robertson, in July 1986, and also worked with Scorsese on film scores for Raging Bull (1980), The King of Comedy (1982) and The Color of Money (1986.)
Robertson released five more solo albums, the most recent of which, Sinematic, arrived in 2019. He also continued his career in film, contributing to Gangs of New York (2002), The Wolf of Wall Street (2013) and The Irishman (2019).
"To be honest, I don't have a lot of time for pondering," Robertson admitted to Classic Rock in 2020. "I'm really busy and more concerned with working on what I'm doing today and what I've got to do tomorrow. I have such tremendous, deep memories of my experiences with these guys [in the Band]. But that was then and this is now."
In Memoriam: 2023 Deaths
A look at those we've lost.
More From Ultimate Classic Rock